Violent death arrived in Hong Kong on December 8, 1941. Japanese troops took just four days to chase most British forces out of Kowloon. But one old European horticulturalist, who lived in a house in Ho Man Tin, turned his home into a sanctuary for hundreds of westerners—and defended it with guns. Meno Monteir tells the remarkable story of Frank Soares.
---
BETWEEN TWO OF the busiest main roads in Kowloon we find a cluster of streets with European names – there's Soares Avenue, Emma Avenue and Julia Avenue. A little further afield, we find roads named after rather martial concepts: Victory Avenue, Liberty Avenue, and Peace Avenue.
If you think there may be a story there, you'd be right.
Today, the area is a pleasant enough spot, with Soares Avenue featuring open-air cafes on one side (see image below), but it is not particularly different to the rest of Kowloon. Yet the names are clues to a fascinating past in which this area was very unusual indeed: a "garden city" painstakingly dug out of a rocky and swampy area of rural land.
The street names, "Soares", "Emma", and "Julia", are clues leading to the family behind the project – and the post-war period in which it was built. The words "Victory", "Liberty" and "Peace" were chosen to mark the end of the Great War – but the man who chose them didn't realize that a second World War would one day engulf Kowloon, with more than 10,000 people in Hong Kong killed, wounded, or captured. And with he himself playing an important role.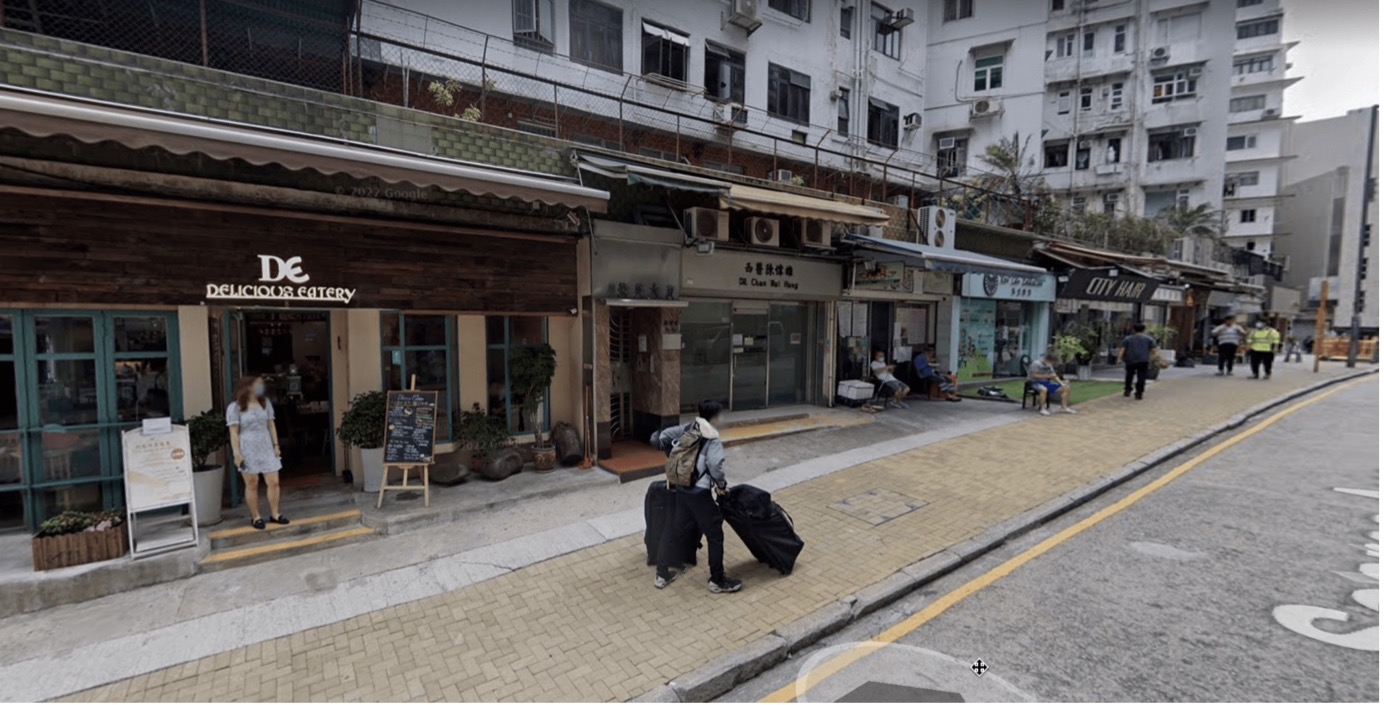 FAMILY TIES
Soares Avenue, sandwiched between the major thoroughfares of Waterloo and Argyle Streets, was named by Francisco Paulo de Vasconselos Soares, known as Frank. He chose the name not so much for himself, but mostly in memory of his horticulturalist father Matias de Luz Soares, who had been born in Macau. Matias had moved his family to Hong Kong and bought land in Sai Ying Pun, where he had a bungalow built – surrounded, of course, with a garden.
Frank Soares had lost both his parents by the age of 15, but wanted the family remembered, his father in particular. As an adult, he became a businessman and developer, before attaining the rank of Portuguese Consul to Hong Kong. He inherited his father's love of botany.
THE SOARES FAMILY
While 1841 is considered the start of British rule in Hong Kong, many forget that the Portuguese had already been short boat ride away since 1499, literally three and half centuries longer than the British. In Macau, Matias Soares had designed and supervised the building of several major horticultural land marks and parks.

CLOUD OF BUTTERFLIES
Matias Soares was a skilled botanist and horticulturalist and purchased a large tract of land where he continued to practice his passion for growing fruit, vegetables and flowers. One of his achievements was to bring an unusual and beautiful species, the ginger lily flower (Hedychium coronarium) to Hong Kong from Malacca, a city on the Malayan peninsula. Its flowers were said to look like a cloud of white butterflies, and it had a rich, beautiful scent, a jasmine-like perfume.

After the death of his parents, Frank and his siblings went to live with relatives. When he was old enough, he joined the members of the large Portuguese community who served alongside the British administration in Hong Kong. The Colony's new rulers knew they would benefit from working closely with the Portuguese/ Macanese leaders, who had 300 more years' experience in dealing with a local Chinese populace.
In 1901, Frank married another well-connected second-generation Portuguese émigré to Hong Kong, Emma da Soledade Selavisa Alves, whose father had been one of the original shareholders of the Hong Kong Shanghai Banking Corporation. Together, they would have five children: Joao (John), Julia, Mem, Luis, and Francisco, the last of whom died shortly after birth.

A MINI-PORTUGAL FOR HONG KONG
Rapid population growth led to housing shortages, and the drawing up of plans that offered answers. In 1912, there was a proposal for a "Portuguese Town" called Camões City, to be built in Tai Hang, between what is now Causeway Bay and Happy Valley. The idea was put forward by Charles Montague Ede, a businessman and member of the Legislative Council.
Frank Soares had a better idea. He had often taken a sampan over to Kowloon, still largely undeveloped, and envisaged building a "garden city" there – the perfect way to celebrate a family with a historical interest in horticulture.
He identified a farming area on Kowloon called Ho Man Tin. The land was mostly rocky and swampy. Heavy machinery to move rock and didn't exist yet, so making something beautiful out of it was going to be a challenge. But it seems one of the lessons he learned from his father was how to look past what the land showed you and see what it could be.
BUILT DURING THE WAR
The Legislative Council, then consisting entirely of Western males, approved the scheme and by the end of 1912, the first pick-axes were struck into the ground.

Eight years later what he envisioned had become reality. Influenced by father's horticultural aesthetic and brought to life through his will, Frank Soares created a suburb of homes, each with a garden big enough to grow fruits, vegetables or flowers.
He named the main street Soares Avenue after his father, and two connecting streets Emma Avenue and Julia Avenue after his wife and daughter. The other three streets on the plot, he called Peace, Liberty and Victory because it was 1920 and World War II had recently come to an end.

STILL FRAGRANT
In one of the only the surviving photos of Frank Soares in the Garden City he had built in Kowloon, he is holding a plant in his hand: It is the ginger lily flower that his father had introduced to Hong Kong.

CALM BEFORE STORM
By 1930, the Garden City in Ho Man Tin was an oasis of calm. It was particularly favored by the Portuguese residents of Hong Kong, but was also popular with Eurasians, Chinese, British and other Europeans. Yet most international business activity was on Hong Kong Island, so Soares created a railway station for the short train ride to Tsim Sha Tsui so his neighbours could catch the Star Ferry to Hong Kong Island, where most of them worked.
By 1937, he had retired from business and had been given the largely symbolic role of Chancellor of the Portuguese Consulate of Hong Kong. His large home at Number 2 Liberty Avenue was a stop visiting dignitaries from Europe would not miss. He lost his beloved wife Emma in 1940.
JAPANESE INVASION
However, fate did not have an easy retirement planned for him. Hours after the attack on Pearl Harbor, Japan's aggression arrive on the shores of Hong Kong. It was 8 December, 1941. At the time, Frank was nearing 74 years old.
He walked with sticks, but his mind and instincts remained spry. In his role as Acting-Consul, he quickly decided to move the Portuguese Consulate from the Bank of East Asia Building on Des Veoux Road on Hong Kong Island to his home at number 2, Liberty Avenue, in the heart of Kowloon. It was dangerous for Europeans to venture out.
Japanese forces quickly overwhelmed their British counterparts in the area. Some British troops retreated to the hills of Lion Rock and the Gin Drinkers Line of defensive fortifications against Chinese forces constructed a few years earlier. A number of troops formed insurgent groups whose movements and later constructions would come to form the now famous Shing Mun War Relics Trail. The rest of the British forces retreated to Hong Kong Island.
This left Kowloon open to Japanese forces as well as looters and opportunists.
ACT OF COURAGE
Frank Soares had two choices: either join fleeing residents and leave the Garden City he had worked so hard to build, or dig in, stay put and hold fast. As Portugal's representative, he had a responsibility for his people—and the big house would provide room for some of them, at least.
So he sent the word out to the community and opened his doors. This act of absolute courage would see more than 400 residents of Ho Man Tin and Kowloon Tong find refuge in his home.
"The logistics to shelter and feed so many people when all utilities such as water, power, gas and telephone were cut off due to the hostilities were immense," grandson Bosco Correa told a writer working for Club Lusitano. "Just imagine cooking for so many people and arranging their washing and sanitary needs. Not only was he able to organize all this, he also got all the able-bodied Portuguese residents together and set up street guards to fight off marauding looters some of whom had to be shot and killed."
By Christmas Day, the whole of Hong Kong had fallen to the Japanese, and Frank's sons Mem and Luigi, both of whom had joined the defence force, were interned at Sham Shui Po prisoner of war camp. (The eldest son Joannes had made it to the relative safety of Macau.)
Soares' daughter Julia helped to keep the jam-packed house on Liberty Avenue functioning.

MEETING THE COMMANDER
Then came the day when the Japanese soldiers arrived at his front door.
Frank Soares personally went to meet them. He obtained their commanding officer's assurance to respect the neutrality of the Portuguese residents and to protect the district from looters.
"All this whilst the Japanese and the British were exchanging heavy artillery fire against one another," Correa recalls.
Perhaps the Japanese Commanding Officer felt a measure of respect for the quiet old man who stood his ground while others fled from marauding looters, exploding shells and angry foreign soldiers roaming the once quiet streets.
SENT TO MACAU
But this would not be the end of Frank's bravery. He flouted his own country's rules to issue certificates of Portuguese descent to allow the 400 neighbours-turned-refugees under his care to take safe passage to Macau. He also issued certificates to non-Portuguese, mostly British subjects too. He is believed to have helped keep 600 people safe.
Hong Kong was under Japanese rule for three years and eight months, after which peace gradually returned.
Frank Soares died in 1953 at the age 85 and was buried with his wife Emma.
CLUES IN THE STREET NAMES
Today, many people of all cultures in Hong Kong will stop and enjoy a coffee or a meal in the open-air restaurants on Soares Avenue. Few, if any, will know the history of the family that first developed this rural part of Ho Man Tin.
But some, surely, will look at the street names – Emma, Julia, Soares – and wonder about the people the district was named after. Next time you dine there, consider raising a glass to Frank and his family.
---
Meno Monteir can be contacted via Twitter @MonteirMeno; and on instagram: @menomonteir
Image at the top shows the Japanese army invading Tsim Sha Tsui, from the Mainichi newspaper, shown at the Hong Kong Museum of History