IF YOU LIVE IN Hong Kong, you're officially banned from accessing TikTok, the world's fastest growing social app.
But ever since the US branch of the company blocked Hongkongers from accessing it, smart youngsters have been getting around the problem.
Keep reading and we'll show you how to do it too. Or check out the video below:
But first the story.
A Beijing company named Bytedance created a short-video sharing app called Douyin in 2016. It was huge in China. The firm bought a Shanghai-launched app called Musical.ly which had an international market and merged it into an international version of Douyin, called Tiktok, in 2017 – and the app quickly became a global hit, eventually being downloaded more than two billion times. Its website was recently recorded as having received more visits than Google.
In the summer of 2020, US President Donald Trump demanded that TikTok be banned in the US as part of a crackdown on any product with even the slightest connection to Chinese technology.
Desperate to keep his firm alive, the US-based boss of TikTok took various steps to show that he was distancing the company from its' Chinese origins. This included, on July 9, 2021, withdrawing the app from its 150,000 users in Hong Kong.
GOODBYE, OLD FRIEND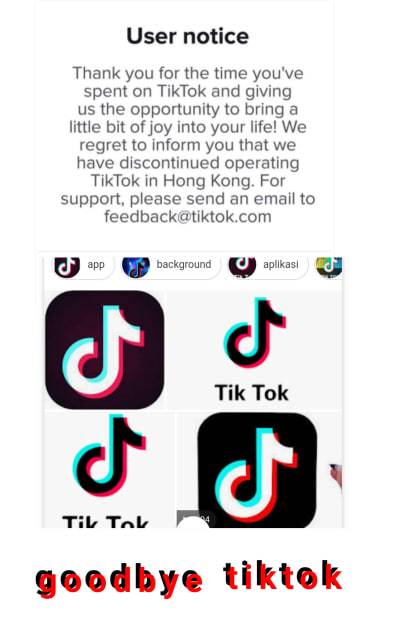 On July 6th 2020, teenagers and adults alike were devastated as they logged onto TikTok and received the pop-up message that the app would no longer be operating in Hong Kong. By July 9th, it was no longer available in the app store.
Officially, that's where the story ends.
But even after it disappeared from app stores in July 2020, TikTok never really left. SHHHH! Hong Kong users quietly continued to post videos and create content.
In fact, it has been almost two years since Hong Kong was banned from accessing TikTok, but that hasn't stopped the teen population from discovering workarounds to continue creating and watching content on one of the world's most popular apps.
How did they do it?
First, they realized that Tiktok was not blocking Hong Kong IP addresses, just users whose SIM cards were from Hong Kong carriers. Then they learned that you could access TikTok if you inserted a foreign SIM card.
Alternatively, you can cut out your Hong Kong SIM by removing it, and using a VPN service via WiFi to access the service. Some people are using a second phone, "a burner phone", without a Hong Kong SIM card.
Here's the simplest way to rejoin TikTok on your phone.
First, sign up for a VPN network. Popular choices include ExpressVPN and NordVPN, as well as Surfshark.
Second, grab a pin or use the back of an earring to pop the SIM card out of your phone.
Third, use your phone to connect to the Internet onto the VPN network.
Finally, open TikTok and enjoy procrastinating.
---
Image at the top by Daniel Monteiro on Unsplash