The Hong Kong authorities recently issued arrest warrants for eight individuals living offshore who are alleged to have breached the National Security Law. Canberra has swiftly jumped to express concern for the two fugitives who live in Australia. It is hard to avoid the conclusion that this rash response reflects, in part, a felt-need in Canberra to reassure its truculent minders in Washington that it will not wander off the reservation. Richard Cullen reports.
---
NO MATTER HOW much the mainstream western media repeats the mantra that Hong Kong simply experienced pro-democracy protests for months on end from June, 2019, this cannot erase the facts on the ground.
Yes, there were extensive protest marches related to calls for more democracy but from these grew an immensely destructive and continuously violent insurrection, the likes of which had not been seen in Hong Kong in over 50 years.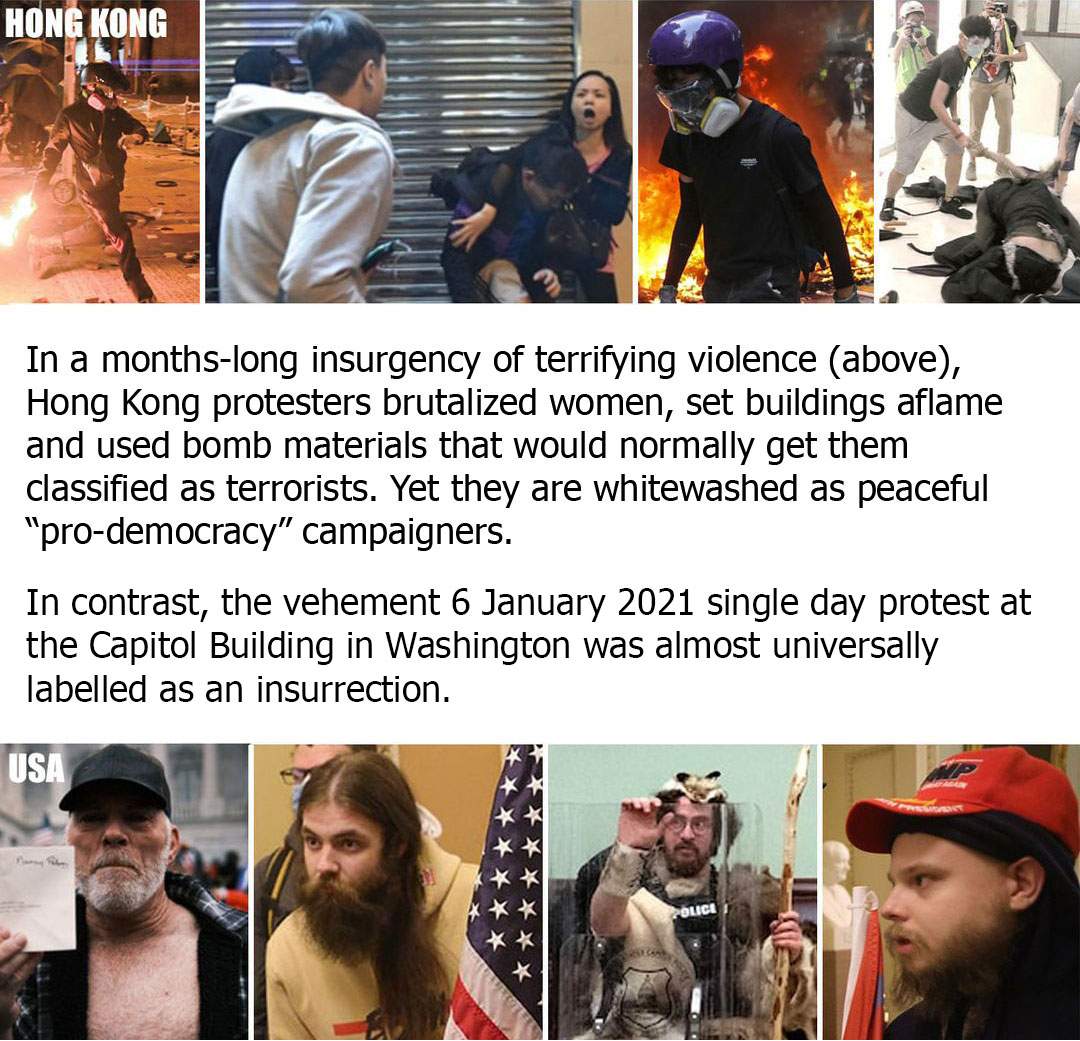 The former judge of Hong Kong's Court of Final Appeal (CFA), Henry Litton, put it this way:
How close was Hong Kong to total collapse? This, we ordinary citizens, will never know. This is something the government, for obvious reasons, will never disclose. But, as an observer looking from the outside, I would say: "It was a close-run thing".

This, as I see it, is the true scenario against which the National Security Law should be viewed. The rest is creative fiction crafted to put the Hong Kong government in the worse possible light.

What Hong Kong faced was an insurgency, the overthrow of the government, nothing less.
The core group fomenting this terrible, extended political violence – and their fervent offshore supporters in the media and well beyond – demonstrated continuing contempt for the rights and well-being of millions of people in Hong Kong.
As Litton explains, these are the pivotal, dangerous circumstances which gave rise to Beijing applying a crucial new National Security Law in Hong Kong in mid-2020.
None of the Anglo-American Five-Eyes jurisdictions gets by without such laws, which are, as you might expect, exceptionally potent and subject to constant updating. The US national security regime, for example, has long embodied robust powers to enable its aggressive offshore application: just ask Julian Assange about this.
The Hong Kong authorities have recently issued arrest warrants, backed by procedural reward incentives, for eight individuals living offshore who are suspected of documented breaches of the NSL. This has been done accordance with the offshore application power written into the NSL and standard police practice. Two of these persons now reside in Australia: Kevin Yam, Kin-fung and Ted Hui, Chi-fung.
DISGRACEFUL CALL
Mr Yam, admitted as a solicitor in Hong Kong, testified before the US Congressional-Executive Commission on China (CECC) in support of the disgraceful call by the CECC for President Biden to sanction 29 judges in the HKSAR.
According to the arrest warrant, Mr Yam is said to have made similar, earlier appeals to foreign governments to act against Hong Kong officials.

Mr Hui, a former Hong Kong Legislative Council (LegCo) member was convicted in 2019 of common assault and related offences after attacking a female government official in the LegCo building and snatching her mobile phone. He subsequently obtained bail, related to several separate criminal charges, by lying to a judge about his reasons for wanting to visit Denmark.
He was sentenced, in September last year, to 3.5 years in jail, in absentia, for contempt of court after jumping bail. He is now wanted, under the NSL, for continuing activities said to be in breach of that law, according to the Hong Kong Free Press.
EMINENT JURISTS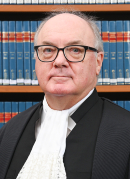 Meanwhile, four eminent Australian jurists sit on the CFA in Hong Kong as non-permanent judges.  The most recently appointed, Mr Justice Patrick Anthony Keane (right) was formerly Chief Justice of the Australian Federal Court and a former judge of the High Court of Australia.  The other two Australian CFA judges were both former Chief Justices of the High Court: Mr Justice Robert French; and Mr Justice Anthony Murray Gleeson.  Mr Justice William Gummow was a judge of the High Court before being appointed to the CFA in 2013. Other judges from Australia also serve on the judiciary in Hong Kong.
This is the judiciary which undergirds Hong Kong's standing as 22nd in the 140 jurisdictions ranked, in 2022, by the World Justice Project, Rule of Law Index – ahead of the US.  And within this judiciary, at the pinnacle, four retired Australian judges bring a wealth of elevated legal understanding to unfolding CFA deliberations.

The Australian Foreign Minister, Penny Wong, apparently met with Mr Hui in January last and she has since said that Australia is "deeply disappointed" and "deeply concerned" by the announcement of these new Hong Kong arrest warrants.
Prime Minister Albanese soon after echoed these words.
Strikingly, neither of them has publicly expressed any swiftly responsive "deep concern or disappointment" at America's now evidently vindictive offshore pursuit of the Australian Wikileaks founder, Julian Assange.
JUST THINK ABOUT THIS
So, let's get this straight.
Both the Australian Prime Minister and Foreign Minister have promptly stepped forward with soothing words for Messrs Yam and Hui, one of whom has been convicted of serious criminal offences and both of whom are now sought under the NSL.
Each has worked assiduously, in their own way, to undermine the independence and effectiveness of Hong Kong's judiciary.
Imagine if they both decided to strike at Australia's judicial system in this sort of wilful fashion: Would they be offered comforting expressions emphasizing concern and understanding?
Of course not – this would be an affront to maintaining the Rule of Law. And here's the thing: when you switch the two jurisdictions back to where they were, it still is.

CANBERRA'S REMARKABLE BEHAVIOUR
Why has Canberra jumped as it has in this way? What of the primary duty to support the interests of Australian judges sitting on the CFA, whose role is menaced by the US-led programme of judicial intimidation?
And, we might add, what of the duty owed by Canberra to support the best interests of the thousands of Australians domiciled in the HKSAR? The Mission Statement of the Department of Foreign Affairs and Trade (DFAT), says, after all, that DFAT works to help Australians overseas.
Looked at squarely, it is hard to avoid the conclusion that this unhappy episode shapes up, in part, as a further ragged example of an apprehensive Australian Government reassuring its truculent minders in Washington that it will not wander off the reservation.
---
Richard Cullen is an adjunct law professor at the University of Hong Kong and a popular writer on current affairs.