CATS AT THE FORBIDDEN CITY in Beijing have become celebrities. They now regularly appear in TV programs and on social media.
They also count as part of the historical tale of the complex.
In ancient times, emperors and other royal family members owned cats which they pampered, just like modern cat-lovers. In the Ming Dynasty (1368 to 1644), Emperor Jiajing (嘉靖帝) was renowned for spoiling his cats. Each cat had its own carer in the palace.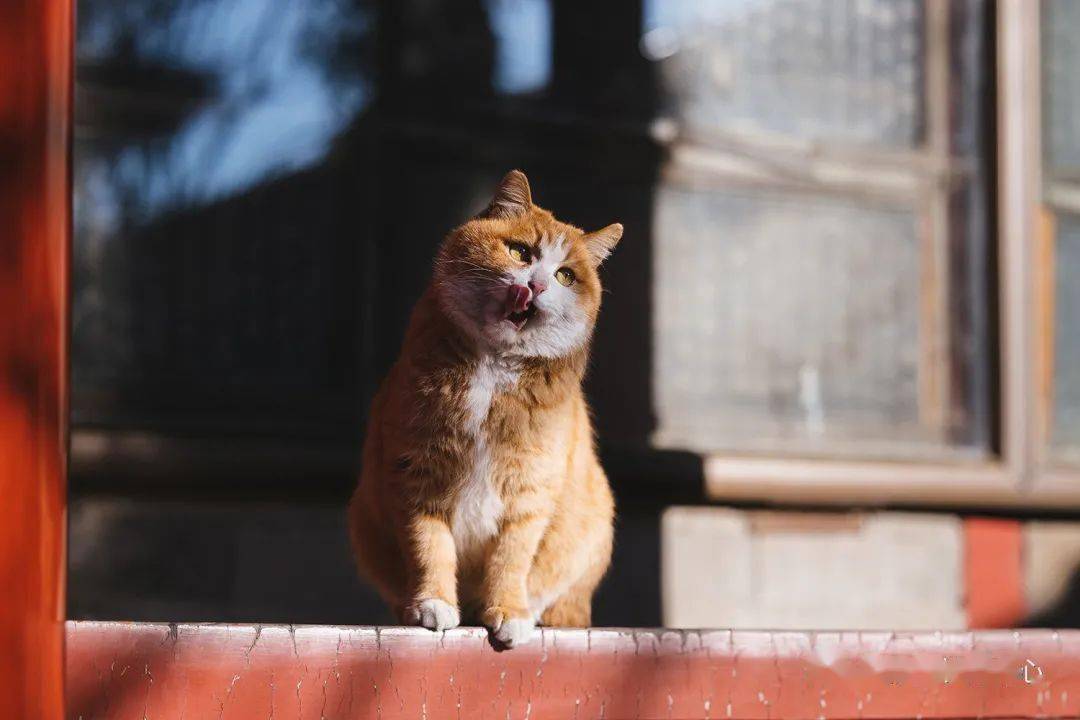 One of Emperor Jiajing's beloved cats was named as Shuang Mei (霜眉). She was docile and clingy, but when she died, the emperor ordered his ministers to hold a funeral and write an obituary for his adorable feline.
In the Qing Dynasty (1644 to 1912), Emperor Qianlong (乾隆帝) was obsessed with exotic cats. Having raised more than 10, the emperor had a particular love of pampering one named Pu Fu (普福), a black and white feline with a long tail and strong limbs. Emperor Qianlong ordered his officials to use a priceless relic-ware bowl for feeding his pet.
Nowadays, there are about 180 descendants of royal cats living and chilling in the halls and pavilions in the Forbidden City.

These fluffy residents are sought out by visitors, social media influencers, and bloggers, after being featured in a popular Chinese TV variety show called Treasure in the Forbidden City (上新了· 故宮) from 2018. The show, which was jointly produced by the Palace Museum and Beijing Radio and Television Station, was acclaimed for its light-hearted way of bringing the former imperial palace closer to young people.
In one episode, Hong Kong actress Ada Choi (蔡少芬) played with a beloved cat of royal lineage named Lu Ban (魯班).

The little cat was cradled tenderly in the program. The shiny brown-hair cat was represented by a cartoon narrator to tell historical stories of the palace.
Other sought-after cats in the palace are Ji Xiang (吉祥), Ruyi (如意), and Jiang Zhang (警長), all of whom are male siblings and relatively young. They were born in the notable garden of Emperor Qianlong (乾隆花園) about four years ago.

Now the siblings love hanging around in the Palace of Great Benevolence (景仁宮) and Palace of Celestial Favour (承乾宮) in the inner court of the Forbidden City.

Another beloved cat in the palace is Ao Bai (鰲拜), named after a high-ranking Manchu official and military general who served under the reigns of emperors Shunzhi (順治帝), Kangxi (康熙帝) Yongzheng ( 雍正帝) and Qianlong (乾隆帝) in early Qing period (between 1640s and 1790s). Some netizens jokingly said they were scared of the fluffy white-haired moggie.
In the palace, cats have their own distinct personalities and traits, ranging from sociable and confident to timid and shy. Professional carers give them food each day, and vets regularly monitor their well-being. But they also have work to do, with Palace Museum staff saying that they have partly helped to mitigate a rat infestation in the palace.
BLOGGERS CHARMED BY ROYAL CATS
Photographer and blogger Yang Xu (楊旭), whose blog name is called Ke Cha (克查), has been taking photos of the cats in the Forbidden City since 2018.

He has garnered more than 600,000 followers in his Weibo account, Ke Cha – Photographer of Cats (克查-貓攝影師).
Last year, Yang published a book featuring hundreds of photos of cats in the palace.

Yang loves taking the cats' photos in photogenic spots among the halls, pavilions and courtyards of the Forbidden City. But he said he never expected his photos to become popular on social media.
CAT-THEMED GIFTS
In the shops, there are now cat-themed products, from paper sculptures, to stationery items, to figurine cups, to ceramic night lamps and other decorative items.

They formed part of the 1 billion yuan annual revenue of gifts and souvenir of the Palace Museum in Beijing.
The Forbidden City is famous, of course, as an ancient palace alongside a museum showcasing invaluable artifacts—but the cats, descendants of emperor's pets, add a personal touch to the former imperial residence.
---
Image at the top by Agape Trn on Unsplash.