WANT TO VISIT the gothic lolitas of the Guangzhou metro system? That city's creative subcultures, experimental cuisines, and lively bar scene will soon be a short hop from Hong Kong on an increasingly futuristic transport system.
And Hong Kongers can get ready for some world-class road-trip holidays, too. Guangdong is on a high speed mission to build one of the world's most ambitious transport networks, a Fridayeveryday study shows.
The Greater Bay Area's infrastructure will include state-of-the-art airports, mega-bridges, new expressways, and of course, comfortable high speed rail services.
DO-ABLE OR NOT?
But China is still a developing country, and is facing huge economic pressures. Is there any guarantee it can fulfil these big ambitions? It's definitely possible, according to industry observers. They say enough work has been completed to provide a measure of confidence that China can deliver on large-scale infrastructure and transport projects.
In this special report, Fridayeveryday looks at the fast-expanding transport systems of Guangdong and the Greater Bay Area, showing how Hong Kong people will one day go places in a region that is really going places itself. We'll look at the topic in four sections:
1) Expressways;
2) Bridges;
3) Trains; and
4) Airports.
Shenzhen roads: picture by Jackie Stia/ Unsplash 
1) HITTING THE ROAD
In the past 12 months, Guangdong has constructed expressways faster than anywhere else in China, and perhaps the world.
It is hard to believe that the province was largely rural farming land just a few decades ago. Today, the Greater Bay Area has 8.7 km of motorway for every 100 sq km of land, surpassing the rate of several other "bay areas" of the world, including Tokyo and New York.
Guangdong now has 10,000 km of highways, giving motorists easy access to much of southern China. "Road-trip" holidays popular in America will likely become a thing for Hongkongers, who will be able to drive through Guangdong to Fujian, Guangxi, Guizhou, Hainan, Hunan, Jiangxi, Sichuan, Yunnan, and, of course, Macau.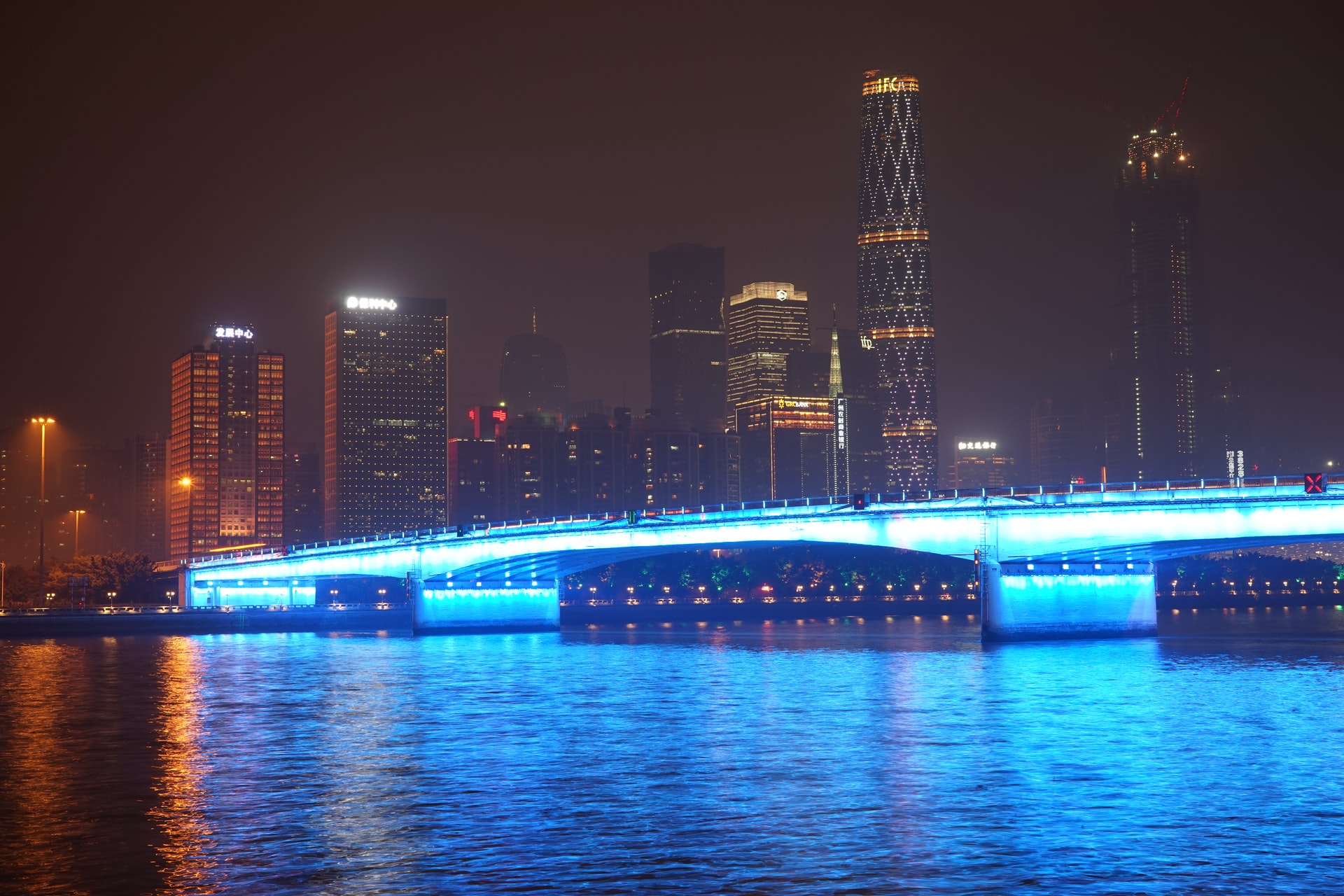 Bridge in Guangzhou: Picture by Oleg Illiarianov/ Unsplash 
2) CROSSING THOSE BRIDGES
The mega bridges are coming. While Hong Kong commentators still talk about "their" bridge, few realize there are SIX MORE major bridges spanning the Pearl River on the way.
The Hong Kong-Zhuhai-Macao mega-bridge, one of the longest of its kind in the world, is credited with expediting the flow of travellers, vehicles, and goods in the region.
A new super-bridge, the long-awaited Shenzhen-Zhongshan Bridge, will be finished in 2024. This will cut the travelling time between Shenzhen, the district that borders Hong Kong, and Zhongshan, an area that borders Macau, from two hours to just 20 minutes. Portuguese restaurants, here we come!
The five more routes which will take you swiftly over the waters of the Pearl River estuary are: the Huangpu Bridge, the Lianhua Mountain Channel, the Nansha Bridge, the Shiziyang Channel, and the Humen Bridge.
Growing rail networks: Picture by Claudio Schwartz/ Unsplash
3) TRAINS OF THOUGHT
A raft of massive intercity rail projects have been started in the Greater Bay Area. The rail plan will provide standard, high-speed and commuter railway lines, fostering a multi-layered rail network that will allow users to travel between major cities in the Greater Bay Area in under 60 minutes.
Intercity rail projects will cover all major cities in the GBA by 2025, and all cities above county level by 2035.
Hong Kong's many cross-border families and business/ leisure visitors to the mainland will be able to access the entire country's rail networks through the Kowloon section of the Guangzhou-Shenzhen-Hong Kong's high-speed rail system.
In other words, you will start in Kowloon and be able to travel to distant parts of mainland China at high speed. The country has 38,000 km of high speed rail, the largest such network in the world.
The cross-border railway starting in Kowloon will likely be popular. Before the pandemic, more than 54,000 people a day used it during weekdays and 56,000 during weekend days. Once border restrictions are relaxed, numbers are expected to return and grow further.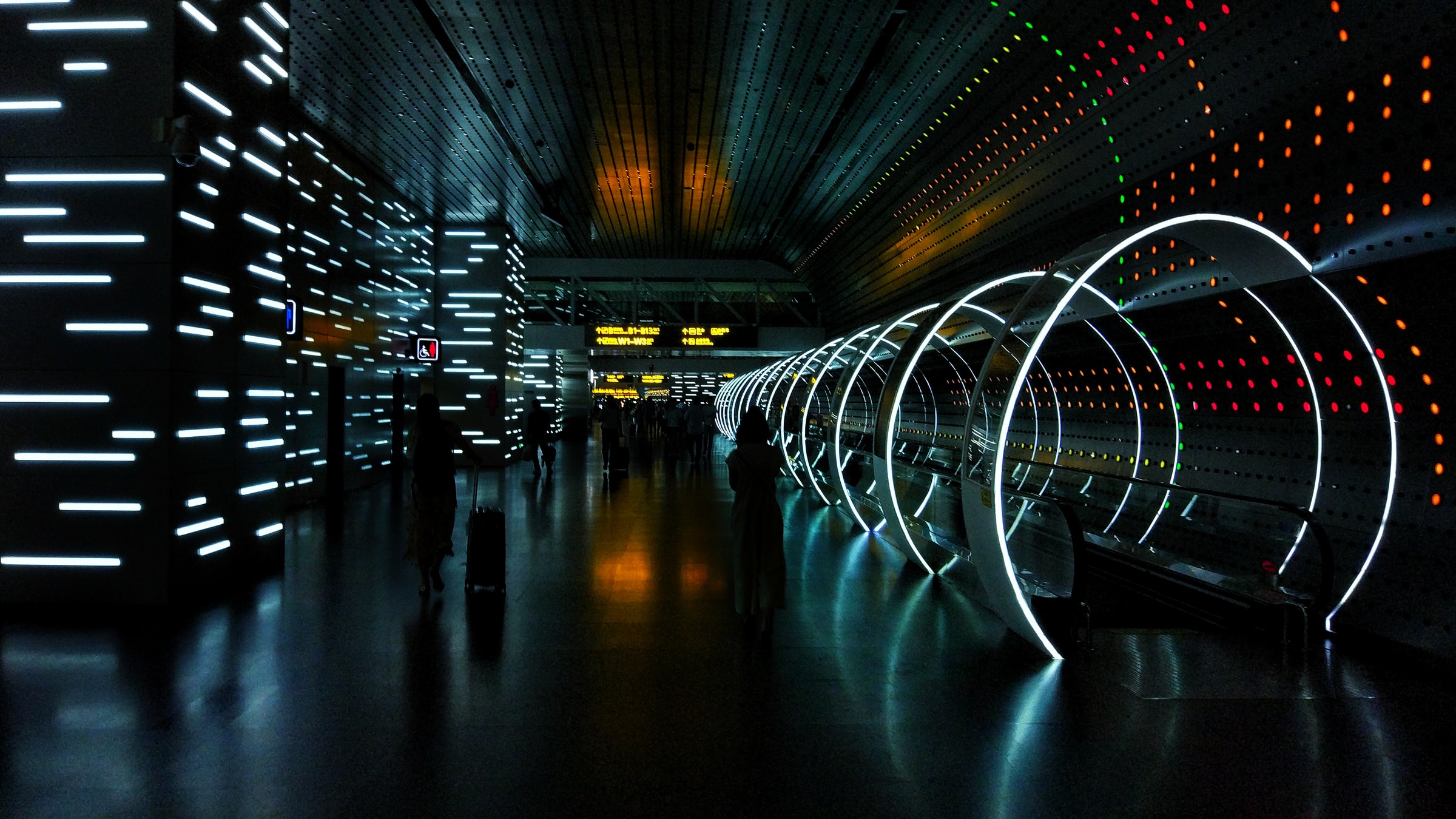 Guangzhou Baiyun International Airport: picture by Nabeel Hussain/ Unsplash
4) SKY IS THE LIMIT
There will be a whole network of places from which to fly. Hong Kong is defined as the global aviation hub for the region in the Outline Development Plan for the Greater Bay Area, so we can expect continued investment and development there.
But there will also be air travel options from Guangzhou, Shenzhen, Macau, and Zhuhai, forming a world-class new airport cluster in the area. As the GBA becomes a thriving new economic region, planners expect soaring demands for traveling, business, and leisure trips.
A third phase of expansion at Guangzhou Baiyun International Airport is already under way, featuring two more runways and a third terminal. A third runway is being built at Shenzhen Baoan International Airport too. And Hong Kong aims to have a third runway completed by 2023.
The airport cluster will boost the capacity for the GBA to 200 million passengers a year.
Road trips: Picture by Alex Jumper/ Unsplash
THE BIGGER PICTURE
Up to now, this article has focused mainly on the travel opportunities the ambitious new transport networks will provide. Vibrant cities such as Huizhou and Jiangmen will become easily reachable, as good value weekend getaways for Hong Kong leisure travellers.
But there are bigger opportunities too. Many Hong Kong people are choosing to commute from Guangdong, or retire there.
People are already realizing that the "one-hour living circle" opportunities offered by the Greater Bay Area means they can get better quality of life at lower prices.
The number of Hong Kong people living in Mainland China has been rising steadily. From 234,800 a decade ago, the present confirmed number shows that at least 371,300 live there, with estimates suggesting a total of about 500,000. Popular locations for Hong Kong people include Fujian, Yunnan, and Shanghai – but the most popular by far is Guangdong.
When covid restrictions are eventually lifted, Hong Kong people will be on the move again. And it will be interesting to see where they choose to go.
* * *
Main pic: Montage of work by PXHere and Scarbor Siu/ Unsplash