IN CHINA, THE BILLIONTH dose of vaccine slid into someone's arm on Saturday. The ultimate goal, herd immunity, may be achievable by the end of the year, doctors hope – an extraordinary achievement given the country's slow start.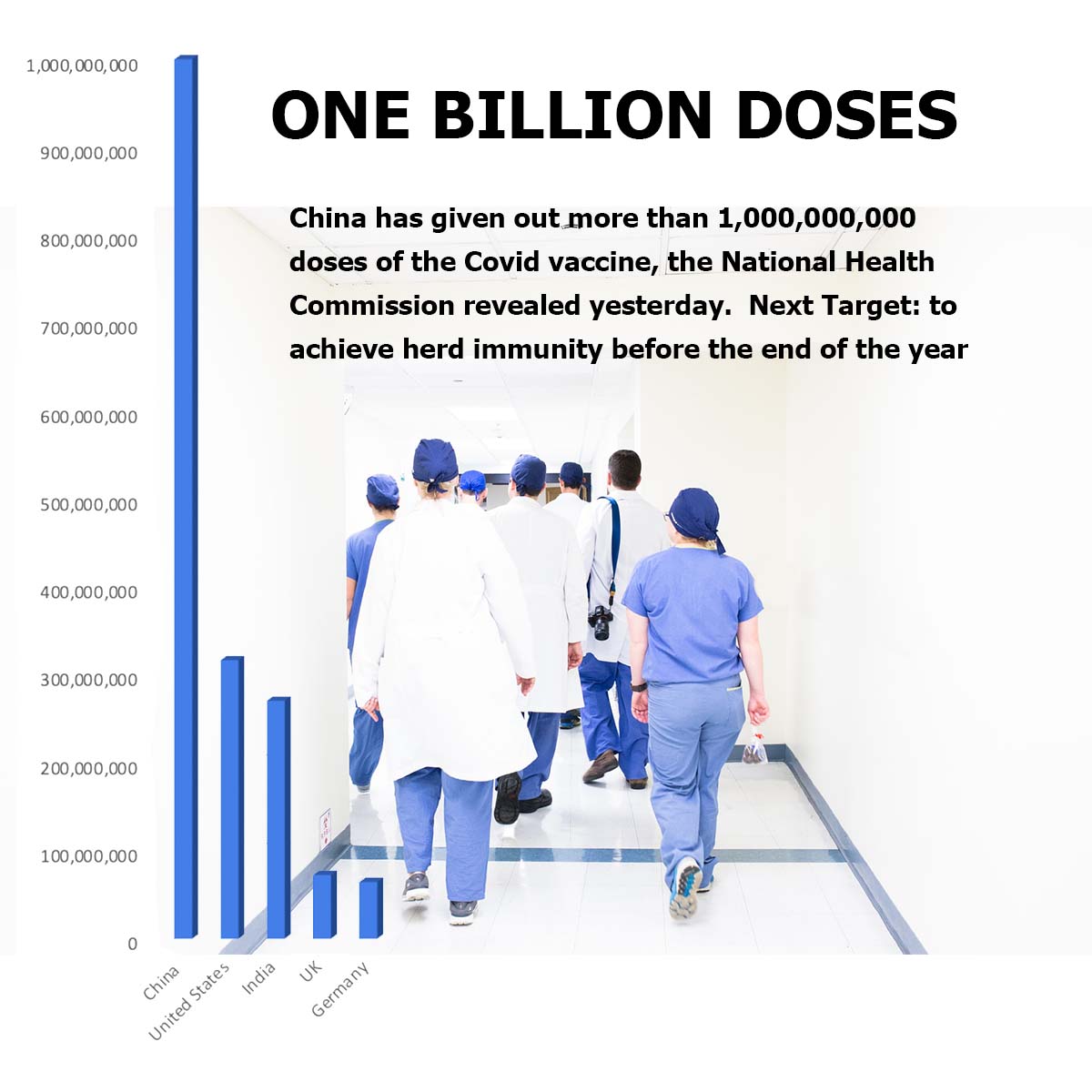 Many of the populace where unwilling to get the jabs, given the remarkable success of the zero covid program created on the fly at the beginning of last year. But the numbers picked up speed in recent months, when fresh outbreaks occurred, adding a sense of urgency that replaced the complacency that had set in.
Since May, the numbers jumped to an extraordinary 10 million doses a day, and on some dates, double that.
Of course, on a per capita basis, some richer countries are ahead of China, but given the huge logistical challenges in the world's most populous country, the achievement is still notable.
"China's top epidemiologist Zhong Nanshan previously said that to achieve herd immunity, China needs a vaccination rate of 83.3 percent, assuming the vaccine has a protection rate of 70 percent, or at least at an inoculation rate of 72.9 percent if the vaccine is 80 percent effective," the Global Times reported.
It's still going to be difficult. But China does have some advantages. People tend not to say no to the Chinese government, and the natural cohesion of society means that getting large numbers of people on the same page is not impossible.
Ironically, the relatively low number of media outlets in China could prove to be a key advantage. The fake news on covid-19 that has bedevilled many Western countries has been much less of an issue here. Doctors and scientists can get their message quickly and accurately to large segments of the population without fears that a thousand alternative theories will go viral.
Meanwhile, at China's airports, a program has begun to deliver 350 million doses to countries in need.
* * *
Main pic: Ivan Diaz/ Unsplash
Graphic pic: Luis Melendez/ Unsplash