A major Cantonese opera event was due to take place in Hong Kong this week. But the Arts Festival's 50th anniversary celebration of the signature Cantonese operas of Sun Ma Sze Tsang, has been postponed due to the city's Covid precautions. The star, who died in 1997, was due to have his works interpreted by a new generation of young talent. Below, CF Lee gives a brief history of the art.
---
CHINESE OPERA DATES back to the 8th century, during the Tang dynasty. Over the centuries, it evolved into many different categories, each with distinct local features. Cantonese opera is one such category, being popular in the southern provinces of Guangdong and Guangxi, as well as in Hong Kong, Macau and among Chinese communities in southeast Asia.
It is generally believed that Cantonese opera began in the late 13th century. Like all versions of Chinese opera, it is a traditional Chinese art form, involving music, singing, martial arts, acrobatics, and acting. It was inscribed onto the UNESCO list of Intangible Cultural Heritage of Humanity in September, 2009.
Cantonese opera became popular in the 19th and early 20th centuries, with itinerant troupes performing along the Pearl River Delta of southern China. These groups lived on boats painted red which were able to transport the entertainers to various temple festivals during the performance season.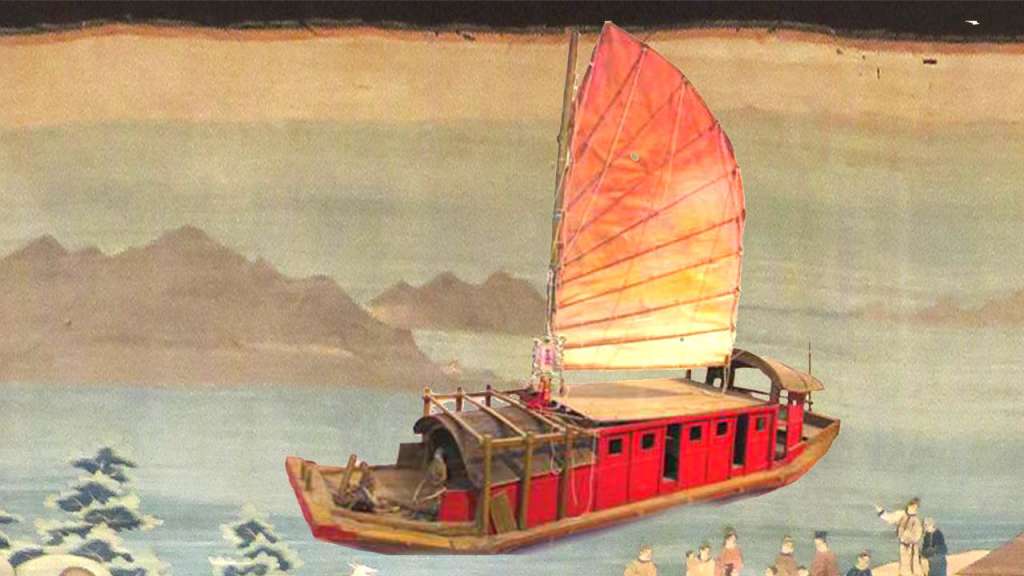 A company normally stayed in a city for a few days, performing different repertories each day. The shows were presented on stages temporarily erected near temple festivals. The temples offered presentations to the local gods and raised funds that were used to pay the actors with entire communities turning out to watch the shows.
While red boats are no longer used these days, temporarily erected venues, in the form of bamboo shed theatres are still being used to date, for the performance of Cantonese opera during some festivals and traditional celebrations.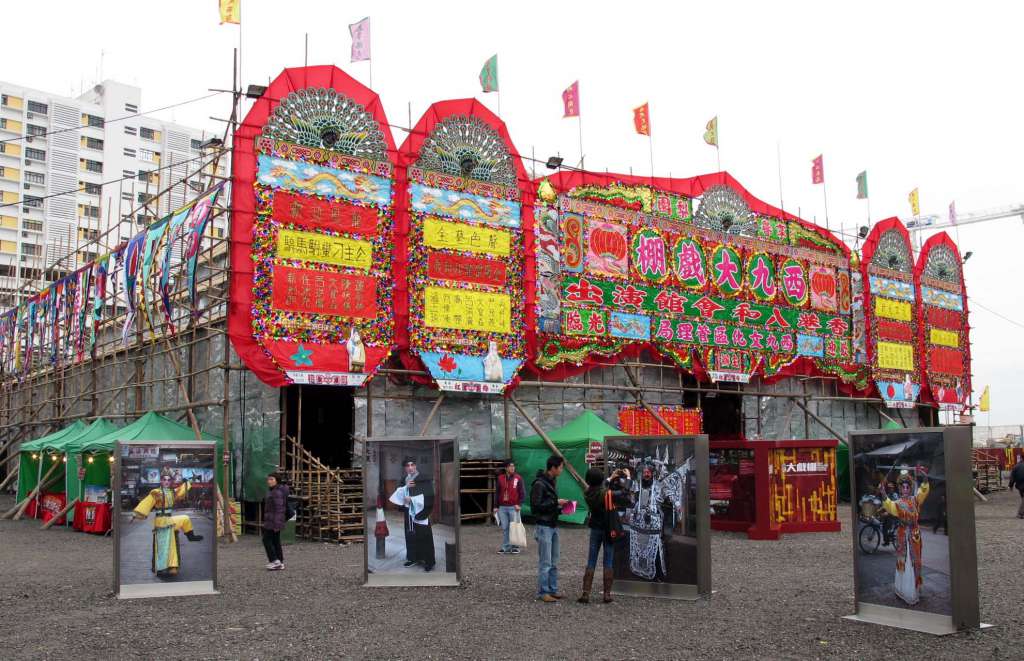 However, since the early 20th century, most performance has been carried out in purpose-built theatres that could provide more entertainment choices for citizens in a more comfortable setting.
On stage, actors of Cantonese opera perform using various dance-like gestures, wearing painted faces with somewhat exaggerated colours and lines. They also use abstract movements to represent different times and spaces, such as riding a horse, or opening and closing a door.

The use of flashy garments clearly identify the role of each actor. Costumes are basically classified into python ceremonial robes, armour, gowns with sloping collars, official robes, and so on. Each type of costume is matched with particular headgear, footwear and facial make-up.

The orchestra consists of two sections, the percussion and melodic groups. The percussion is made up of various cymbals and drums, and sets the general rhythm of the play, movement of the actors, and the intensity of the scenes. Several western instruments such as cello, saxophone and violin have been incorporated, and are now regularly included in repertories.
THE STORIES
The plots used in Cantonese opera are often similar to those used in other categories of Chinese opera. There is a long standing tradition of incorporating virtues and values into such plots, such that the theatre became an important venue for virtue and value education, besides providing entertainment. Such values include loyalty to the nation and to the family, filial piety, personal integrity and honesty, uprightness and probity of officials, kindness and compassion for others, etc.
To achieve this, the playwrights of Cantonese opera often used stories from Chinese history to develop their plots, and the entire show became a comprehensive multi-disciplinary artform using vocals, instrumental music, dancing, acting, acrobatics and martial arts, in order to tell a story, and in the course of such a performance, to convey some of the aforementioned virtues, morals and values as well.

In general, a proficient actor or actress for Cantonese opera needs the following four basic skills:
Singing or vocal skills – the actor or actress has to sing in a melodic frame as the plot develops. The songs can contain many melodies and the singers can often add personal variations in their own style.
Acting skills, which include the skills of the performers in bodily movement and hand gestures, as well as the acting and emotional expressions required on stage.
Recital skills, for frequent spoken narration on stage. The manner of delivery of such recitations is often much more musical and rhythmic than in daily life.
Acrobatic and martial art skills, which are often delivered with a sense of elegance, vigor and entertainment.
SIX KEY ROLES
Cantonese opera performed today normally each features six major actors/actresses (six major roles) including
Wenwusheng (literary and military male)
A civilized or learned martial man who appears in operas of all historical periods, this role often portrays on stage as a clean-shaven scholar-warrior.
A young beardless male character, often wearing paler make-up to represent his youth, and also frequently involved with beautiful young female.

Zhengyyin Huadan (first female lead)
A young belle role for a vivacious maiden or a young woman, who is often involved in a romantic story, a tragedy or a comedy.
Erbang Huadan (second female lead)
A supporting actress, who could either be an unmarried girl or an honourable lady, or an elder female actress playing the role of a mother
Zhengyin Chousheng (lead comic role)
The Chou (literally meaning the comic face of a clown) is always a wise, funny and chivalrous man, and is sometimes of low social status. This role could portray various kinds of personalities; some are warm-hearted, simple and sincere, while other might be sinister and mean.
Zhengyin Wusheng (lead military male)
This role portrays a male military character who often appears in battle scenes. A high level of martial arts skills is necessary to play this role. It also requires vigorous exertions using powerful waist and leg movements.
Click here for a sample of Cantonese opera in a video.
---

Lee Chack Fan is Chairman of the Board of the Hong Kong Institute for Promotion of Chinese Culture, the Jao Tsung-I Academy Management Board, and has numerous other titles. A former Pro Vice-Chancellor of the University of Hong Kong, he rose to prominence through his geotechnical expertise and as a professor of engineering.
---
Image at the top from Michelle Lee (recommended: her flickr channel and her blog)