IT'S THE BIGGEST drinks company on the planet by far, as large as Coke and Pepsi put together – yet most people around the world have never heard of it.
But you soon will. The leading beverage made by Kweichow Moutai is coming to a bar near you.
It's called baijiu and it tastes like fire.
* * *
Baijiu is the happening thing. Some brokers call it "liquid bitcoin" because of its surging valuations.
In the past six months, the two most profitable sectors in the Chinese capital market have been next generation vehicles and baijiu (which literally means "white liquor"). It's easy to see how the story of electric and hydrogen powered vehicles captures the imagination of investors, but why would baijiu shares soar as they have done? In 2020, the company behind the drink, Kweichou Moutai, saw its shares on the Shanghai market rose 70%. This year, the counter has risen a further 30%.
Clearly, baijiu is in growth mode. Kweichow Moutai became the world's largest distiller in 2017, overtaking Diageo, the British company behind Johnnie Walker whisky, Bailey's, Smirnoff vodka and many other brands. It's worth half a trillion US dollars.
That makes Kweichow Moutai the most valuable company in China, with a Chinese stock market capitalization twice as high as ICBC, the dominant Chinese bank.
The company's market value, at about 2.79 trillion yuan, makes it 1.8 times that of Coca-Cola and 2.1 times that of Pepsi. It's also bigger than many of the world's biggest consumer products firms, including Proctor and Gamble, Nestle and LVMH.
As of May 31, 2021, Kweichow Moutai's share price closed at 2,218 yuan, which is even more expensive than the price of a single bottle of "Feitian" Moutai, the most popular (and entry-level) product of the Moutai family. Bottles of the drink pull in big bucks, at US$200 for a half liter, which comes in its distinctive, short, fat, red and white bottle.
* * *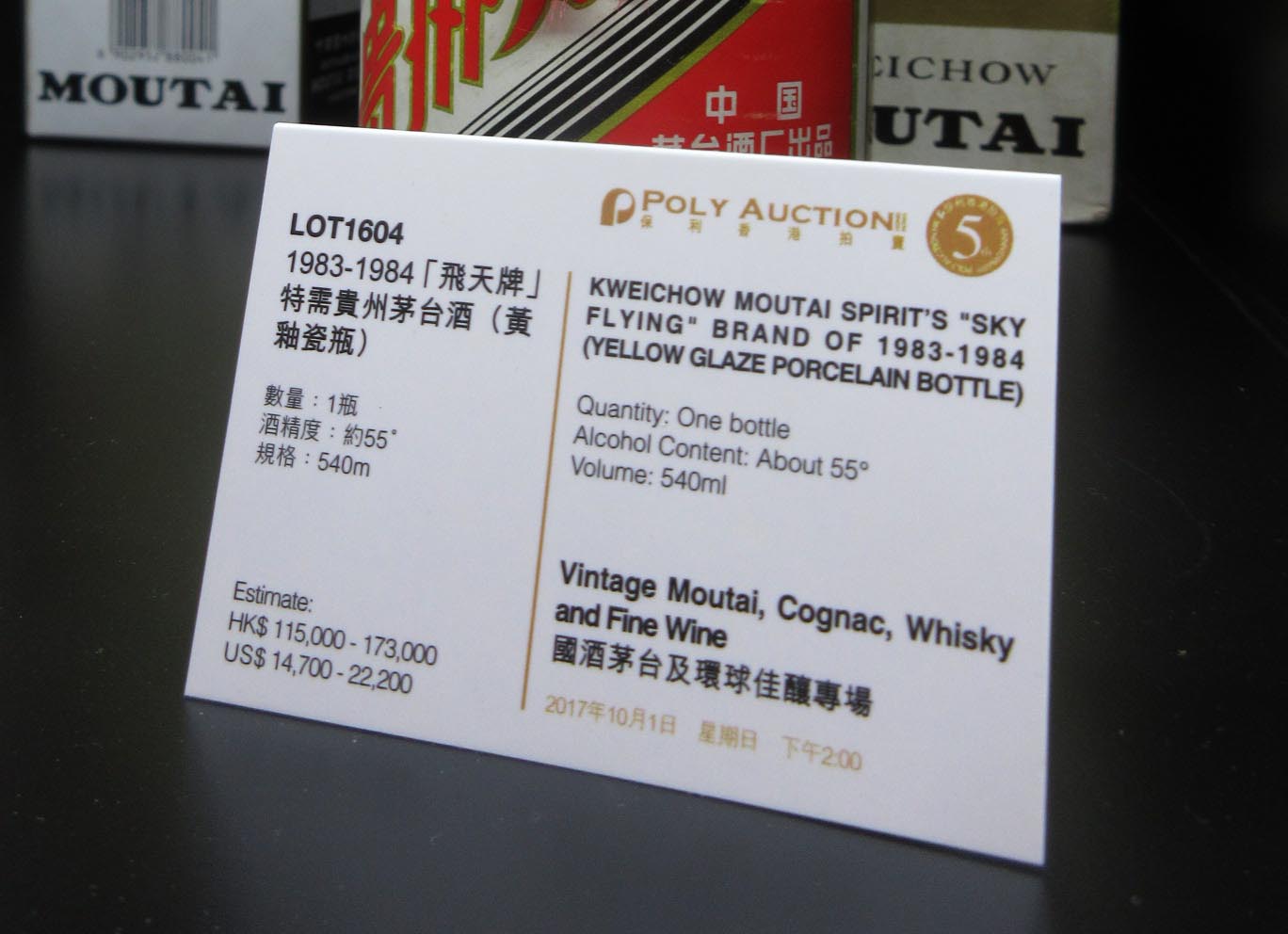 Rare or unusual bottles can fetch huge prices, such as the HK$100,000 plus estimate for this one at a 2017 auction in Hong Kong. Picture by Hungagn Twuai/ Wikicommons
Here are six key facts worth knowing:
1) BAIJIU IS ARGUABLY THE KING OF SPIRITS
More baijiu is sold every year than whisky, vodka, gin, tequila, and rum combined. And yet it remains virtually unknown outside of Chinese drinking culture.
2) IT'S A PARTY DRINK (no, not that Party)
About 80% of baijiu is drunk during social gatherings. Statistics show there are 500 million alcohol drinkers in China. Calculations of how much baijiu is consumed range from 9 billion liters to 30 billion liters a year.
3) BAIJIU IS HARD TO MAKE
It is made from sorghum or a mixture of barley, corn, rice, wheat, and sorghum, and the process is more complex than for most distilled spirits from other countries.
4) IT COMES IN DIFFERENT FLAVORS
The drink has a long history, and different geographical and cultural factors have caused the liquor to form a variety of flavor structures. At present, there are twelve variant flavor types that have passed national standards, of which the main ones are known as strong aroma (濃香), sauce aroma (醬香), and light aroma (清香).
Among them, strong aroma occupies the highest share in the liquor market, represented by brands such as Laojiao Distillery (泸州老窖) from Luzhou, Sichuan province and Wuliangye (五粮液) from Yibin, Sichuan; and Jiannanchun (剑南春) from Mianzhu, Sichuan. As for the sauce aroma type of Baijiu, the representative brand is Kweichow Moutai (茅台) from Guizhou. And the light flavor is also one of the main flavors of Baijiu. The two primary s of this liquor are Fenjiu (汾酒) from Shanxi and Erguotou (二锅头) from Beijing.
The drinks are made in a town in Guizhou Province, right in the center of China: picture from Google Maps
5) MAN, IS IT STRONG!
While the norm for liquor in the western world is 40% alcohol by volume, such a level would be regarded as low for baijiu. The norm for Moutai, as well as most baijiu brands, is 52% alcohol, and sometimes as high as 60%. Serious drinkers dismiss the lower alcohol varieties (38%) but they are popular overseas, and shots of baijiu are often used as elements of mixed drinks in upscale bars in New York and elsewhere, where they can cost US$15 for a shot. In China, the lower versions are consumed more in the southern provinces such as Guangdong, which has a light cuisine culture including non-spicy food.
6) IT IS USED ON HISTORICAL OCCASIONS.
Kweichow Moutai was the favorite drink of People's Republic of China's founding father Mao Zedong who famously served it at state dinners during US President Richard Nixon's visit to China in 1972.
On diplomatic occasions, Premier Zhou Enlai also often used alcohol as a topic for enlivening the atmosphere. Whether it was a meeting in Geneva, Nixon's visit to China, a visit by then Japanese leader Kakuei Tanaka, out would come the bottle of baijiu.
3 TIPS FOR DRINKING BAIJIU
Baijiu is generally consumed neat, at room temperature, and in a small cup or shot-sized glass. The tiny glass holds only about 10ml. While its alcohol content is 52% or higher, it is never mixed with water or ice.
Remember to keep your glass as low as possible when toasting a guest, as this shows that you are humble. If the guest considers you to be of greater importance of stature, they will nudge your glass a little higher than theirs.
And always empty your glass. The popular toast in China is called "ganbei". This translates as to "dry the cup". Guests will be expected to drink their full glass of baijiu in one go.
* * *
The most popular bottle of the drink is called Feitian, a term which refers to one of the popular angels of the famous wall paintings of Dunhuang. It literally means "flying to the sky". Moutai's soaring stock price is already living up to the name.
Investors, raise your glasses.
Ganbei!
* * *
Main Pic: Italo Melo/ Pexels