ONE MAN MISSED A BUS. Another gave him a lift. And the result was that a 20-year wall between two nations fell.
The man was an American table tennis player who missed the bus taking the US team back to their accommodation during a 1971 championship in Japan. He was offered a place on the Chinese team's bus, and befriended by player Zhuang Zedong, who gave him a gift, and later invited him to play in China.
Twenty years of separation between the US and China ended in a new friendship called "ping-pong diplomacy", which created a vital thaw in the cold war.
Hong Kong sports specialist Kenneth Fok Kai-kong recalled that event recently—and pointed out that China was still making good use of sports to create international friendships around the world.
"Throughout decades, sports has played an important role, not just in one sense, not in the sense of just getting medals, but serving as a bridge and a connection to the world, from the ping-pong diplomacy [of the 1970s] moving forwards to 50 years of normalization with the western world and beyond," Mr Fok said.
"And then we move through a period where our economy and our whole society is 'rising up the ranks', so-called, and sports played a very big role. Remember the [Beijing] Olympics in 2008? They served as a message to tell people the door is open. This is a way to show the world China is powerful, China is on the rise, and we welcome everyone."
HEALING POWERS
Sports is not just a good bridgebuilder between nations—but a powerful healing force within a community too, said Mr Fok, who is a Hong Kong Legislative Council member with responsibility for culture and sports, and Vice President of the Sports Federation and Olympic Committee.
He recalled being in a Hong Kong shopping mall at the moment when a local young man, Cheung Ka-long, won a gold medal at the Tokyo Olympics in 2021—and everyone was enormously proud that a place as small as this city could win a top place on the world stage.

"Hong Kong has been through tough times," he said. Since then, he has noticed a change of attitude. "I've really noticed that young people now care a lot more about quality of life. It's not just about work, but work-life balance—and part of life is sports," he told interviewer Herman Hu Shao-ming on Friday Beyond Spotlights.
---
You can see both parts of the show by clicking the videos below, or scroll down further to read more of this feature article.
In the first part of the show, above, Kenneth Fok shares his insights on sports development.
In the second part of the show, above, Kenneth Fok shares stories of his personal life outside the spotlight.
---
HONG KONG'S GEOGRAPHY
There's something magical about the topography of Hong Kong that makes it a great place for sports and fitness enthusiasts, Mr Fok believes. For a start, there's the wonderful waterfront, which people use all the time. But there's also the blend of urban facilities and green areas in close proximity.
Rowers in particular love Hong Kong, Mr Fok said. "Why? There's no other city in the world where you can start off the race in a harbour with skyscrapers – and 20 minutes later it's green, and lush, with mountains!"

It was the same with hikers. "Where else in the world can you go hiking and trekking, you start from the city and you walk up for one hour and you are in a country park?"
The mixture of geographic elements in the city is unique, he said. "This is what attracts athletes and sports lovers to Hong Kong."
SIZE MATTERS
But of course there's also a downside of being in a relatively small community: Hong Kong has to compete in international sports competitions against places with huge populations.

Still, that factor is already changing, as the city develops a relationship with the Greater Bay Area. "The GBA immediately extends Hong Kong's reach and population to 70 million people from seven million," he said. "So I can envision the future where Hong Kong can bridge the world and get more hosting opportunities, different sporting events, conventions and whatever may be: trade shows, even."
THE BUSINESS SIDE
The business side is important, too, he said. And sports can be a way that international corporations can co-operate. "Sports is a big platform," he said. "So I think it's a great prospect for whoever is wanting to take a share of the China market in sports."
At the moment, the sports industry contributes about five per cent of GDP in the United States, and China is aiming to reach a similar number, he said.
Other areas are lower than this. Sport accounts for only about 2.5% to 3% of GDP in Europe, and in Hong Kong, it's between one and two per cent. "I think Hong Kong has a lot of work to do," he said.

But the business side of sports was also changing at speed. For example, the way that sports reaches the audience has always been through the television channels. "Traditional TV broadcasting—is this the only way?" he asked. "I'm sure the Olympic movement, the IOC [international Olympic Committee] is also looking at different ways."
Fok believes that "in the future, they are looking at creating content themselves, and to sell to customers directly without going through TV stations".
BIG STEPS IN HONG KONG
Meanwhile, there have been two big changes in Hong Kong. First, the government has created a new bureau to focus on culture and sports. "Us in the sporting community are really excited about the new bureau. It's something we have asked for, for many years," he said. "It used to be under Home Affairs but now we have a dedicated bureau for culture and sports."
This will allow a tighter focus on making the best of Hong Kong's sporting triumphs, such as the Rugby Sevens. "I know people who are dedicated. Every year they book their flights one year in advance to come to the Rugby Sevens," he said. "These are events we need to grow and use as our name card for Hong Kong on the international stage."
A HUGE SPORTS PARK
The other big change is the development of a large sports area – the Kai Tak "sports park", which is a major development. "Kai Tak should not be a Hong Kong stadium – it should be the Greater Bay Area's newest stadium," he said.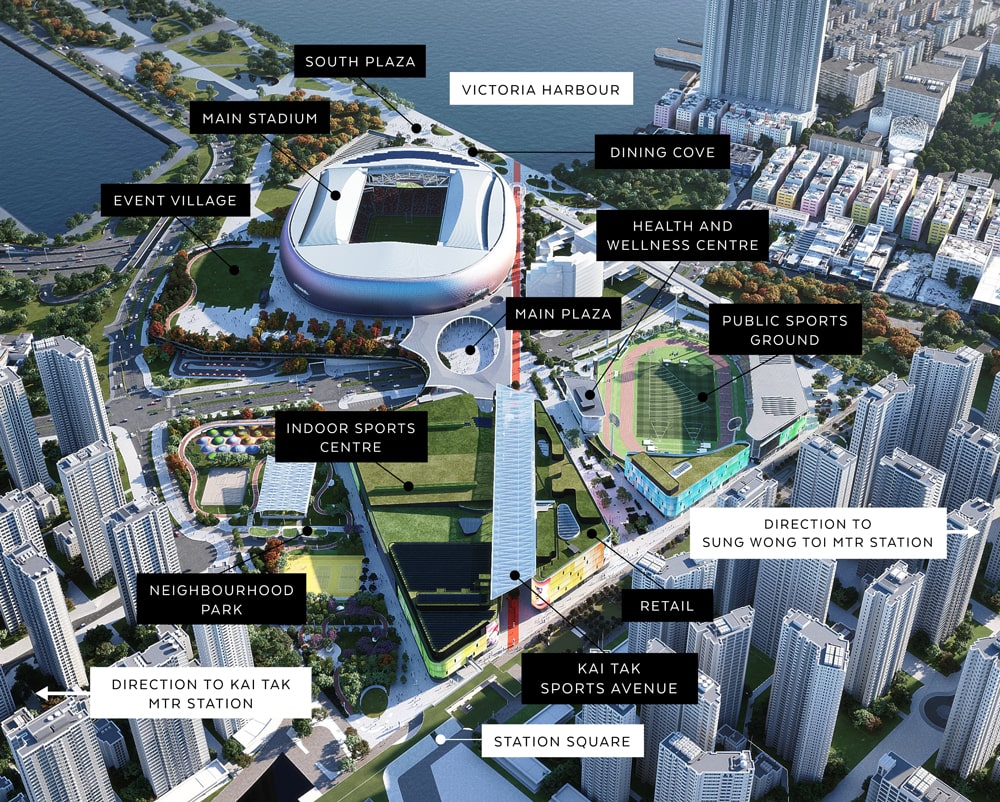 In the long run, Hong Kong could be part of a bid by mainland China to host the football World Cup," Mr Fok believes.
The sports park, due to open in 2024, will be a state-of-the-art facility. One unusual aspect of it will be that there will be a large glass area on one side of the stadium so that people can watch the sports events and still enjoy a view of Hong Kong's celebrated waterfront.
As for making sure it is a success on the business side, co-operation and co-ordination are the keys, he said. "We have a lot of good stadiums in Shenzhen, in Guangzhou; can they come together and together bid for some big events?" he asked.
The advantage would be that we can attract bigger events, as participants could do a tour of multiple cities with big audiences. "So that when the sports teams come, when the premier league comes, they are coming to one market, and it's a big market."
CELEBRATED FAMILY
Mr Fok also talked about personal life. His father and grandfather were both famous Hong Kong people, celebrated for both business achievements and their interest in sports.
And Mr Fok himself not only loves sports, but married one of the region's most celebrated sports stars: Guo Jingjing, an Olympic medalist in diving with four golds–two of which he brought with him to the show.

During the interview, he revealed an amusing story from the family's past: his father Henry Fok had been due to be medal presenter at a major event when his phone rang. On the line was another medal presenter who wanted to swap places with him—and this meant that Henry Fok would have to present the medal for diving.
He called his son. "Is Jingjing going to win?" he asked.
Kenneth replied: "I can't give you a definitive answer, but I do hope so." He told him to take the risk, because they had confidence in her. The elder Fok accepted the re-assignment.
In the end, she did win, and Henry Fok appeared on live television as presenter, with Guo Jingjing as recipient. The diver's name was linked to that of Kenneth Fok by the news media since at least 2008, but they married in 2012, and now have three children.
"My kids they are good swimmers," he said. The couple did give them training to improve their performance. "But not with the aim that they need to be an elite athlete, but [because] it trains their will, their spirit, as well, which is important."
TAKE ADVANTAGE
And what about the future? The sports scene in Hong Kong is in growth mode, and he encourages young people to pursue sports. It's a no-lose bet. If you do well, you can become a winner, and even if you don't, you'll have done something important for your body and your mind.
"If you are serious and passionate about sports, keep at it, keep the fire burning," he said. "The ecosystem could support you to become a professional athlete and have the chance to represent Hong Kong."
---
Herman Hu interviewed Kenneth Fok as part of a television series called Friday Beyond Spotlights on iCable's channel 76: Hong Kong International Business Channel.
You can see that episode and many others on Fridayeveryday's YouTube channel.
---
All images from Friday Beyond Spotlights unless specified otherwise.