IN AUGUST LAST YEAR, the Guangdong Coast Guard arrested a dozen political activists aboard a speedboat knifing through Chinese territorial waters from Hong Kong to Taiwan.
Western news media gleefully proclaimed history repeating itself. You see, Hong Kong had once been a beacon for boat people fleeing Vietnamese communism, from the 1970s to the 1990s. But now it was a departure point for Hong Kong boat people fleeing mainland communist oppression for the formosa shores of "Free China".
The news agencies were unconcerned that at least half of the absconders, aged 16-30, were jumping bail, or that almost all of them had recently been arrested for rioting, arson, illicit possession of weapons or explosives, and money-laundering to finance subversion in collusion with foreign powers. Nor were they bothered by the well-known Karl Marx dictum that history repeats itself first as tragedy, second as farce.
Farcical though it was, the episode stirred memories of the earlier tragedy of Vietnamese boat people. From 1975 to 1999, Hong Kong was a waystation for more than 210,000 of them, mostly ethnic Chinese persecuted in Vietnam since the end of the American war as bourgeois counterrevolutionaries and, following a brief border war with China in 1979, potential fifth columnists.
Two-thirds of the boat people who risked everything to reach Hong Kong were eventually awarded refugee status and resettled in the West. The remainder were deemed to be economic migrants and repatriated to Vietnam after its 1986 "restoration" under Đổi Mới reform.
'It would never have been mistaken for a holiday resort'
When this writer visited the Whitehead detention center in 1991, it held behind barbed wire nearly half of the 60,000 boat people then in Hong Kong — one percent of the territory's population of 5.8 million at the time. In 1982, the colonial government started incarcerating boat people in closed camps as deterrence. Built at remote Wu Kai Sha in Sha Tin district, the sprawling Whitehead center was administered by Hong Kong Correctional Services and would not have been mistaken for a holiday resort, however scenic its seaside location.
I was there because I was dating a nurse for Médecins Sans Frontières, and Marie wanted to show me the très misérable circumstances of the Vietnamese children under her care. It was a sobering experience, but I remember more clearly the day some weeks later when Marie and I took a refugee and her teenage daughter out for a day on the town.
The mother and daughter had been in Whitehead for years and years, the daughter too young to remember much before her internment. The outing was permitted only because she and her parents had finally been accepted for resettlement in the United States and would soon go to a transit camp in the Philippines to learn English and otherwise prepare for their new life.
The father was also in Whitehead but had opted out of the day's excursion because, I was told, he shrank from the outside world after so many years inside. I caught a glimpse of him as he smiled sheepishly and waved to his wife and daughter setting off. He looked browbeaten and prematurely aged. I wondered how he would fare in the land of the free and the home of the brave.
This was 13 years before Wu Kai Sha had a mass transit rail station, and I don't remember how Marie and I ferried our charges to Admiralty and the start of our tour.
First stop was Pacific Place, then only three years old and as gleaming and tony as a Hong Kong shopping mall could be. I had deliberately postponed my stop at an ATM until I could wow the Vietnamese by pulling HK$100 bills from a wall. They didn't seem to notice.
Nor were they visibly impressed by the shiny marble and glass confection that was Pacific Place — not until we came to our first escalator.
They stopped cold.
They gaped at the grooved aluminum steps gliding away from their feet and up. They turned to each other to share their astonishment.
Then they collapsed in gales of laughter, all but rolling on the floor. A moving staircase was a marvel they could comprehend — and such a wonderful idea! But set foot on the thing? No way. Perhaps because going up looked less scary than going down, Marie and I finally convinced them to take that big step.
For the rest of the day, every escalator we approached cracked them up. They never got the hang of walking straight on without first stopping to gauge the speed.
The Peak Tram was okay, though hardly an escalator. They enjoyed the circular walk around the Peak but were unmoved by its sylvan grandeur or panoramas of city and sea below and mountains beyond.
'Shopping would be the no-nonsense highlight of the day.'
Back down in Causeway Bay and treated to a late lunch in our favorite Vietnamese bistro, they found the food mediocre and menu prices scandalous.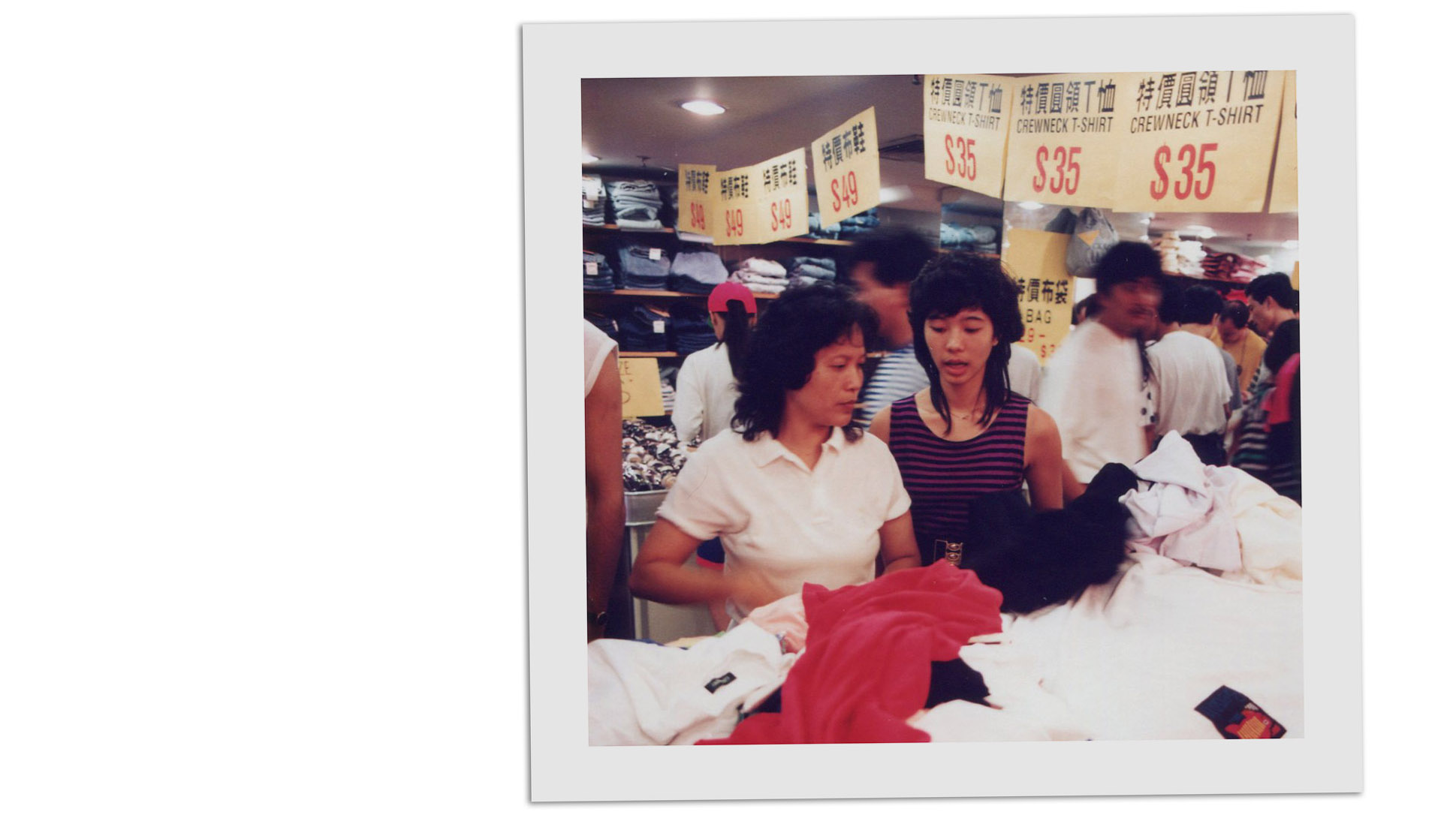 From there we hit a factory clothing outlet. Shopping would be the no-nonsense highlight of the day. They rolled up their sleeves and set about selecting a mountain of clothes to take back to Whitehead and sell to other detainees.
Upon release, these two women, Marie and I agreed, would fare just fine.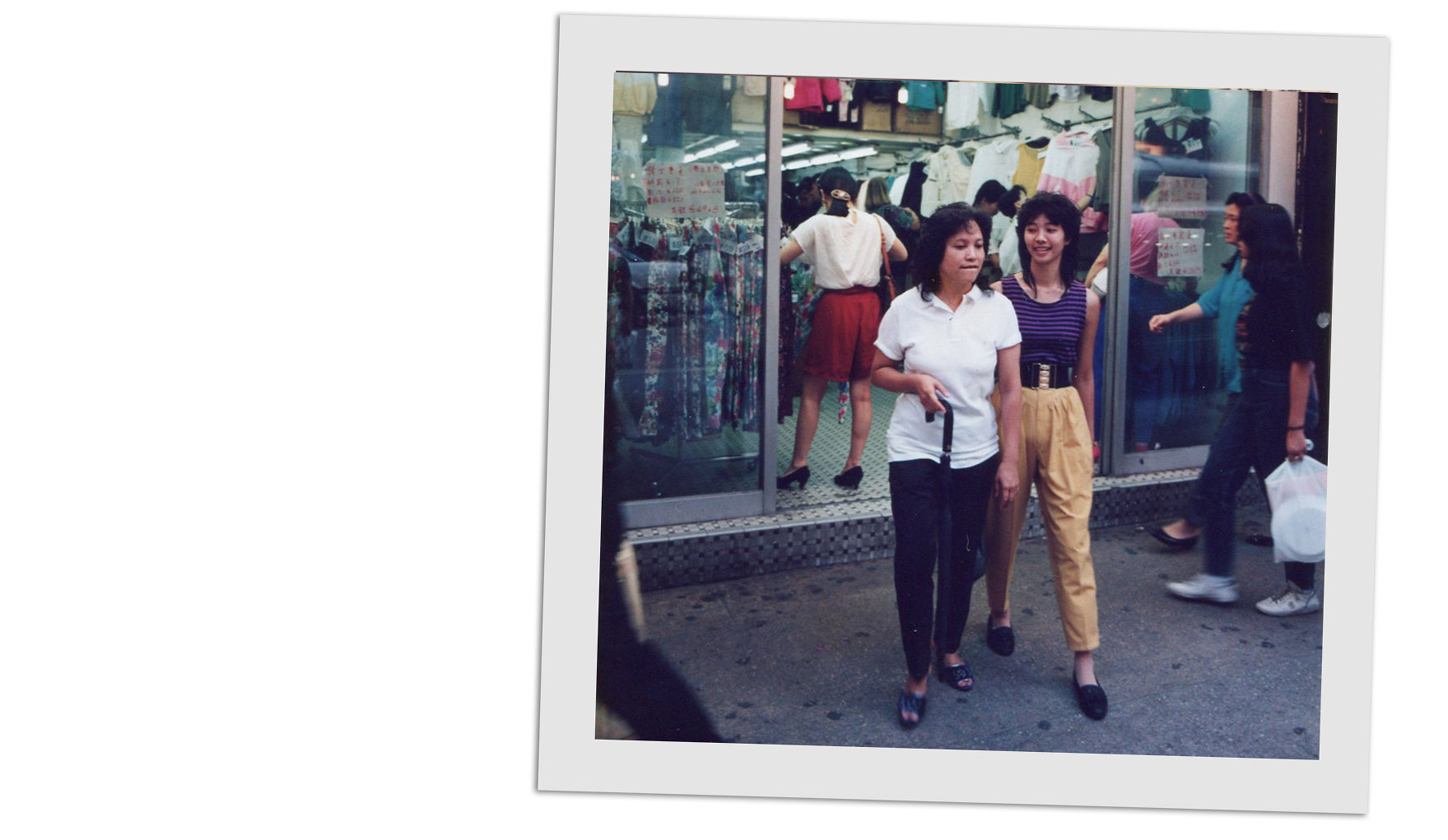 * * *Peter Fredenburg is at Freewheel Media.