AN ANCIENT FOREST lost in time has been discovered deep underground in Guangxi Zhuang Autonomous Region, China. Species of plants and animals unknown to science are likely to be found, experts said.
Explorers lowered themselves on ropes more than 190 meters (630 ft) to reach the forest through an opening in the surface, itself hidden under dense vegetation on a hard-to-reach mountain range, Xinhua reported. The expedition was on May 6.
After spending hours climbing up the outside of the mountain to the entrance, and then spending more hours lowering themselves down on ropes, the team from the Institute of Karst Geology of China Geological Survey found ancient trees and thick undergrowth in the primitive forest. (Picture at the top is an artists' impression.)
The ancient trees growing at the bottom are nearly 40 meters (130 feet) high, and the dense shade plants are up to one's shoulders, Chen Lixin, leader of the Guangxi 702 cave expedition team, told Xinhua. The huge underground cavern is located near Ping'e village, Luoxi township, and measures 306 m in length, 150 m in width and 192 m in depth, senior engineer Zhang Yuanhai told the press.
The team has yet to do detailed studies or release photographs of the new discovery, but some images of earlier finds of vegetation growing underground are available. In 2019, a team of multinational cave experts discovered a cluster of karst sinkholes in this same area. That group, which included speleologists and cavers from China, France and Belgium, found two large karst sinkholes and more than a dozen smaller limestone caves in the mountainous area of Donglan county, Hechi city.
The karst landscapes of Guizhou, Guangxi, Yunnan and Chongqing are listed jointly as world heritage center by UNESCO.

This photo below, taken on May 25, 2016, shows a 290-meter-deep karst cave in Luoquanyan Village of Xuan'en County, Central China's Hubei province. The photo is from Xinhua, via the Hubei government.

Ironically, some of the deepest caves are found at high altitude, including one on top of a 700-meter-high mountain. Drones are used to explore the area and locate them. In other areas, karst cave openings can be found at low levels, such as in the image below, taken in Guilin.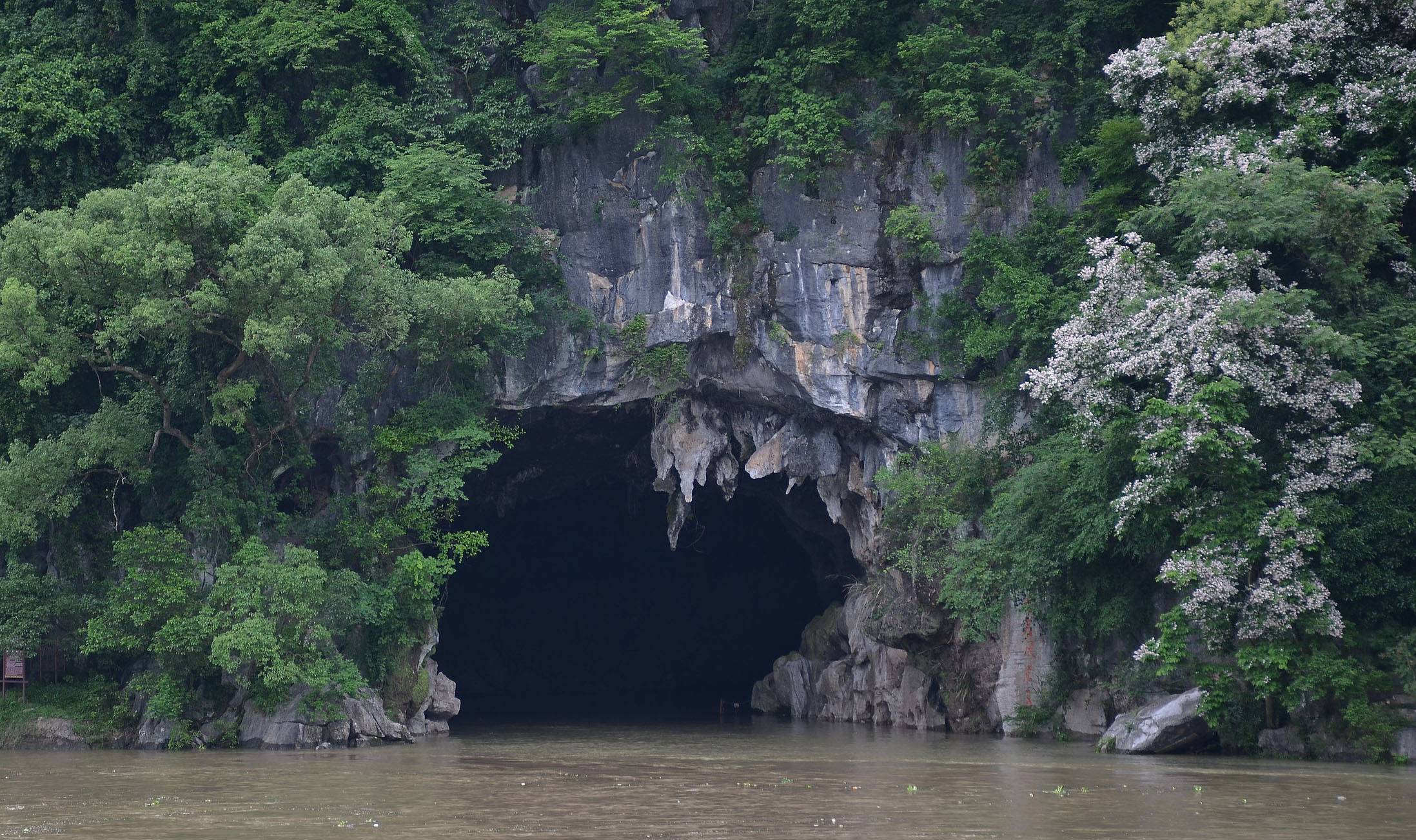 But of course, it's the discoveries inside the caves that get people excited. On the 2019 expedition, French speleologist Bottazzi Jean helped lead a team to the bottom of a huge mountaintop Guangxi sinkhole and was puzzled to find rock piles that appeared to be tomb-markers, unused firewood, and some pieces of wood that appeared to have been carved, the China Daily reported. The objects appeared to be more a century old – but to this day, no one knows how they got there. There are no paths by which humans can reach the floor of the cave, and the team used a huge amount of modern equipment to get there.
In the most recent expedition, a team of speleologists and spelunkers used a rappelling technique to reach the underground forest on Friday May 6 this year.
While there are many karst caverns in Guangxi, it is relatively rare for enough sunlight to filter down through the cave for dense forests to grow. But there are a few examples, such as ones found in the photos above of Xuan'en County, central China's Hubei Province. This type of hidden feature is known in Chinese as a tiankeng, literally a sky pit.
Since H. Rider Haggard's 1885 bestselling novel King Solomon's Mines, tales about "lost worlds" under the surface of the earth have been popular, producing at least 30 major works on similar themes, including Atlantis: The Lost Empire, a Disney animation.