A plane full of innocent people on a flight from Hong Kong were murdered in a "black op" in 1955. Not only has no one has ever been brought to justice for it, but the press has minimal interest in it (the victims were not white) and the perpetrators blandly deny the truth.
---
IMAGINE A JIGSAW PUZZLE with only ten pieces. Easy? Should be. But each piece is a news item, and materializes for brief periods, days or decades apart, in different cities.
JIGSAW PIECE ONE: LIKE CLOCKWORK
THE AIRCRAFT WHEEL was ticking. Only one person heard it: the steady tick-tick-tick of a clockwork timer. The listener moved swiftly away, saying nothing to anyone.
The chocks were removed, the aircraft engines started to roar, and the plane took off from the runway at Kai Tak in Hong Kong. At 1.26 pm on a cool spring afternoon in 1955, the Air India plane bearing the name "Kashmir Princess" lifted into the air in what was going to be its final flight. Many of the passengers were journalists on a working trip, unaware that they had filed their last story.
Tick-tick-tick-tick-tick.
JIGSAW PIECE TWO: ASIAN VOICES
THE PREVIOUS YEAR, 1954, the United States of America, the world's wealthiest country, set up a body to help "direct the thinking" of poor countries on the other side of the world.
American political operatives travelled to Asia to pull together a group called the Southeast Asia Treaty Organization, described as a political-military alliance of states to "contain communism". In practice, it was a body designed to foster loyalty to the United States and create negative feelings towards China. This was the standard modus operandi in the 1950s and continues to be so today.
But Indonesia's Sukarno, leader of the world's fifth most populous country, responded by organizing a group of home-grown Asian voices: the Bandung Conference. Asian leaders who signed up to attend the Indonesian meeting were in favor of a doctrine of neutralism as the logical default position of the developing world. Why join one side of an ideological war when you have hungry mouths to feed?
JIGSAW PIECE THREE: NO NEUTRALISM, PLEASE
FROM THE US administration's point of view, neutralism was unacceptable. The antipathy of CIA deputy director Frank Wisner towards Sukarno and his meeting, to which Chinese Premier Zhou Enlai had been invited, was well known. Asia contained more than 50 percent of the world's population – it was unthinkable that it should lean leftward in the direction of socialism or communism.
What action did America take? Officially, none at all. Although some of the attendees failed to arrive at the meeting, the Bandung Conference had gone ahead as planned.
In the allied-US territory of Taiwan, there was also unhappiness at the direction of geopolitical developments. Leaders feared that Zhou Enlai's peace initiatives (including the cultivating of good relationships with British leaders, such as Hong Kong's Governor Alexander Grantham) meant that it had become conceivable that China would one day join the United Nations.
China as part of the United Nations? That had to be prevented.
JIGSAW PIECE FOUR: TRAGEDY IN THE SKY
NEWS REPORTS A DAY after the aircraft left Hong Kong were of tragedy. Radio contact had been lost with the plane some five hours after take-off.
It was learned that the plane, a small four-engine propeller-driven Lockheed, had crashed into waters near Indonesia. Rescuers arriving at the scene discovered that it had broken into three parts on impact. Three people were found alive, all crew members, on nearby islands. One of them, Anant Karnik, would relive for decades the nightmare of finding himself in the ocean surrounded by burning wreckage, the flames 20 meters high.
But the rest of the crew and 16 passengers lost their lives, mostly from drowning. The dead included a war hero, Raymond Wong Chok-Mui, who worked for the Chinese and the British against invading Japanese soldiers in the 1940s. The captain, D.K. Jatar, had remained in his seat in the cockpit.
JIGSAW PIECE FIVE: ALLEGATIONS
BUT WAS IT really a tragic accident? Surviving crew members reported that there had been an explosion in the air, causing the pilots to lose control.
It quickly emerged that rumors of sabotage had been received in China shortly before the flight, and Xinhua staff in Hong Kong had told Air India personnel to take extra security precautions. They had done so, allowing no access to the plane except by essential airport staff.
The Chinese Foreign Ministry put out a statement: "This unfortunate incident was certainly not a usual aircraft accident, but a murder by the special service organizations of the United States and Chiang Kai-shek."
JIGSAW PIECE SIX: EVIDENCE
HONG KONG POLICE investigations and studies by Indian detectives showed that one or more time-bombs had been placed aboard the aircraft at Kai Tak Airport. A clockwork detonator was recovered from the wreckage by Indonesian fishermen. The explosives had been placed in the wheel base and had gone off at 18,000 feet, blowing a hole in the fuel tank and setting the plane on fire.
The Hong Kong police described the crash as "carefully planned mass murder".
Investigations continued for weeks, during which time police interviewed everyone with access to the plane, including staff at Hong Kong Aircraft Engineering Company, or HAECO. The police had a list of Taiwanese agents in Hong Kong, but none had access to Kai Tak Airport.
A month later, on May 18, a HAECO aircraft cleaner, 34, stowed away on a flight to Taiwan – just as Hong Kong police received confirmation that he was the man they were looking for. He used the name Chow Tse-ming in Cantonese and Zhou Zhu in Mandarin.
The full story emerged: A Taiwanese spy named Wu Yi-chin offered the Kai Tak worker, who was in debt at the time, the enormous sum of HK$600,000, and guaranteed him escape to Taiwan, a place from which he could not be extradited, and where he could live out his days as a king on his huge pot of wealth.
JIGSAW PIECE SEVEN: NOTHING TO SEE HERE
ALMOST TWO DECADES later, in 1975, a Senate committee heard testimony about CIA activities in East Asia in the 1950s.
Agency officers revealed that CIA staff had suggested that an East Asian leader be assassinated "to disrupt an impending Communist [sic] Conference in 1955".
This was clearly the Bandung Conference, badly misrepresented. But which leader?
The committee wanted to know what actually happened. The assassination plan had been dropped, CIA representatives said. Killing people was a step too far, they said. And look at the facts: no leaders had been assassinated, and the conference had taken place.
So the Senate team moved on to discuss other issues. Nothing to see here.
But just two years later, retired CIA agent William Corson, who had worked in Hong Kong, revealed that the target was China's Zhou Enlai.
JIGSAW PIECE EIGHT: INTELLIGENCE
NOW WE MOVE forwards to 2004, when the Chinese government's 30-year declassification system caused the release of a new batch of files, including some which revealed details of events in April 1955 from the Chinese point of view.
Premier Zhou Enlai had been booked to fly on that specific Air India plane from Hong Kong, but had changed his plans, instead flying to Rangoon to meet Prime Minister Jawaharlal Nehru and Burmese leader U Nu, before travelling onwards to Bandung from a different direction.
As intelligence was received about a possible assassination attempt, he had altered his original travel plans for safety.
JIGSAW PIECE NINE: HINDSIGHT
PRESENT DAY: By this year, 2022, we can review the incident with the benefit of hindsight. There is agreement among historians about the details: the plane was deliberately downed by a Kai Tak airport worker who was bribed by Taiwanese spies in Hong Kong to place one or more bombs on board.
Despite the strenuous U.S. attempts to deny involvement, the patchwork of clues indicating the truth of that remains evident.
The CIA's support for Chiang Kai-shek in Taiwan was well known, as was the agency's open hostility to Sukarno, Zhou Enlai, and the Bandung Conference. CIA staff admitted to planning the assassination of an Asian leader at the time, and other staff confirmed Zhou was the target.
The sum offered to the Kai Tak worker, HK$600,000, was a huge sum – far more than a Taiwanese spy would have been able to afford.
Plane crew members who survived said they had been approached while dining before take-off by a Westerner who asked a series of questions about the flight. Suspicious, they had sent him away.
Chow, the plane cleaner at Kai Tak, escaped from Hong Kong to Taiwan hidden in the luggage compartment of a plane belonging to a group called Civil Air Transport. This outfit has been confirmed to have been a CIA-run airline, set up in Delaware to serve US interests in East Asia.
Police investigators in Hong Kong traced the origins of the bomb itself and the separate timing device.
Both, they said, were American-made.
JIGSAW PIECE TEN: A TATTY OLD BOOK
FOR AN ADDITIONAL clue, we move back to a time five years after the plane murders, to a day in or around 1960. That was the time an American working in India defected to Russia. His name was John Discoe Smith. In his new home, he wrote articles for a Moscow publication called Literaturnaya Gazeta. These were collected and appeared in 1967, as a book called I Was a CIA Agent in India.
A few yellowed copies still exist. The book revealed that Smith had spent 1954 to 1959 in India working as a communications technician and code clerk at the US Embassy in New Delhi. This involved routinely performing tasks for the CIA.
In one chapter, he describes an assignment he received in 1955. Jack Curran, a CIA officer attached to the embassy, asked him to take a bag to a man named Wang Feng at the Maidens Hotel in New Delhi. He had to be careful as the suitcase contained explosive devices—for use in Hong Kong.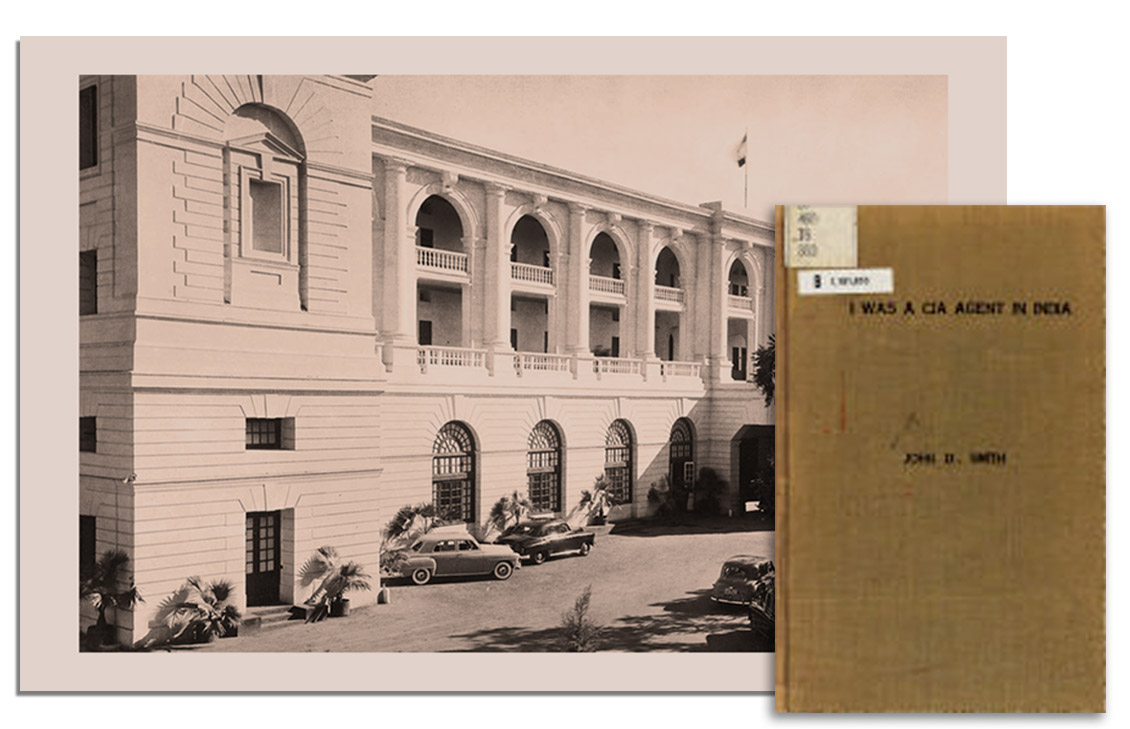 EPILOGUE: A TWIST IN THE TALE
WAS THE MURDER of 16 innocent people who took off on a flight from Hong Kong a Taiwanese operation, a US operation, or a joint one?
No one can say for sure.
But the story of the bomber's escape included a curious twist.
On arrival in Taiwan, HAECO cleaner Chow Tse-ming, the man who planted the bomb, was immediately arrested at Taipei airport as an illegal immigrant. Taiwan government officials told the horrified man that he was going to be sent back to British Hong Kong.
Justice was about to be done.
But at the last moment, someone had a word with immigration officers and he was instead allowed to disappear into the Taiwan population, a wealthy, free man.
Some say the incident strongly suggests that the horrific crime was being supervised by a larger power than Taiwan.
WHY HONG KONG, ALONE, IS NOT ALLOWED EXTRADITION LAWS
But the fact remains: No one has been bought to trial for the killing of the 16 victims of the Kashmir Princess bombing. Justice has not been done. And it's clear, from the amount of time that has passed, that justice will never be done.
At the time, Indian defence minister VK Krishna Menon wrote: "The fate of the Kashmir Princess is thus not just another airplane disaster, but an unpunished, though not undiscovered, international crime."
Chow lived out his years as a rich man in Taiwan – as do so many people who commit crimes in Hong Kong.
Extradition treaties, as the world's top legal minds have said, are the fundamental basis for achieving justice against heinous international crimes, such as murder. And that's why circumstances will always conspire to ensure that Hong Kong will be deprived of comprehensive extradition treaties for as long as possible.
* * *
Pictures from public/ historical sources