CHINA'S FIRST HOME-BUILT cruise liner set sail from a Shanghai port for a trial voyage early this month, marking the country's big stride into the floating holidays sector.
Today's cruise liners are depicted as floating cities where passengers can enjoy relaxing vacations at sea. It is not easy to build such a thing. Creating an ocean cruiser is an intricate and complicated process involving top-notch technologies and a plethora of materials, to ensure that all international safety and environmental standards are complied with.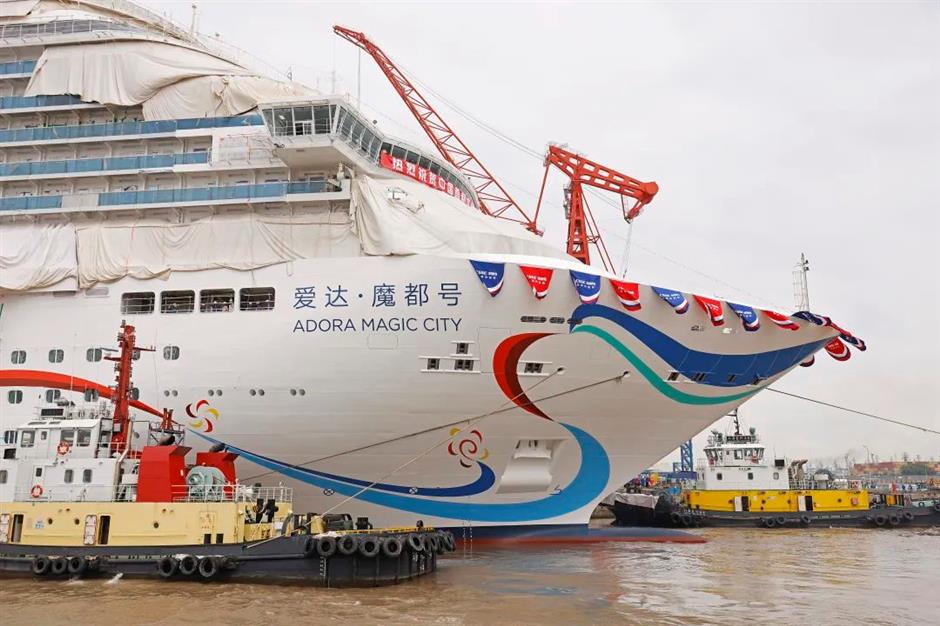 While China may be the world's biggest ship builder, cruise liners are mainly built by giant European shipbuilders such as Italy's Fincantieri, Germany's Meyer Werft and France's Atlantic Shipyard.
Shanghai Waigaoqiao Shipbuilding (上海外高橋造船公司), a subsidiary of China State Shipbuilding Corporation (CSSC) (中國船舶集團), has been building the 135,000-ton luxury cruise vessel at its shipyard in Shanghai's Pudong since October 2019. It has previously constructed large ferries, container vessels, oil tankers and other vessels.

Named Adora Magic City (愛達 · 魔都號), the mega vessel will be handed over for operating to CSSC Carnival Cruise Shipping (中船嘉年華郵輪有限公司) – a joint venture established between CSSC and Carnival Corporation, one of the world's largest cruise operators, by the end of this year.
The cruiser, which will be based in Shanghai as home port, will bring tourists to Southeast Asian countries and the Maritime Silk Road as part of both short-haul and long-haul sea vacations for Chinese and overseas travellers.
COMPLICATED CONSTRUCTION AND SPECIFIC STANDARDS
To build this single vessel, engineers worked with 25 million parts – which is about five times that of home-grown passenger flight C919.

Zhou Qi (周琦), Deputy General Manager of Shanghai Waigaoqiao Shipbuilding and chief architect of the cruise liner, said the vessel's construction works have almost been completed. In the construction process, they have to ensure that all the materials used to build the cruise are in line with global standards in the industry.

Also, the company needs to guarantee that alarms system and passengers' evacuation procedures, pipe installation and sewage handling systems comply with specific standards of each country where the vessel makes port calls.
At present, Shanghai Waigaoqiao Shipbuilding needs to import some materials from Europe and it is hoped that the company can work with domestic manufacturers to curate a chain for supplying all materials for building cruises in China in coming future.
So far, the cruise's builder has completed works including installation of over 20 elevators and service lifts, testing of electricity supplies, air conditioning, ventilation systems and plumbing systems.
The delivery of the cruise will be at the end of this year and commercial service will be initiated later.
LINER ACCOMMODATES OVER 5,000 PASSENGERS
Meanwhile, the luxurious cruise is super-giant in scale. With a length of over 323 metres and a width of 37 metres, the vessel is powered by five diesel generators, giving it a cruising speed of 33 km/h.

The design, as you can see from the pictures, is opulent, with a lavish assortment of living, dining, shopping and entertainment spaces on the vessel. Whimsical water splash zones and outdoor pools on sun decks, high-end shopping malls, live musical performances, art galleries, spa and a wide array of restaurants and bars are all on the cruise for the entertainment of passengers.

The vessel has more than 2,100 luxurious passenger rooms for accommodating over 5,200 travellers as well as some 700 rooms for crew.

The cruise ship is also built with advanced wireless communication devices with Wi-Fi 6 and mobile 5G network, thereby providing passengers on board with fantastic network experience as on land.
BOOSTING SHIP INDUSTRY
While China has reopened its borders and the travel industry has rebounded, global cruise operators have strong expectations about being able to tap into the country's cruise market.
At present, Shanghai Waigaoqiao Shipbuilding has already started designing and building a second larger 341 metre-long and 142,000-ton cruise vessel for CSSC Carnival Cruise Shipping, which is expected to be completed in 2025.
The ship-building company has sought to further explore its position in the cruise building industry. It has an ambitious vision of developing its Shanghai shipyard as a building and assembly base and building its reputation as a leading shipyard for cruise vessel construction.
---
Image at the top from Shanghai Waigaoqiao Shipbuilding.