THE TWO-DOSE Sinovac program gives a level of protection almost as strong as BioNTech, while adding a booster makes them virtually equal, with the Chinese vaccine slightly stronger among older patients.
The results come from a study at Hong Kong University, which including a number of top names in the field, including Gabriel Leung, Benjamin Cowling, and Martina McMenanim.
The Chinese jab, which follows the usual vaccine structure of using dead virus cells, has long been decried by critics as being of extremely low effectiveness compared to the newly developed mRNA vaccine of the west.
However, the new study, dated March 24, 2022 on a pre-print medical science server, is giving scientists something to think about.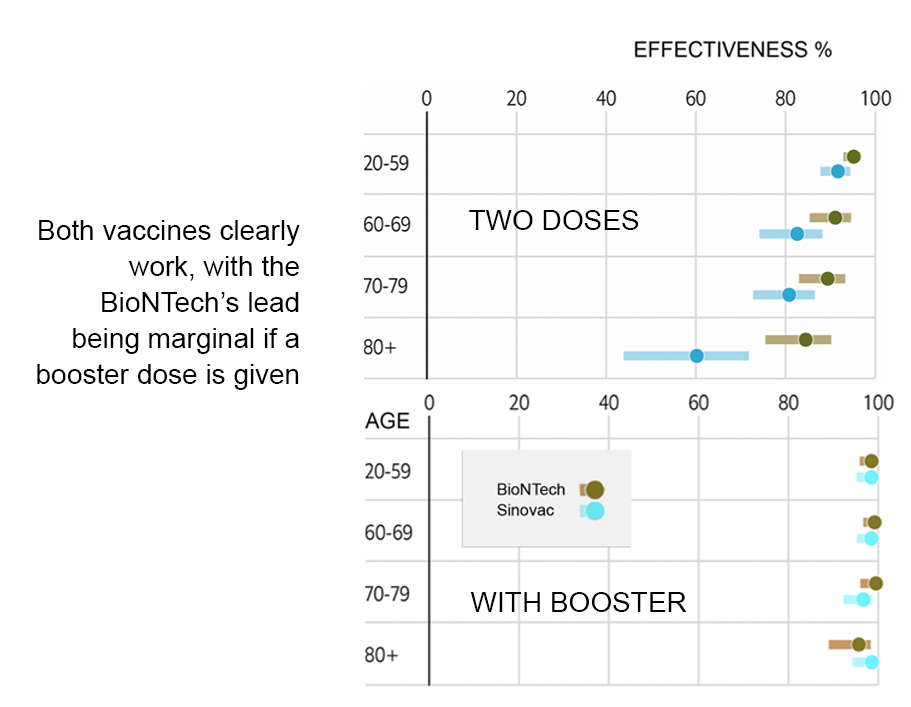 First, both vaccines clearly work.
Second, the mRNA version scores slightly higher on effectiveness, but uses technology which is less "tried and tested".
Third, the difference is much smaller than claimed by critics of Sinovac, and virtually disappears once a booster is given—both have close to 100 per cent protection.
This is good news in Hong Kong. Even including the resistance of the elderly to being vaccinated in the city, overall figures for the city are high.
UK leader Boris Johnson continually talks about the success of his country's vaccine program, but the level of two-dose coverage is slightly behind Hong Kong's.
1. HK two-dose program: 86.9 per cent
2. UK two-dose program: 86 per cent
3. US two-dose program: 66 per cent
The UK is ahead, however, in acceptance of booster shots – see figures below.
1. UK booster program: 68 per cent
2. HK booster program: 46 per cent
3. US booster program: 30 per cent
However, Hong Kong doctors are running one of the fastest "jab" programs in the world, with tens of thousands of shots a day, so that situation is changing.
Another issue, of course, is mainland China. The rate of population which has had boosters is high: more than 50 per cent, an extraordinary figure for a country with such a large and widespread population, much higher than America's 30 per cent.
Yet because of the size of the population, an out-of-control outbreak would still cause hundreds of thousands of thousands of deaths, which is why the Chinese authorities are working so hard to prevent that happening. With the US reaching a million Covid-19 deaths this month, the message for Chinese doctors is stark. Omicron, while mild in many individuals, kills more people in a population than Delta.
Access to the study is here.
---
image at the top by Atoms/ Unsplash