An Englishman's visit to a Guangdong village brickmaker led to the creation of a piece of art about China's people and the future of the world
For years considered a cultural desert, Hong Kong now aims to be a world leader in appreciation of the arts
Having overtaken London as an art investment hub, the city is leveraging its position as an east-west center to draw culture-seeking visitors
Few people realize the remarkable scale of the West Kowloon cultural hub, built on a reclamation that has extended the size of the Kowloon peninsula by a third
HUH? BRICKMAKER Dai Jin-sin looked up in puzzlement at his strange visitor: a tall, thin Englishman. Mr Dai was proprietor of the Peaceful, Happy and Booming Brickworks, a small factory in Xiangshan village, on the northern outskirts of Guangzhou city in Guangdong, in the south of China.
The Western visitor came with an extraordinary order. He wanted 120,000 clay unique, handmade figurines—and the whole project had to be done within a week.
Mr Dai, being a Guangdong businessman, could only give one answer: Sure. No problem. Anything else?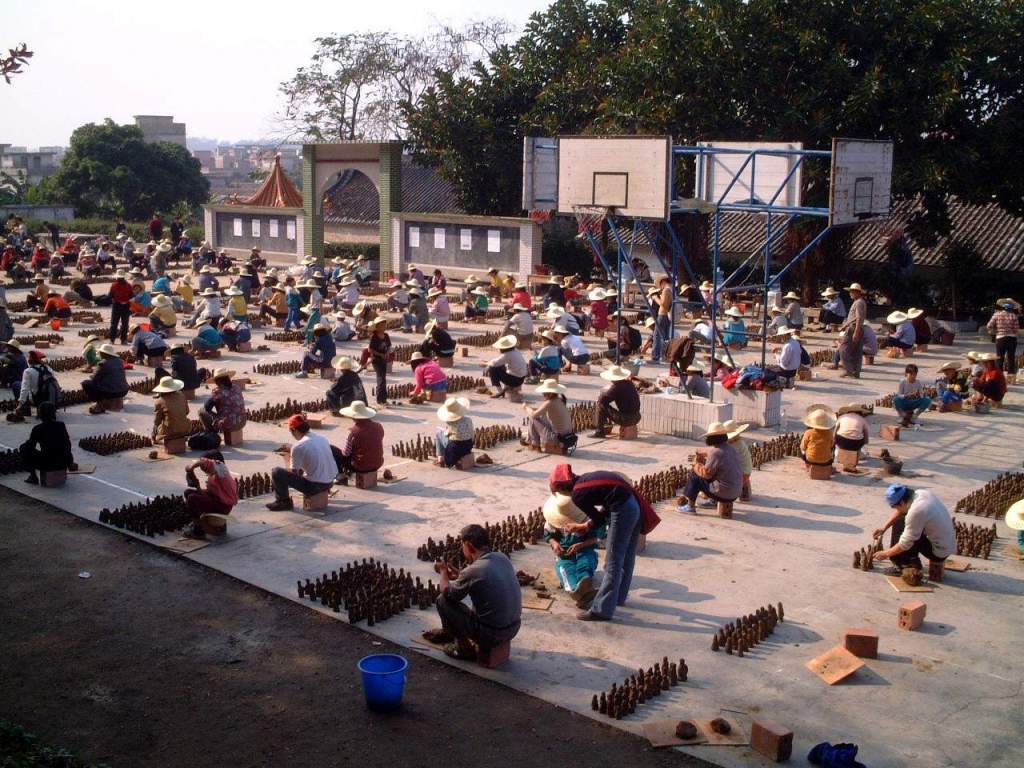 Three hundred villagers, from children to grandmothers, set to work, and overshot their target, creating more than 190,000 of the figures in five days in 2003.
The visitor was British artist Sir Antony Gormley, and the result was a now famous artwork called Asian Field – a huge expanse of hand-sized figures, which can be seen at M+, the spectacular new museum of visual art in the West Kowloon Cultural District. Referring to earlier works, also using the word "field", Gormley told one interviewer: "I think it was after making Field in Britain and the European Field in Malmö that I began to think, China is the future."
The fascinating rise of China has also long been an interest of Suhanya Raffel, head of M+. She named the installation as one of her personal favorites among the 8,000 exhibits at the new Hong Kong arts hub center in an interview on Friday Beyond Spotlights.
You can see why an Asia-born arts curator would be fascinated by such a work. Art is normally created by the hands of an artist for the public, but Asian Field was created by the hands of the Chinese public for the artist.  "It's a very interesting piece of art because it asks many questions," she said. "Can I be an artist? Can you be an artist? Can anyone be an artist? How can we be artists together?"
The work is revolutionary in other ways, too. Art appreciation normally involves multiple pairs of eyes staring at a created object, but Asian Field reverses this, with 400,000 eyes staring at the viewer. The scale of the project shows the vastness of China's population – yet makes a vital point about our individuality with the uniqueness of each figure. "Not a single one is the same as another one," she said. "[Yet] we are also similar."
The powerful message of unity in diversity is impossible to miss: We are many, but we are one.
Ms Raffel traces her roots to Sri Lanka, but was based in Australia before moving to Hong Kong five years ago. She is clearly enjoying her role at the head of the most dramatic new arts center in the region. M+ is the centerpiece of the city's bid to escape from its reputation during the British era as a business-focused place with no soul. Today, "Hong Kong is no cultural desert," she says.
Few people even in the city realize just how big the Hong Kong cultural district project is. The enormous reclamation effort increased the size of the Kowloon peninsula by one third, and added nearly a kilometer of waterfront land to the area—all of which is being artfully designed to make attractive public gardens and harborfront walkways.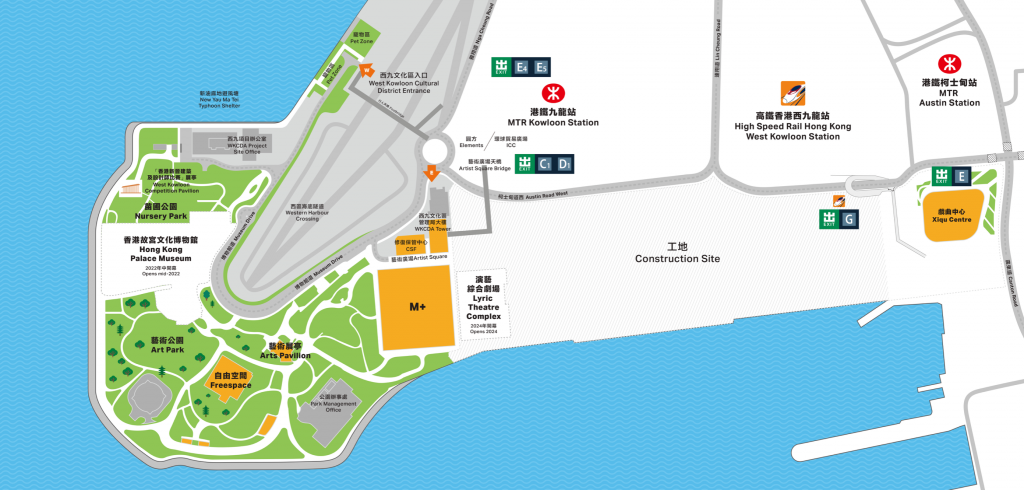 The M+ building itself is also extraordinary. In size, it is one of the largest museums of modern and contemporary visual culture in the world. It is 18 stories high, and houses 33 separate galleries, plus three cinemas. You don't even need to enter the building to enjoy it.

The entire building doubles as a screen so large that you can easily see its images and writing from Hong Kong island, on the other side of Victoria harbor.
Nor does it stand on its own. When the district is completed, the museum will be one of a cluster of cultural visitor centers all within walking distance, including the Lyric Theatre, a Chinese opera center, and an offshoot of the Palace Museum from Beijing, housing an extraordinary collection of items from China's uniquely long history.
"There's no question that Hong Kong has really grown exponentially when it comes to cultural activity across the various disciplines, whether it's in the performing arts sector, or in the museums sector or even in the art market," she told interviewer Nick Chan Hiu-fung.
Coming from nowhere, Hong Kong's art market is now a player on the scale of New York and London, she said. "And now, for the first time, we have an institution which is equal to the major institutions in Europe, North America, the UK."
---
[Click here to read an article on how Hong Kong overtook London for art investments.]
---
The M+ name (pronounced "Em Plus"), emphasizes the broadness of its range. "People really wanted four different kinds of museums, a museum for ink art, a museum for design, a museum for moving image, and a museum for visual arts," she said.
There have been several attempts by the Western media to politicize the museum's collection, but Suhanya Raffel has been unruffled. A wide range of art is on display, including works by China critic Ai Wei Wei. Five years ago, when she was appointed, she told the New York Times that the politics did not worry her. "The art world without controversies would be a dull place," she said. "I think, bring it on."
Ms Raffel, married to arts educator Michael Snelling, has long been a bridge builder, and has feature Chinese artists in events she organized in Australia.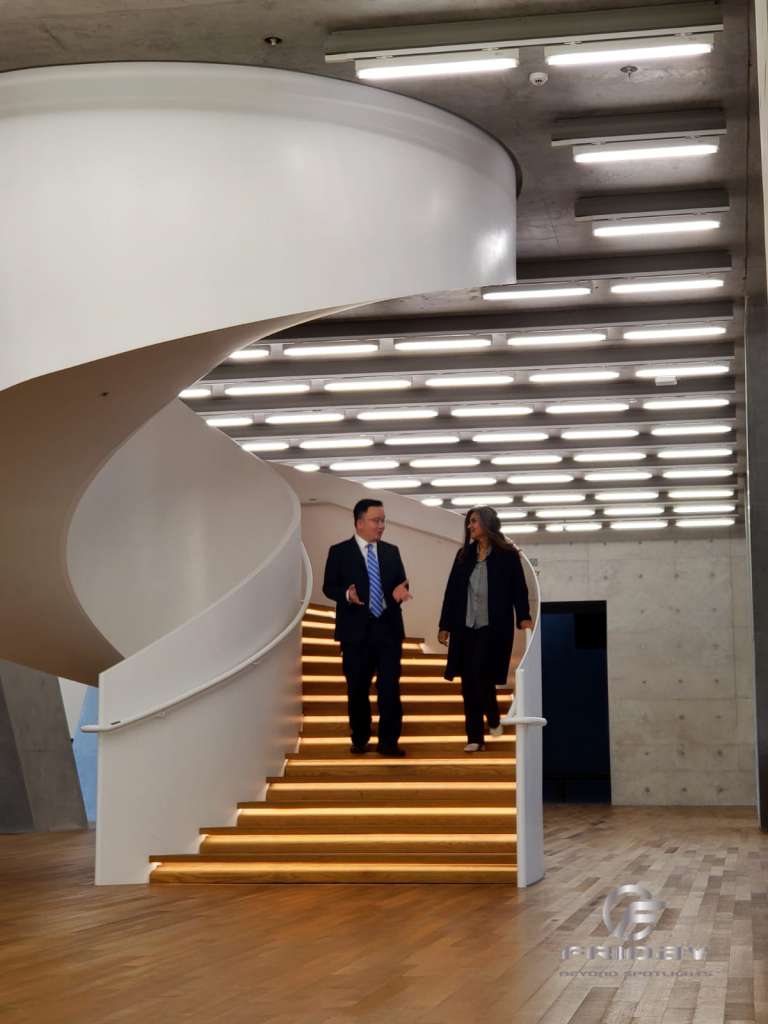 Meanwhile, there are many items by mainland artists and local people in Hong Kong that are also high on her list of favorite items in the space.
Local artist Gary Chan has given M+ a piece of art that you can step inside: a stainless steel replica of his Hong Kong flat. Like almost all apartments in the city, it is small and therefore has to be very carefully designed. It's a type of creativity-in-action that the vast majority of Hong Kong people will instantly recognize—we have all had to do the same kind of thinking ourselves.
The sheer variety of items at the museum impress upon visitors the point that Antony Gormley have made about the importance of cohesiveness in communities. On one of his earlier visits to the city, the British artist said: "We are, even in Hong Kong, much more aware of, as it were, the mass, or the collective of humanity. And I find that very inspiring."
We are many, but we are one.
---
Suhanya Raffel was taking to Nick Chan Hiu-fung in Friday Beyond Spotlights.
Click here to watch Part 1: Discussing the cultural scene
Click here to watch Part 2: A more personal take
---
Season One of Friday Beyond Spotlights is hosted by Patrick Tsang On-yip, Vice-Chairman and Executive Director of i-Cable Communications and CEO and Director of Chow Tai Fook Enterprises; and Nick Chan Hiu-fung, a lawyer and elected lawmaker serving on the National People's Congress.

---
All images from Friday Beyond Spotlights
---