HOLIDAY SHOPPERS IN Hong Kong had a touch of culture with their favorite activity when a major mail decided to celebrate Vincent Van Gogh from November until the coming weekend (the show ends on January 1, 2023).
The art exhibition at Megabox in Kowloon Bay called "Joy to the World of Van Gogh" turns the Dutch impressionist's art into a multi-sensory exhibition experience.
Rather than just presenting the paintings, the images were creatively used in immersive ways, so you could even walk right into paintings—or use them as backdrops for your own photos.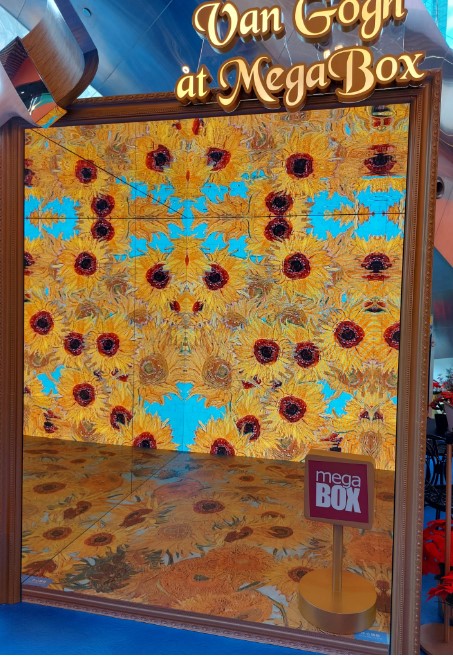 His artworks, notably Sunflowers (1888), Cafe Terrace at Night (1888), The Starry Night (1889) and some self-portraits, are now some of the most famous paintings in art history. Here are some highlights of the show—which you can see if you go soon, as the show ends after the coming weekend.
Vase with Twelve Sunflowers and Irises has been turned into a mirror gallery, made of LED screens and mirror reflections. The visual effects can be enjoyed from the inside, as the viewers sees them from a 360-degree angle.

Van Gogh's famous painting Cafe Terrace at Night in Arles (a place in France) has been made so large that you can even imagine yourself at the café. This is one of the favourite photogenic spots for visitors. They become characters in the artwork and can even use Augmented Reality filters on social media to create images featuring themselves in work. The cafe in the painting is still in existence in France, although it has been renamed "the Cafe Van Gogh".

He was also famous for his pictures of the night sky. Visitors admire the animated rendering of The Starry Night – which was projected onto a large LED screen with vivid Christmas tree image and a glowing light. With a small boat and Christmas decorations, they let visitors step into the scene. It is one of Van Gogh's most popular paintings with its spectacular swirling sky, filled with spirals.

In real life, there's a sad note: The iconic painting depicted the view outside an asylum in France 's Saint-Rémy where Van Gogh was recovering from bouts of serious mental episodes.
There's also a giant installation based on Van Gogh's self-portraits (with added Christmas elements) on display in the exhibition. He painted half a dozen self-portraits, and they are also among the most famous of his works.
But again, there's a sad note in real life behind his choices. Short of money, he couldn't afford to pay models – and so used his mirror to provide one.
It's unusual for a shopping mall to offer a cultural experience like this – but the shoppers clearly enjoyed it, and one may hope that other efforts will be made to bring high culture into a place normally associated with baser emotions.
---
Image at the top by Stale Grut/Unsplash.