AN EXHIBITION OF ARTIFACTS from the life of Madam Soong Ching-ling (宋慶齡), the wife of Dr Sun Yat-sen (孫中山), open in Hong Kong next week, with items put on display in the city for the first time.
A qipao (Chinese dress) she wore, historical photos with leaders, news clippings and other items will be on show in the Hong Kong Central Library next to Victoria Park on Hong Kong Island from September 15 to October 14 this year.
---
A fridayeveryday video briefly telling the story of this extraordinary woman and her sisters can be seen below.
---
With the theme of "Serving Her Country and People Heart and Soul – Exhibition of Soong Ching Ling's Life" (家國情懷 — 宋慶齡生平展), the exhibition is jointly organized by China Soong Ching Ling Foundation (中國宋慶齡基金會) and Hong Kong Rosamond Foundation (香港洛士文基金). Rosamond was the English name that Madam Soong used.
The exhibition is held to commemorate the 130th birth anniversary of Soong.
Professor Herman Hu Shao-ming (胡曉明), Founding President of Hong Kong Rosamond Foundation and a Hong Kong Deputy to the National People's Congress, said the exhibition is a complete collection of artifacts from the life of Madam Soong, thereby showing her close connection with Hong Kong.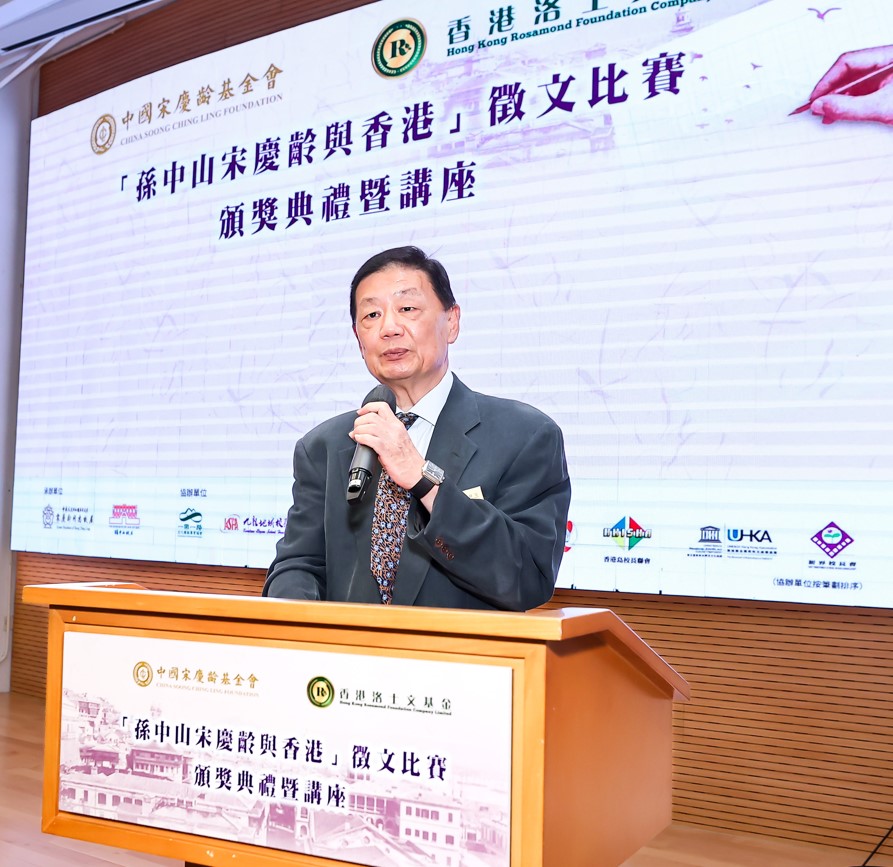 Professor Hu said the design of the exhibition is based on Madam Soong's former residence in the country and the exhibition will offer a rare opportunity for Hong Kong people to take a glimpse of details of her life.

Earlier, China Soong Ching Ling Foundation and Hong Kong Rosamond Foundation organized a photo exhibition and writing contest on the theme of Dr Sun and Soong's connection with Hong Kong. An award presentation ceremony for winners in the contest and a related seminar had been held in late August.
In that ceremony, Shen Beili (沈蓓莉), vice-chairwoman of China Soong Ching Ling Foundation, said in a video that the event let local young people know more about the lives of Dr Sun and his wife, and their contribution to the nation.

Shen added that it has bolstered exchanges among youths of Hong Kong and Mainland China.
MADAM SOONG RAISED FUNDS IN HONG KONG
When Japan invaded China in late 1930s, Soong called for the establishment of an anti-Japanese national united front. In 1938, Soong founded the China Defense League in Hong Kong and garnered global support for China's war against Japanese invasion. She was dedicated to raising funds for wartime relief.

Madam Soong went south to Hong Kong and held the "A Bowl of Rice" campaign in Hong Kong to raise funds to assist wounded soldiers and refugees in the war in 1941.
At the seminar, Sun Tak-wing (孫德榮), Curator of Dr Sun Yat-sen Museum in Hong Kong, said it was absolutely daunting for Soong to raise money in support of China's war against the Japanese troops in the campaign – which advocated that diners, restaurants and various community groups paid generously for a bowl of rice so that the underprivileged could be benefited.

Sun said there was an influx of over 500,000 refugees to Hong Kong at that time. The price of rice was extremely high as was the cost of charcoal needed for cooking.

Still, Soong successfully raised huge funding in support of the war against Japanese soldiers. She even brought a worldwide spotlight onto the Japanese invasion of China. After the war, Soong renamed the China Defense League the China Welfare Institute, and worked for the welfare for women and children in China, as well as fostering friendships throughout the world.
SUN YAT-SEN WAS WIDELY READ
Participants at the seminar learnt that Dr Sun was a knowledgeable person as he was passionate about reading in lifetime.


At the seminar, Kevin Sun (孫偉勇), the fifth generation ancestors of Sun Mei (孫眉) – the elder brother of Dr Sun – shared the fact that Dr Sun was an outstanding and hard-working student before becoming a revolutionary forerunner and founder of modern China.
Sun Mei travelled to Honolulu in 1871, and Dr Sun joined his mother to reunite with his brother in Honolulu in late 1870s.
In his teens, Dr Sun received western education in Iolani School and Oahu College during his times in Honolulu.
Dr Sun was enrolled in the school without knowing how to speak English. But he learned quickly and studied English law and European history. Dr Sun's first glimpse of Western culture subsequently had led him towards a revolutionary movement that eventually changed China.

Later, Dr Sun transferred to study at the Government Central School in Hong Kong in 1884 and later at The Hong Kong College of Medicine in 1887.
Kevin said Dr Sun had distinctive academic achievement when he studied at the school in Honolulu. With his passion for studies, Dr Sun scored outstanding results in the English language.

Dr Sun had a remarkable vision of China's railway development and created a detailed rail map for China – proving that he had a grasp of geography, history and transport. Kevin said Dr Sun enjoyed reading throughout his life.

Another guest at the event was former singer Cheung Ming-man (張明敏), who rose to stardom after performing his well-known song "My Chinese Heart" (我的中國心) in CCTV's New Year Gala in 1980s, said at the seminar that his mother had encouraged him to perform the song in the show. It let him tap into China's vast market in his singing career.
Insightful entries in writing contest
In the award presentation ceremony after the seminar, guests presented accolades to winners from primary, secondary schools and the public in the writing contest.

Benjamin Chan Wai-kai (陳偉佳), a council member of China Soong Ching Ling Foundation, said that participants unleashed a great deal of creativity in their writing entries.  

Chan said students and participants have showed a good understanding of the lives of Dr Sun and Madam Soong, and their national contribution.
Students from various schools, including Hong Kong Baptist University Affiliated School Wong Kam Fai Secondary and Primary School, W F Joseph Lee Primary School, Maryknoll Convent School (Secondary Section) and others clinched awards in the writing contest.
---
Image at the top: Public domain