SHENZHEN HEALTH OFFICIALS are going out of their way to give a first class service to pets of people in quarantine, avoiding the negative stories that have been seen in some other parts of China on this subject.
Many Chinese people, some of them being the post-'90s generation, have embraced parenthood – but of pets, not kids. Put off by high cost of child care and living cost, young adults are raising "fur-babies" instead.
During the viral COVID-19 outbreaks in Shenzhen in mid-March, many pet lovers who were required to stay in quarantine had to separate from their companions – including cats, dogs, rabbits, hamsters and even pet ducks. The owners desperately needed caretakers to look after their pets.
At that time, Shenzhen ground to a halt as health authorities imposed a citywide, seven-day lockdown to deal with Covid-19 outbreak, with residential compounds locked down and numerous non-essential businesses closed.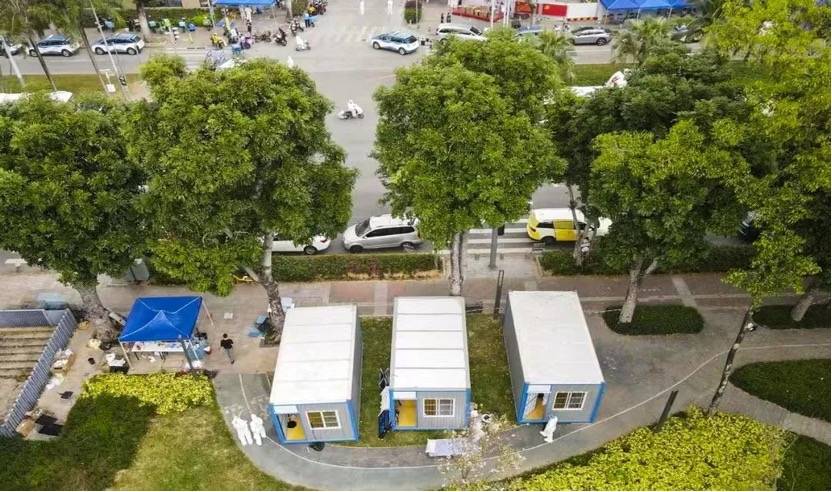 In the Tangyan village of Shangsha community in Futian, which was classified as medium-risk area, hundreds of residents were required to relocate to quarantine hotels for 14 days. As such, making caring arrangement for pets while their owners were in quarantine was a thorny issue. Pet owners in the community cried for help for the authorities to help take care of their pets.
Shenzhen authorities came up with a swift policy, in just one day, to promise owners they would to take care of the pets and build the necessary facilities.
They collaborated with pet healthcare groups, including the New Ruipeng Pet Healthcare Group, and vets, pet care professionals, and volunteers. Together they set up makeshift pet care facilities using containers, and they transported the pets to the facilities and looked after them free of charge.

But they also had to make sure the pets themselves did not contract coronavirus in the facilities. The pet care facilities were divided into several areas for different kinds of animals, with an observation area set up for fur-babies whose owners might have tested positive for coronavirus.
When the pets arrived at the facilities, caretakers underwent tough sterilization processes, and then collected pets' saliva for coronavirus tests.
There are air-conditioning and temperature monitoring devices installed in the facilities – where vets and pet caretakers conducted health examinations. Pet caretakers and volunteers in full protective gear took good care of the pets and prepared different pet foods for them around the clock.
To reassure owners, the facilities' personnel spent time with the pets to relax on a green lawn daily, and sent photos and videos of their pets to share with the owners.
One of the young pet owners, who lived with her rabbit at a residence in Tangyan village, told the local media that she was asked by health officials to stay in a quarantine hotel at around 9:30pm on March 16. She just had half an hour to pack her personal belongings and leave as much food as possible for her pet.
The owner recalled that she was totally depressed that nobody would take care of her rabbit during 14-day quarantine period. A few days later, she reached the pet care facilities personnel via a hotline and asked for help. She was relieved when the personnel brought her rabbit to the facilities and shared a video clip to her every day.

The pet facilities in Shangsha community have taken good care of some 200 pets during the lockdown and quarantine restrictions in Shenzhen. All of them have now been reunited with their masters in good health.
MEGA PET CENTER
The Shenzhen authorities established a mega pet center in the city's Guangming district (光明區) in early April. Touted to be the first in the country after the successful operation of pet facilities in Shangsha community, the centre can house up to 300 pets, with veterinary and caring services provided. Having been operated by Shenzhen's market supervision and administration bureau, the centre exists to allay owners' concerns about their pets' wellbeing when they are placed under quarantine.
More mainland cities have started establishing similar pet care centres amidst uncertainty over the Covid-19 outbreak. It provides piece of mind – since you never known when the pandemic can strike again.
---
Image at the top shows pet lover in Chengdu, photo by zhenhao Liu on Unsplash