(Caption: Look closely at the thousands of aluminium panels on the side walls and you can see the classical Chinese influence on what looks like a very contemporary building. Image: China State Construction Engineering (Hong Kong))
---
WHEN GLOBALLY ACCLAIMED Hong Kong architect Rocco Yim Sen-kee took the helm of designing the city's new Palace Museum, he felt he had a mission to create not just a building, but a landmark. Born, raised and educated in Hong Kong, Yim designed the seven-storey museum with heightened awareness of traditional Chinese visual and spatial aesthetics, with inspiration from the Palace Museum in Beijing.
He travelled to Beijing several times before coming up with design ideas. The brief, he decided, was one of his most challenging projects, given the limited land area for building the museum in the West Kowloon Cultural District.
But he was experienced. He had worked on a wide range of high profile buildings including the Guangdong Museum and the Yunnan Museum on the mainland, and the International Finance Centre and the Government Headquarters in Hong Kong.
The museum, which accommodates nine galleries, is wider at the top than the base, and the outer wall is composed of horizontal lines, made of curved panels in a color similar to bronze. The color, called "beige gold" is dominant on the exterior, and is complemented by dark reds and light greys in the interior.
In colors and angles, the Palace Museum has various details which echo with those in the equivalent building in Beijing – but it also is reminiscent of the fang ding, the traditional rectangular ritual vessel which has been associated with the emperors for thousands of years.
The prominent architectural highlight is the vertical central axis. The museum's floors have three atriums which connect different floors and face three different cityscapes.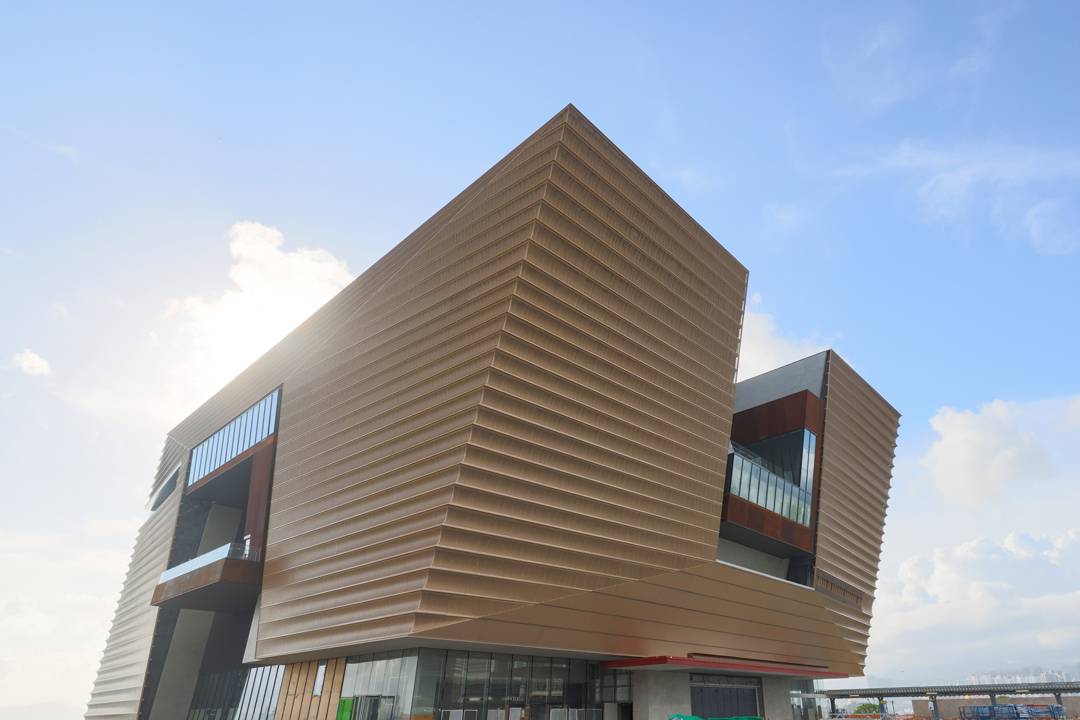 The three atriums also serve as collection exhibition galleries as well as viewing platforms, from where visitors can immerse themselves in spectacular views of West Kowloon Cultural District's promenade, the city's skyline and Lantau Island.
Crimson gate-like doors welcome visitors into the building, which comprises nine galleries. Outside, there is a large green space for a harbourfront promenade where visitors can relax or gather for activities.
The building, constructed by China State Construction Engineering (Hong Kong), also contains a 400-seat lecture theatre, activity rooms, a restaurant and a museum shop.
---
Image at the top by China State Construction Engineering (Hong Kong)