Numbers of available beds rises fast as facilities come on line
Vax rate for elderly rises, for 40-somethings hits 99.88 per cent
Hong Kong has always been a survivor, says Chief Executive Carrie Lam
Many community medical facilities are actually hotels, including some luxury ones
---
AN "INSTANT HOSPITAL" was built in a week in Hong Kong, even faster than the celebrated ten-day hospital constructed in Wuhan in early 2020.
"The Tsing Yi facility with 1,300 isolation units was built in seven days on a site of about 60,000 square meters," Hong Kong leader Carrie Lam. "It is something Hong Kong certainly could not have done on its own."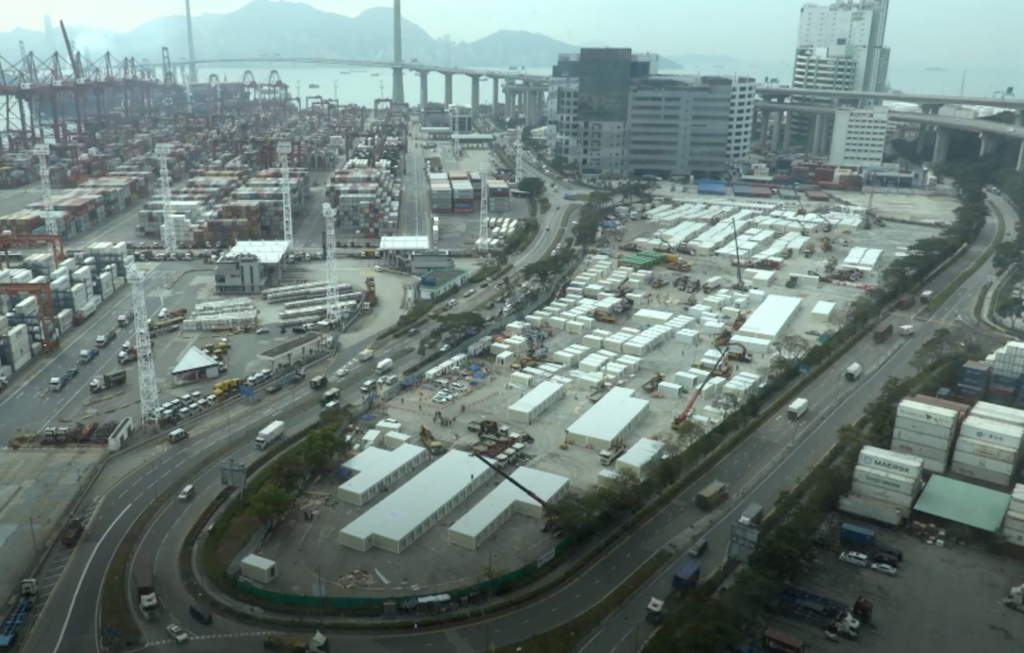 Another facility, in Yuen Long's San Tin area, has just been finished.

As the number of available medical facilities rises at speed, Ms Lam expressed confidence in the community's ability to get through the challenge. "Hong Kong has emerged better and stronger from each major storm," the Chief Executive said in an interview with Xinhua. "This time will be no exception." 
The city has about 25 facilities for Covid-19 patients, able to handle 16,000 people, but the number of beds can be rapidly grown if need be. "There may be up to 70,000 community isolation units or beds in Hong Kong," Mrs Lam said.
BRAND NAME HOTELS
Hong Kong's apparently high infection-to-death rate is likely caused by under-reporting of infections, either because cases are undetected or people with mild cases are reluctant to go to medical facilities. If this is the case, actual deaths are lower in proportion.
Most people think of facilities like Penny's Bay, but the majority of community facilities are hotels, including some with well-known brand names, including Ramada and Crowne Plaza. The Langham in Kowloon is an isolation facility, as are the Regal SkyCity Hotel near the airport and the Best Western in Causeway Bay.
FACILITIES BUILT RAPIDLY
The Tsing Yi facility started admitting patients last week, and a second facility constructed with support from the mainland was completed on Wednesday this week.
While Hong Kong's numbers have risen sharply, the cumulative death count is 2,900 for the entire two-year pandemic, while other communities have suffered 1,000 deaths a day.
As elsewhere, the median age for deaths in Hong Kong is over 80. Statistics show that young people who are vaccinated are extremely unlikely to die.

VAX RATE TOPS 90%
Latest figures also show more than 90 per cent of Hong Kong's population aged 12 or over have received one or more vaccination jabs. (Chart below.)
The focus remains on the hold-outs, the elderly. "Whether the old patients are at home, in an elderly care home, or already hospitalized, we need to provide them with better treatment, including both medication and personal care," Ms Lam said.
Latest figures for old people:
Over-60s: 88.8 per cent
Over-70s: 79.52 per cent
Over-80s: 53.38 per cent
Doctors say that the first jab is the significant one, because it means that the old person has consented to start the process.
Other age groups have generally been enthusiastic, with the 40 to 49 age group at the head of the pack: 99.88 per cent of them have had one or more jabs.

WHY ARE OLDIES RELUCTANT?
Why has it been so hard to persuade the elderly to be vaccinated? It's not for want of trying, with health department even creating mobile vaccination stations to make it easier.
However, doctors point to several challenges. In the early days of the pandemic, anti-government newspapers in Hong Kong greatly exaggerated the possibility of side-effects or death from the vaccine itself for older people. Doctors have struggled to correct this.
Also, many elderly people need to have permission given by their families, and doctors' requests have been refused.
Still, Omicron always follows a bell curve shape, and bio-statisticians are looking for a flattening of the curve.

MORE HELP ON THE WAY
More help is coming. A major team of doctors and nurses from the mainland will be brought into Hong Kong to work at the North Lantau Infection Control Centre and the AsiaWorld-Expo makeshift treatment facility.
Construction teams will also come to Hong Kong in the following weeks to make a hospital facility at the Lok Ma Chau Loop area in the New Territories.
WORKING TOGETHER
Doctors in Hong Kong have privately said that they are relieved with the positive input they have received from Mainland China. There were fears that the country's system would be quickly imposed on Hong Kong.
But the health experts from the north have instead spent time listening and learning, realizing that there are marked differences in this city, and have shown flexibility in working out what's best for the city.
---
Image at the top from CGTN