TINY HONG KONG is now the second largest biotech fundraising hub in the world. By far the largest in Asia, it is second only to New York in raising funds for health-related companies.
The southern Chinese city has been moving up the scale since a dramatic stock market reform in 2018 allowed biotech firms to list even before they had made any revenue.
Biotech innovation spans a wide range of areas, such as genetic engineering, cell therapies, life science, and traditional Chinese medicine.
LAGGING BEHIND
For years, Hong Kong has been criticized for lagging behind in the science and technology area, especially when it was overtaken by neighboring Shenzhen, which was little more than a fishing village as recently as 1980.
But heavy investment in innovation from the Hong Kong government, which has spent more than HK$130 billion in recent years, has seen good progress being made. And the city's financial sophistication, as one of the world's top banking cities, has been a big driver.
One of the reasons Hong Kong is such an attractive location for bio-tech businesses is its financial sophistication and its location. As one of the top three financial cities in the world, and the planet's number one city for stock market launches, there's plenty of access to investor funds. And its location at the edge of mainland China makes it an intriguing gateway to the world's biggest market.

Furthermore, our city has an unusually large number of top-ranked universities. Many have world-class "wet laboratories" – facilities designed for handling liquids for biological and chemical experiments. The concentration of universities means there is a good pool of talent in science and related fields.
BIOTECH FIRMS
Today, Hong Kong is home to more than 250 biotech and healthcare companies, most of them engaged in pharmaceuticals, traditional Chinese medicine, healthcare products, medical devices, and diagnostics.
They generally spend big in the research and development area, with many establishing R&D hubs at the premises run by Hong Kong Sciences and Technology Parks, especially its main center in Tai Po, which has biotech as one of its main focuses.
The presence of world‑class biomedical companies at the Science Park shows Hong Kong's position as a strategic biomedical research base. Last year, the Science Park collaborated with AstraZeneca to launch a co-incubation programme to support biomedical start-ups and foster biomedical technologies in Hong Kong.
R&D ACTIVIVIES UP
Investment in R&D is crucial for biotech companies to develop new biomedical products and breakthrough technologies. Based on Census and Statistics Department figures, spending on in-house R&D activities on biotech in the business sector jumped from HK$876.8 million in 2018, to HK$1,258.9 million in 2019 and HK$1,285 million in 2020, a steady rate of growth.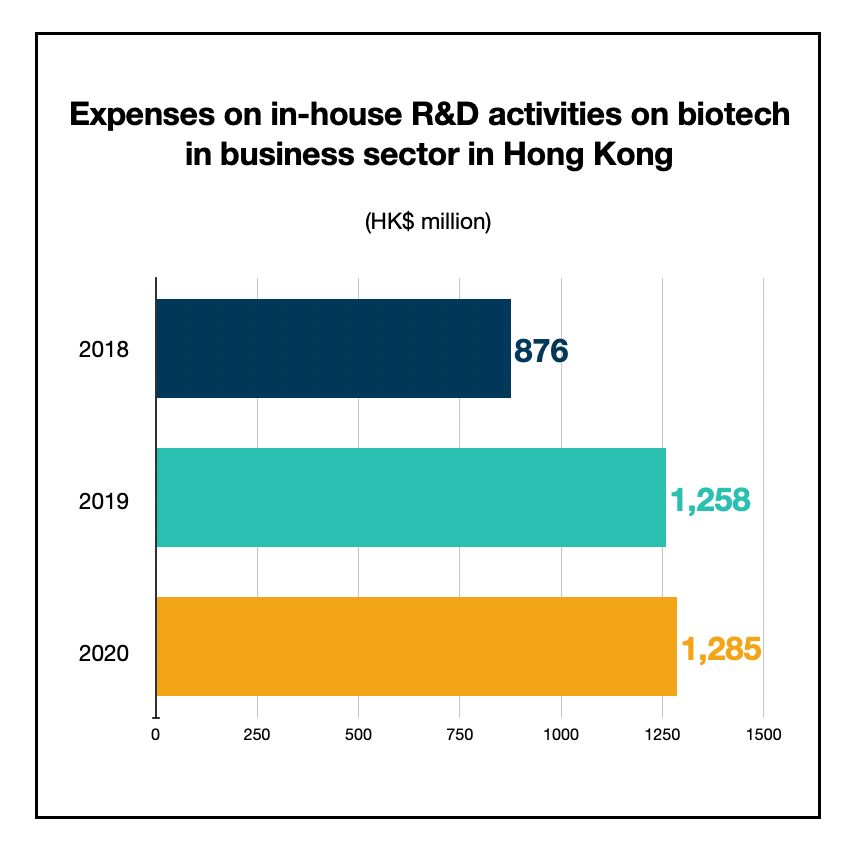 Biotech is the fastest-growing segment in the IPO market, with the Hong Kong Stock Exchange as the second-largest biotech IPO hub, just behind New York's Nasdaq.
Exchange statistics showed in 2020, 23 healthcare companies completed their IPOs in Hong Kong, raising a total of HK$98 billion, including 14 pre-revenue companies. Among those 23 companies, 17 raised funding between HK$1 billion and HK$5 billion.
TRADE WARS
But there are challenges. Earlier this year, the US reversed a policy that allowed drugs that had gone through full clinical trials in China to be marketed there. Instead, all medicines developed in China have to be re-trialed from scratch in the United States before they can be approved for US sales.
The move made a huge rise in the costs of producing medicines, and sparked a drop in the share price of several biotech firms in Hong Kong.
Yet ultimately, biotech firms here are upbeat. With strong research capability, good hardware infrastructure and stronger integration with the mainland market, Hong Kong's biotech sector is hopeful of continuing to flourish.
---
Image at the top by Diane Serik on Unsplash