SHENZHEN NORTH HAS become a popular place for Hong Kong people, who head there by high-speed rail for food, shopping and entertainment.
The journey takes just 18 minutes, and about 30 trains travel between Hong Kong and Shenzhen North every day.
But at the moment, the station itself (below, image by Gareth Jones/ Wikimedia Commons) is still largely a place of transit, as few business activities take place there.
There are high hopes that that will change. And not just the station, but the surrounding area too. In business terms, Hong Kong is a mature, crowded and saturated market, while Shenzhen has young, fresh energy – especially in the area near the station, which is at the heartland of the fast-growing tech city.
On Tuesday this week (19 September), a workshop (image below) on industrial opportunities between Shenzhen and Hong Kong was held in Sheung Wan, Hong Kong, organised by the Government of Longhua District of Shenzhen.
It aimed at exploring the potential for the station in becoming a genuine hub – for business, arts, entertainment, and various high-tech industries.
Longhua, the area to which the station belongs, wishes to tap the brains of Hong Kong and Shenzhen experts to achieve this aim.
It is vital for Longhua to leverage the transportation advantages of Shenzhen North Railway Station to promote the area's popularity and attract Hong Kong's industrial resources, organizers said. Longhua has shops, industries, residential areas and beautiful countryside. The image below shows the Niuzu Reservoir — image by Longhua Water District Office.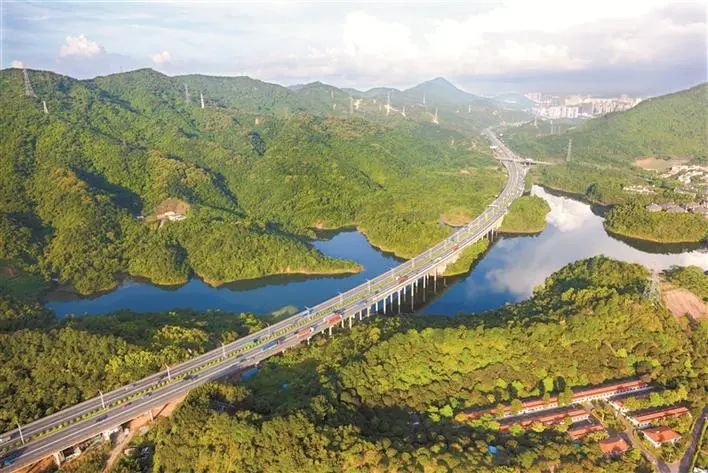 The discussions focused on interactions with Hong Kong's "pillar" industries and other major business sectors. More than 40 representatives from relevant organizations in Hong Kong attended the workshop, as well as a number of experts and scholars.
"Longhua is located in the geometric centre of Shenzhen," said Li Jian (below), Director of Longhua District Key Area Construction Promotion Centre.
It's an important position in the central axis of the Guangdong-Hong Kong-Macau Greater Bay Area.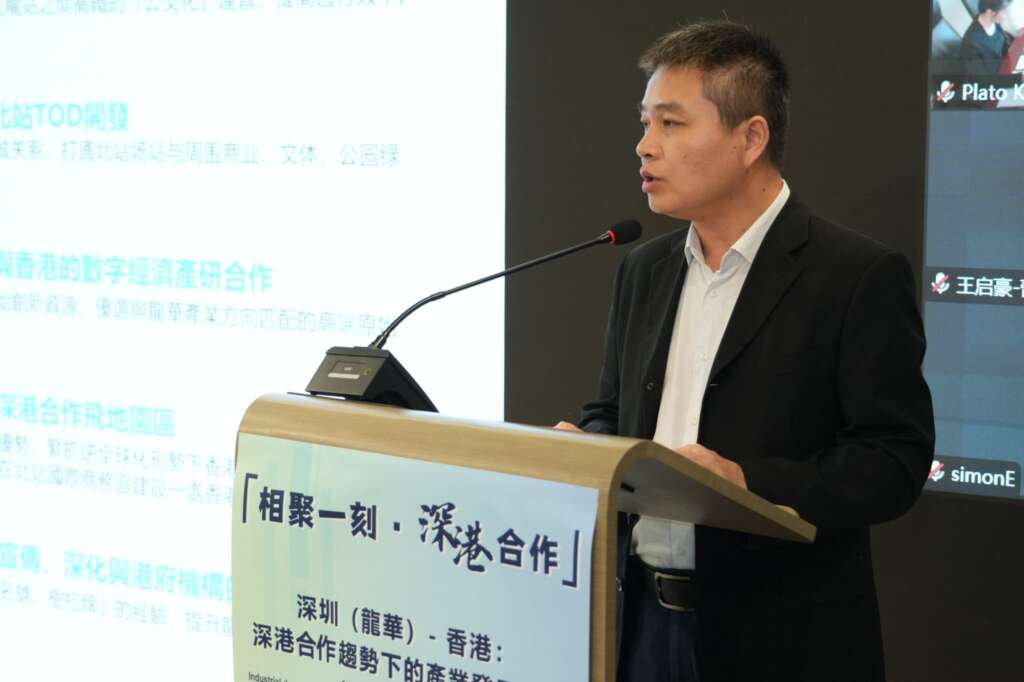 Furthermore, the Shenzhen North Station International Business District is located at the core node of the Guangzhou-Shenzhen-Hong Kong Innovation Axis.
The goal will be to contribute to making the Guangdong-Hong Kong-Macau Greater Bay Area a strategic fulcrum for the new development pattern, a demonstration of high-quality development and a leading place for Chinese-style modernisation.

"Green" financial issues were also discussed. The keynote speech was given by Plato Yip (below), Chairman of Green Finance Affairs Bureau of Guangdong-Hong Kong-Macao Greater Bay Area Economic and Trade Association and Vice Chairman of Elion International Investment.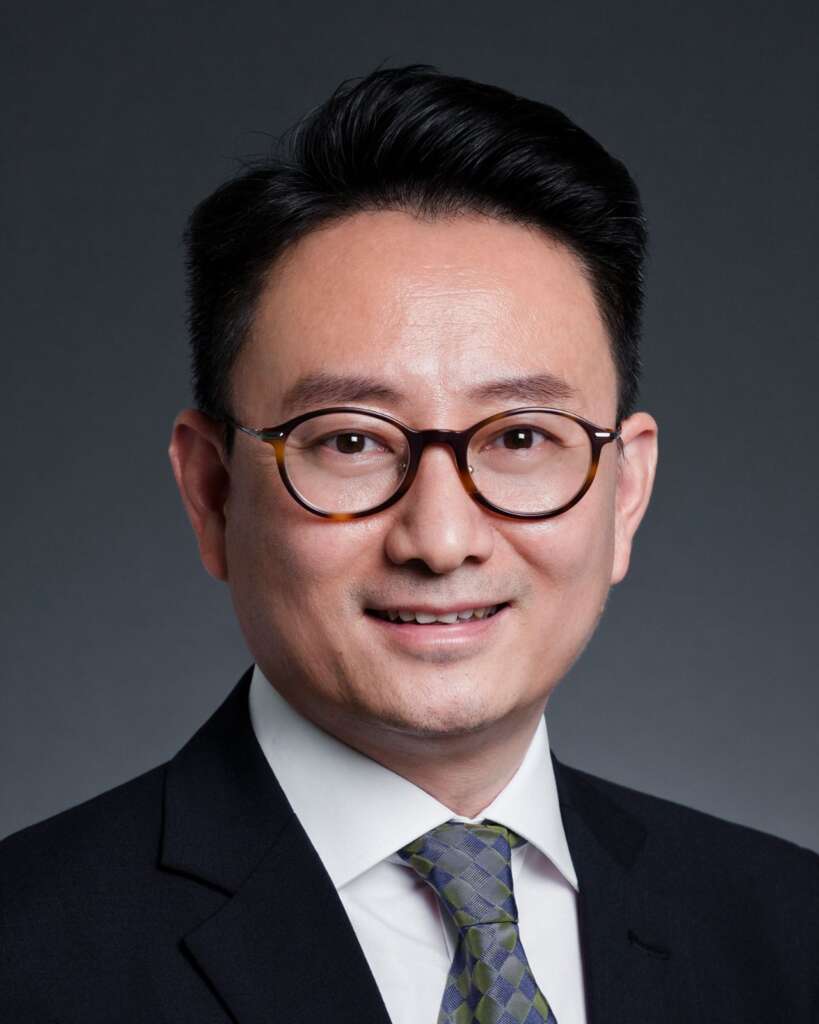 He said it was feasible for Shenzhen and Hong Kong to co-construct green financial ecosystems based on eco-big data, privacy computing and cross-chain transaction technologies from the perspectives of certification, circulation and transaction of green financial services.
Market integration was also a key theme. This was raised by Dr Law Cheung-kwok (below), Honorary Senior Fellow of the Institute of Asia-Pacific Studies of the Chinese University of Hong Kong.
In his talk, he explored the complementarity of the industrial advantages of Shenzhen and Hong Kong and the prospect of cooperation between the two cities from the perspective of market integration. He suggested promoting the integration of science and technology innovation and finance to expand the scale and influence of diversified and high-value-added manufacturing industries and attract more domestic and overseas investors to the two cities' markets.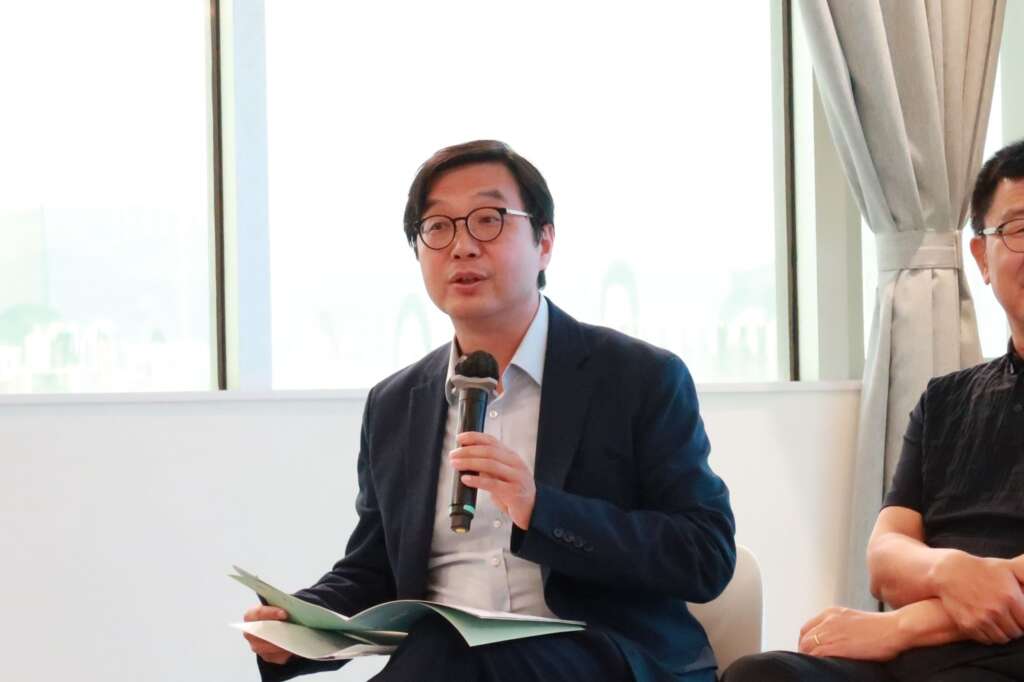 In the panel discussion session chaired by Dr Henry Ho (above), a member of the Chief Executive Policy Unit Expert Group, and Founder and Chairman of One Country Two Systems Youth Forum, experts focused on four aspects of co-operation: integrated development of station industry and city, digital economy cooperation, industrial upgrading cooperation, and science and technology service cooperation. This led to a lively discussion.