When food lovers visit Guangzhou for dim sum, they will be spoiled for choice. The freshness and superb quality of ingredients, combined with the wide range of cooking methods, ensures that diners can enjoy meals to remember.
This week, Chief Executive John Lee Ka-chiu praised the flavorful dim sum when he had a meal with Guangzhou mayor Guo Yonghang at high-end Panxi Restaurant (泮溪酒家) during his visit to the city.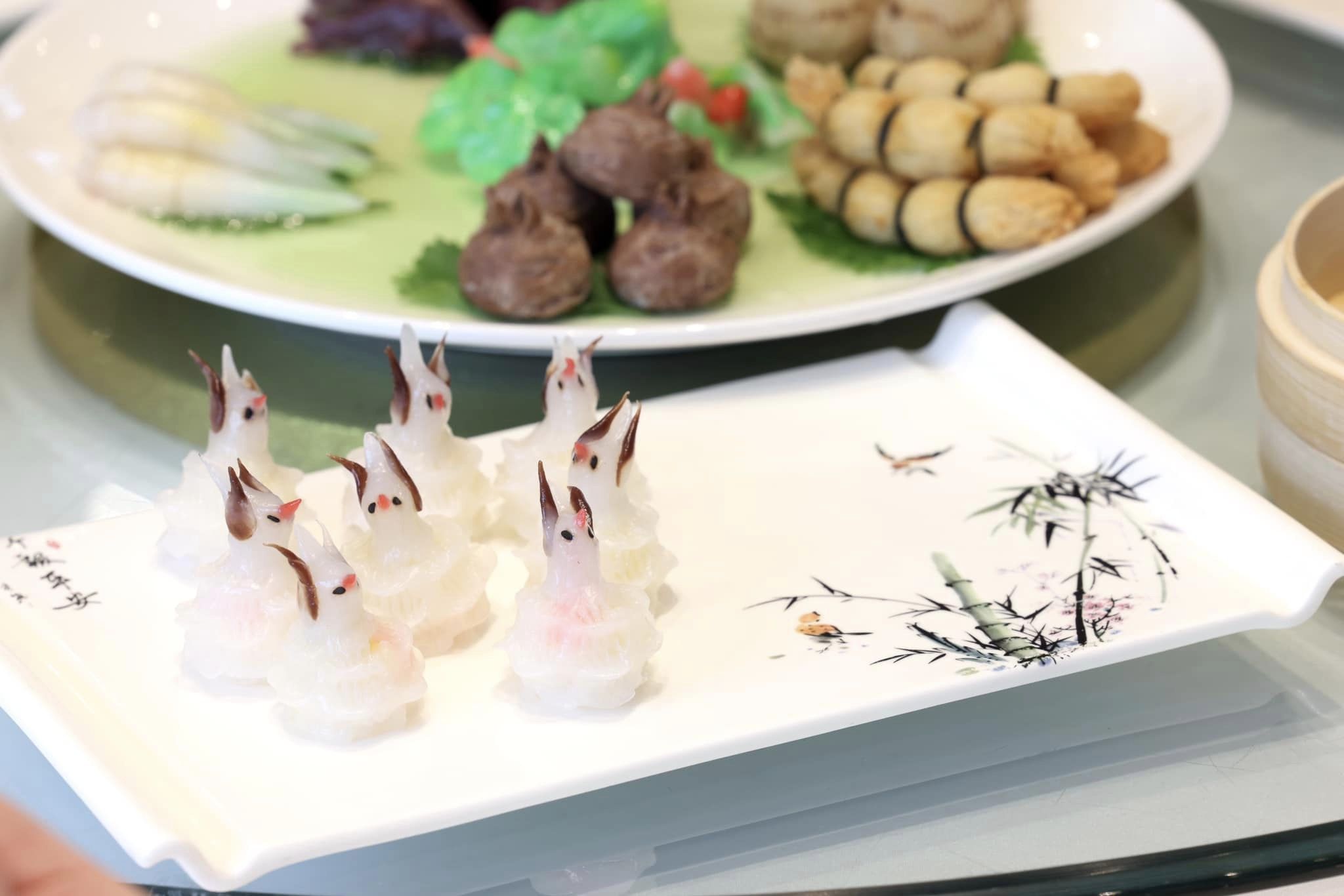 Savouring dim sum and having a cup of Chinese tea has become an essential part of daily life for many Guangzhou people.

Panxi Restaurant, along with Beiyuan Restaurant (北園酒家) and Nanyuan Restaurant (南園酒家), are renowned garden restaurants in Guangzhou and are famous for their varieties of dim sum dishes and other Cantonese delicacies.
Varieties of dim sum in Panxi Restaurant
With over 70 years of history, Panxi Restaurant is a top-grade restaurant at a national level. Located near the bank of Liwan Lake (荔灣湖), the restaurant has the reputation of providing a luxurious, even palace-like environment.

In the restaurant, there are numerous signature dim sum including steamed rabbit-shaped dumplings (綠茵白兔餃) , steamed chicken's feet with black bean sauce (豉汁蒸鳳爪), sampan porridge (艇仔粥) and water chestnut cake (馬蹄糕) and others.

Stuffed with fresh shrimps and pork meat, the juicy steamed rabbit-shaped dumplings have soft translucent wrappers.

The sampan porridge highlights flavor of ingredients such as fish, shrimp, scallops, and squid. Beginning as humble "riverside food", sampan porridge has become a delicacy. Nowadays, delicious sampan congee can be found from popular eateries to high-end restaurants.

And then there's water chestnut cake, a sweet treat. The cake is pan-fried, soft and delicious.
There are more than 40 types of authentic Cantonese dim sum dishes for food lovers to taste at the Panxi Restaurant, which also offers banquet halls and private rooms for diners wanting a special occasion. Customers can also appreciate the collection of antiques decorating the restaurant.
Delicacies in Beiyuan Restaurant
Meanwhile, renowned Beiyuan Restaurant is an exemplary place to eat in Guangzhou, showcasing an environment of a Lingnan-style garden.

The interior decoration is stunning, with a green landscape and elaborate carvings on all sides. But of course the restaurant is famed not only for its palatial decoration, but also for delicious dim sum and home-style dishes from Guangdong and Zhejiang.

The restaurant's famous dim sum dishes include scrumptious puff pastry (鴛鴦千層酥) and Char Siu Bao or steamed barbecue pork bun (玉液叉燒包).
Char Siu Bao is sought-after dim sum on the menu. The tasty pork matches well with a sweet sauce and that makes your mouth water.

Other notable dishes include Shaoxing drunken chicken in clay pot (瓦罉花雕雞), braised chicken feet with oyster sauce (蠔油雞腳), deep-fried fish heads (郊外魚頭) and others.
The drunken chicken dish is prepared by soaking cooked chicken in yellow wine (Huangjiu 黄酒) from Zhejiang's Shaoxing within a clay pot. The dish is tasty with the Shaoxing wine accentuating the main flavor. Shaoxing wine enriches the flavor of many dishes, particularly when preparing meats such as chicken.
Must-have dim sum and Chaozhou food in Nanyuan Restaurant
Above all, the famed Nanyuan Restaurant's décor is the epitome of classical Chinese garden design, with graceful pavilions and spectacular windows.

The restaurant's must-have dim sum dishes include fish skin dumplings (百花魚皮餃), puffy lotus bun (酥皮蓮蓉包), shrimp dumplings (蝦餃) and egg tarts (蛋撻).
The lotus bun is a sweet and fluffy bakery item, made with lotus flower seeds. It delights food lovers with a light but pleasing taste.

The restaurant is also famed for dishes including "Buddha jumps over the wall" (佛跳牆) – a nutritious soup that is flavored with ingredients such as abalone, fish maw, scallops—and other Chaozhou food.
Dim sum is one of the specialties in Guangzhou and food lovers can taste much-loved ones in the three renowned restaurants. Dim sum dishes are usually meat and vegetables in wrapper that is steamed, baked or pan-fried, and the choices are versatile.
---
Image at the top from K8/Unsplash