The shocking violence of the 2019 Hong Kong protests would have been met by armed military troops anywhere else on the planet, but the Chinese coastal city had only its police service to face it down. But now, as horrific new figures emerge about a new record high in the number of lethal casualties of police action in the United States, the Hong Kong police look even more restrained and professional. Grenville Cross reports.
---
ONCE THE INSURRECTION erupted in Hong Kong in 2019, there was a real possibility that the "one country, two systems" policy would collapse. Its leaders knew that if this happened, it would damage China.
Which was exactly what their foreign backers wanted.
If, as they hoped, the central government deployed the People's Liberation Army to restore order, things would never be the same again.
To their chagrin, however, Beijing refused to play ball.
POLICE HAD TO DO ARMY'S JOB
In consequence, it was the police force that bore primary responsibility for defending Hong Kong, and it faced huge challenges. Quite apart from the riots and the terrorist outrages, officers soon became aware that the insurgents were prepared to deploy high explosives on the streets, and bomb-making factories were detected.
They included one in Tsuen Wan, where a kilo of TATP, the explosive used in terrorist attacks worldwide, was discovered, and being readied for use.
ARSON ATTACKS ON POLICE FAMILIES
As weeks of violence turned into months, officers were regularly petrol-bombed while trying to keep the city operating, and the insurgents even attacked the police married quarters, hoping to harm (or at least terrify) their families.
Whereas public buildings, courts, private businesses and train stations were torched, citizens who dared to resist were themselves targeted, with one being bludgeoned to death and another set alight.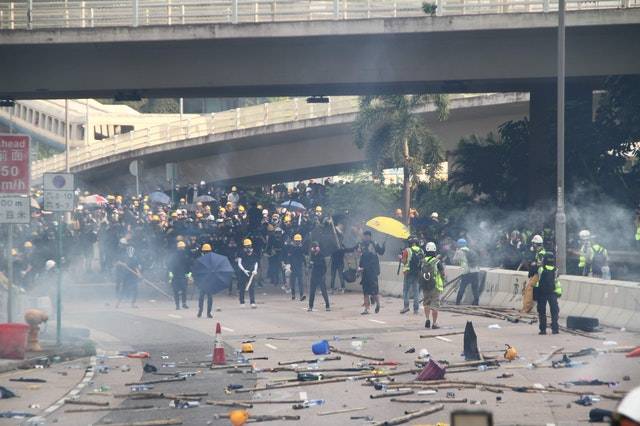 Although the police force was required to handle countless riots and associated depredations, what amazed observers was its utter professionalism throughout. Despite confronting incessant violence, its officers displayed maximum restraint, inflicting not a single fatality on the culprits. This, however, infuriated the insurgents, who were desperate for martyrs, imagining this would boost their foreign support.
FAKE MURDER VICTIMS
Indeed, so frustrated was their leadership that a high-level decision was taken, for propaganda purposes, to invent some deaths. Thus, for example, they claimed that a schoolgirl protester found floating at sea had been killed by the police (and, when her mother revealed she was suicidal, they then abused her).
They even alleged that several rioters who were cornered at Prince Edward Station were killed by the police, although this fantasy fell apart when no bodies were found, no missing person reports were filed, and one of the supposed victims even turned up in London (where he was ecstatically welcomed by Benedict Rogers, the serial fantasist behind Hong Kong Watch, the anti-China propaganda outfit.)

COMPARE POLICE ELSEWHERE
To appreciate just how professionally the police force conducted itself throughout the insurrection, a comparison with contemporaneous events elsewhere is instructive.
During the Yellow Vest protests in France in 2018-19, for example, there were 11 people killed by the police, with five people, due to grenades, losing their hands, and another 23 losing their eyesight, as French Mediapart reported. When the anti-government protests erupted in Chile in 2019, the police killed 23 people, with 2,300 injured, as the UK's Guardian newspaper reported.
RULES ON USE OF FORCE
The principal international instrument governing the use of force by police officers is the UN Basic Principles on the Use of Force and Firearms by Law Enforcement Officials, known as BPUFF. The principles stress that lethal force should only ever be used as a last resort. This means that officers should only use such force as is strictly necessary to protect themselves or others from the imminent threat of death or serious injury, and even then, this should only occur if other options for de-escalation are insufficient.

POLICE ABIDED BY RULES
However, although the Hong Kong Police Force has always observed the BPUFF to the letter, this certainly cannot be said of many of its counterparts, whether in France, Chile, or elsewhere. Thus, for example, Amnesty International has recently pointed out that, "In the USA, George Floyd, Michael Brown, Breonna Taylor, Eric Garner and too many other black people who have been killed by police were unarmed."
And yet, despite the Hong Kong Police Force having scrupulously upheld the BPUFF in the face of huge dangers and provocations in 2019-20, it received no credit from the Five Eyes Alliance, let alone its leader, the US. Instead, this sanctimonious grouping condemned the force for having contained the disturbances and saved Hong Kong. It even sought to undermine it by accepting Civic Party invitations to end the supply of crowd control (and related) equipment, stop training exchanges, and suspend fugitive offender agreements (a classic instance of cutting off your nose to spite your face).
SHOCKING DISCLOSURES
The Five Eyes partners did this not only because of their sympathy with those seeking to destabilize Hong Kong, but also because of what they claim to be their belief in the "rules-based international order". The depth of that belief, however, can now be easily tested, and it will be fascinating to see how they react to the latest shocking disclosures from the US.
On Jan 6, Mapping Police Violence (MPV), the US non-profit research group that maintains a database of reported deaths at the hands of law enforcers, revealed that US law enforcers killed at least 1,176 people in 2022, the deadliest year on record for police violence, with nearly 100 people being killed monthly. By comparison, the police killed 1,145 people in 2021, 1,152 in 2020, 1,097 in 2019, 1,140 in 2018, and 1,089 in 2017.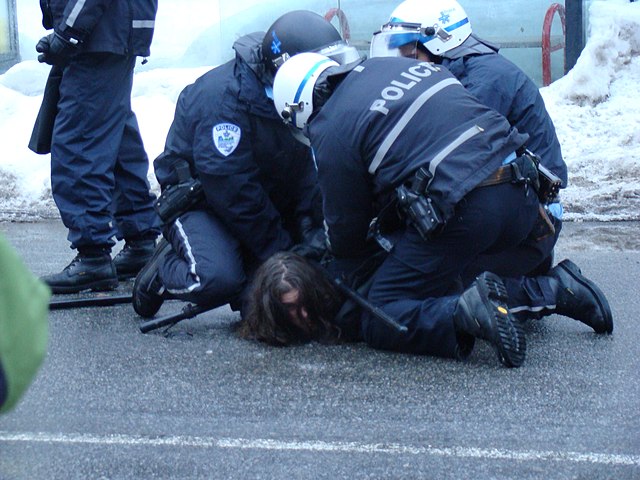 This revelation comes just two years after the murder of George Floyd sparked national uprisings, and suggests that no lessons have been learned. As Bianca Austin, the aunt of Breonna Taylor, whose killing in 2020 triggered mass protests in Kentucky, has noted, the killing "just never stops".
SYSTEMIC AND WORSENING
Although the number of killings has increased in the US, the circumstances preceding the killings have remained consistent. In 2022, 132 killings (11 percent) were cases in which no offense was alleged; 104 cases (9 percent) were mental health or welfare checks; 98 (8 percent) involved traffic violations; and 207 (18 percent) involved other allegations of nonviolent offenses. There were also 93 cases (8 percent) involving claims of a domestic disturbance and 128 (11 percent) where the person was allegedly seen with a weapon. Only 370 (31 percent) involved a potentially more serious situation, with an allegedly violent crime.
As the MPV founder, Samuel Sinyangwe, has explained, "these are routine police encounters that escalate to a killing", and he says "police violence" is clearly "continuing to get worse, and it's deeply systemic".
SHOT IN THE BACK
One alarming statistic showed that, in 32 percent of cases last year, the person killed was fleeing when shot, either running or driving away. These, say the experts, are cases in which lethal force is unwarranted, not least because it also endangers the public.
If the police in Hong Kong could avoid killing anyone despite being ferociously attacked by crazed petrol-bombers for well over six months, the least the Five Eyes partners can do is ask themselves why the US police cannot avoid shooting so many suspects in the back as they try to escape.
RACIAL OVERTONES
Also highly disturbing are the racial overtones involved in the US' police killings, something its Five Eyes partners have always ignored. Whereas black people only comprise 13 percent of the overall population, they constituted 24 percent of those killed in 2022.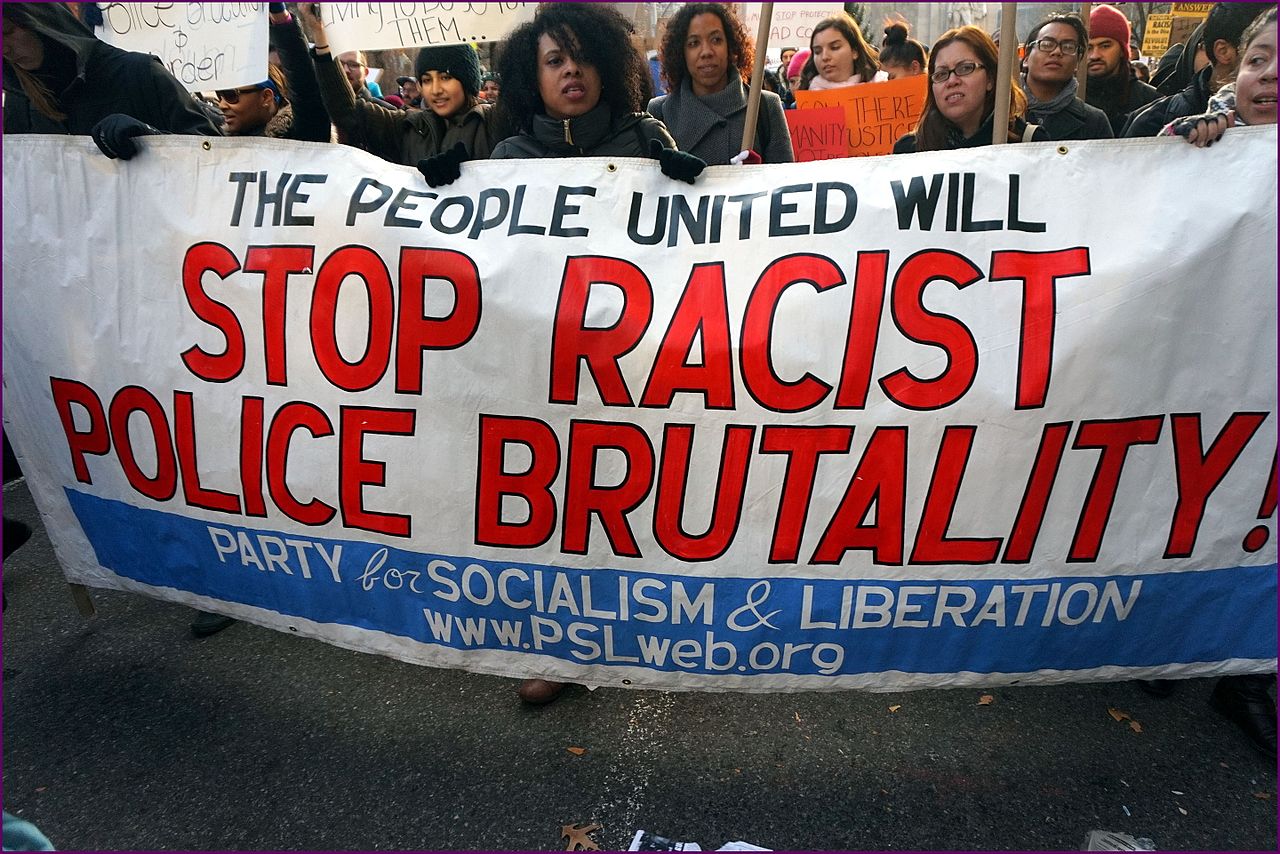 From 2013 to 2022, black residents were three times more likely to be killed by the US police than white people. The inequality, MPV reports, is particularly acute in some cities, including Minneapolis, where police have killed black residents at a rate 28 times higher than white residents, and Chicago, where the rate was 25 times higher.
According to Jacob Blake Sr, who, with Bianca Austin, co-founded Families United, a welfare organization that helps people whose loved ones are killed by the police (and whose son was paralyzed after being shot by the police in 2020), the "police's ability to be judge, jury and executioner has been taken to another level".
NO MORAL AUTHORITY
Although its Five Eyes partners have always allowed themselves to be dazzled by Washington's claims of "American exceptionalism", even the most doctrinaire can now see the reality. Whatever else their "rules-based international order" might mean, it cannot include arbitrary killings, systemic racism, and police brutality, yet these are now the hallmarks of criminal justice stateside. They must, therefore, realize that until they acknowledge that "American exceptionalism" is a cynical fiction, they have no moral authority and cannot expect others to take them seriously.
HONG KONG CAN HELP
All, however, is not yet lost. If the US wants its police officers to learn how to avoid arbitrary killings and how to implement the UN's BPUFF, its Attorney General has only to pick up the phone to the Commissioner of Police in Hong Kong, and invite the Police College to send some of its trainers over to help out.
And, who knows, Asia's Finest might even agree to do the US a favor, if not for old times' sake, then at least for all those people who face slaughter if its police officers are as trigger-happy in the future as they have been in the past.
---
Grenville Cross is a law professor who has become a popular commentator on Hong Kong affairs.
---
This article also appears in the China Daily Hong Kong. Image at the top from Oscar Chan/ Pexels.