SCIENTISTS IN CHINA are making progress towards creating a working hyperloop system, a new report says. They have been quietly working on the project since 2010, two years before entrepreneur Elon Musk made headlines with a speech about the subject in 2012.
Initial small-scale tests on a 210 meter track in Datong, Shanxi province, have been successful. A two kilometer tunnel was completed at the site last year, and a 15 km section is scheduled for opening in 2024. Engineers are drawing up plans for a full-scale hyperloop tunnel for launch between 2028 and 2033.
However, western firms have caught up in many aspects and have overtaken China in terms of travel speed in test vehicles. Still, China's vast experience in high speed rail travel may give the country a practical advantage.
Two thirds of the entire world's high speed rail networks are in China.
HUMAN CANNONBALLS
The hyperloop concept is to place a vehicle such as a train inside a giant near-vacuum tunnel, allowing extremely high-speed travel: passengers in a comfortable pod are "shot" like a cannonball from one destination to another (but moving much faster then an actual cannonball).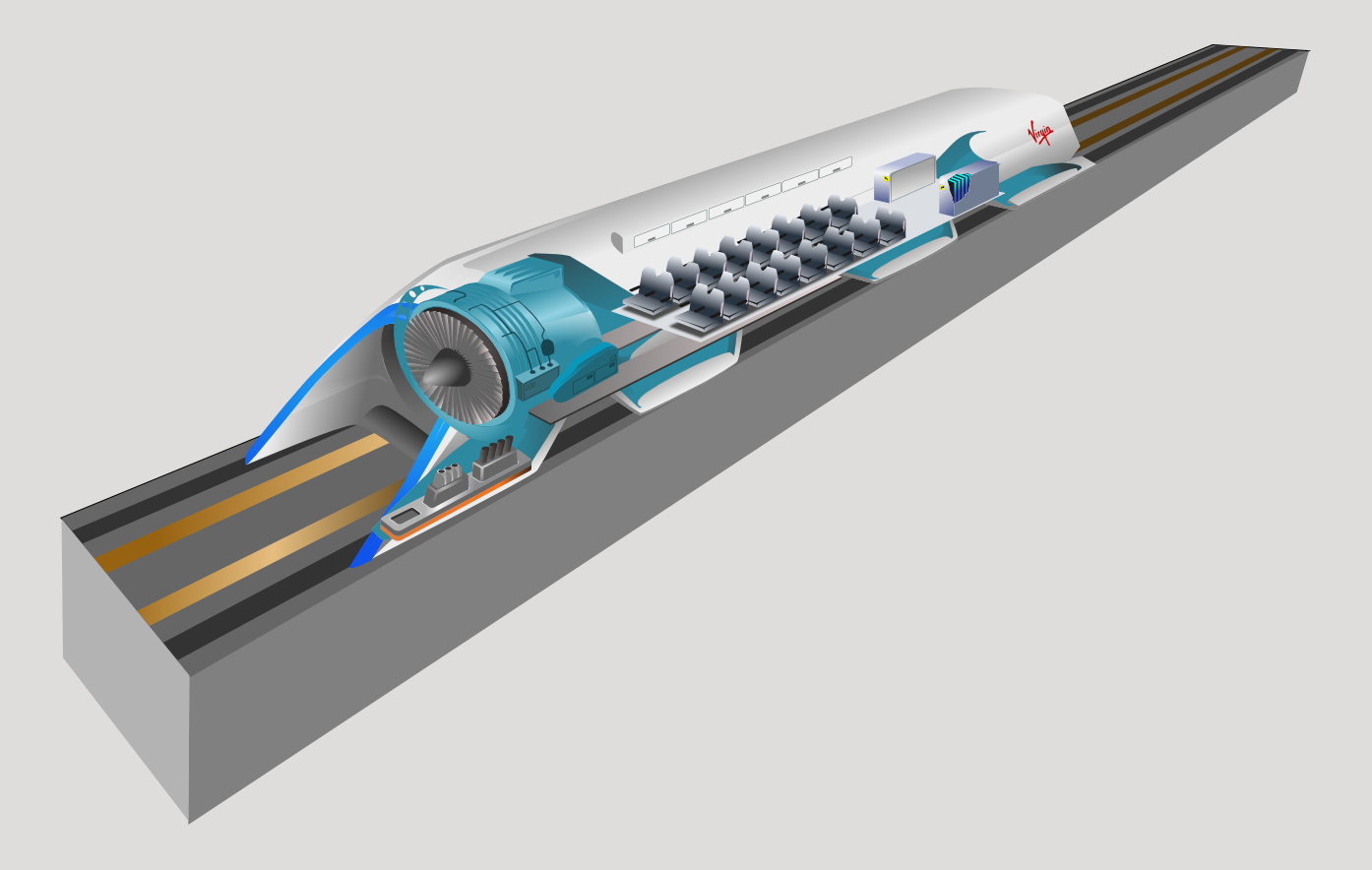 The low friction allows speedy movement with minimal energy use. After an initial burst of energy to get the transport moving, it is carried along by its own inertia, with zero fuel usage.
TWO CENTURIES OLD
The idea of a vehicle moving in a frictionless vacuum tube is more than 200 years old, conceived in the UK, but with the first working model built by a professor named Boris Weinberg in Russia in 1909.
However, the idea has been revived seriously in relatively recent times, discussed endlessly by transport engineers.
Researchers at the Chinese Academy of Sciences and Chinese Academy of Engineering started work on a vacuum tube train capable of moving at 1,000 kilometers per hour in 2010. The idea took off in the western world after Elon Musk published a white paper in 2013. Since then, engineers around the world have been working on making it a reality.
SPEED TESTS
In terms of speed tests, China is taking it relatively slowly. The sample pod was fired through the tube at a speed of 50 km/h, reports said. In Europe, a team of scientists from Technical University of Munich set a speed record of 463 km/h in July 2019. A firm called Virgin Hyperloop, part of the Richard Branson empire, said it had conducted trials containing human passengers in November 2020 at its test site in Las Vegas, reaching a top speed of 172 km/h.
SPEED EXPERIENCE
However, China does have one large advantage: it is astonishingly good at public transport, and has enormous experience in producing large, high-speed vehicles, thanks to its network of magnetic levitation trains. These already have minimal friction, as powerful magnets keep the train floating above the track.
Liang Jianying (梁建英), CRRC Qingdao Sifang's deputy general manager and chief engineer, said that they were using repeated tests to ensure precision and stability in the latest generation of mass transport vehicles. The trains, when moving, are suspended by powerful super-magnets exactly 10 millimeters above the track.

As well as minimizing fuel usage, the maglev floating concept means that passengers feel less vibration and the trains are quieter, both from the inside and the outside.
But simply making trains that move fast is only part of the challenge. Liang said trains that move at high speeds need a very long braking distance – and that slows down the overall journey time. For this reason, the company has been working on an advanced braking system to cut down the distance needed.
MAGLEV ADVANCES
Meanwhile, China's huge network of maglev trains is continually being expanded, with teams working on next generation trains. These will be able to run at speeds of more than 600 kph – which is twice the speed of a typical Porsche 911 running on the German no-speed-limit autobahn, and similar to that of the fastest Japanese prototype bullet trains.
The new superfast maglev trains are designed to fill a gap between flights and regular high-speed rail in the country's transport network.

HONG KONG TO SHANGHAI
Hong Kong people will be able to cross the border to Shenzhen and get all the way to Shanghai in just 2.5 hours. At the moment, the Shenzhen to Shanghai trip on high-speed rail takes about eight hours.
China's next generation maglev train system, which is currently being developed by the country's giant manufacturer CRRC Qingdao Sifang, will be deployed in five to ten years, Liang says. In addition to the Shenzhen to Shanghai line, Zhejiang transport authorities plan to build a maglev train line from Shanghai to Ningbo.
TWO DECADES OLD
After its 2003 launch, Shanghai's airport line became the world's first commercial operation of maglev trains. At a construction cost of RMB 8.9 billion. The system was based on technologies developed by a German consortium comprising ThyssenKrupp and Siemens. It took commuters just eight minutes to travel the 30-km journey from Shanghai downtown area in Longyang to Pudong International Airport, with a top operating speed of 430 kph.
---
This report was written by Nury Vittachi and H.C. Lu. The image at the top is by Nick Reynolds on Unsplash