JUST A DECADE AGO, journalists were sceptical about Hong Kong's attempts to create its own Silicon Valley in its business parks, and were uninterested in developments in neighbouring Guangdong.
How quickly things change. Today, there are 43 unicorns (tech jargon for new, unlisted companies worth more than US$1 billion) in Hong Kong and the Greater Bay Area.
Animoca Brands, based at Hong Kong Island's Cyberport business park, was valued at US$5 billion recently. Several of the unicorns in the area are becoming highly visible locally, like Lalamove, and others have made an impression in specific niches, like Animoca Brands in games and NFTs.
Further north, Chinese unicorns are becoming world-beating brands. Shein was founded in Nanjing but runs a huge warehouse in Guangzhou. This on-line clothes store, is on track to becoming the world's biggest garment shop later this year, according to Morgan Stanley predictions—ahead of Walmart, Shopify, and other rivals, and possibly even overtaking Amazon itself.
HONG KONG ORIGINAL
Animoca Brands is very much a Hong Kong company. It was started by well-known local tech entrepreneur Yat Siu, and the group president is locally born Evan Auyang, who was interviewed by Nick Chan Hiu-fung on Friday Beyond Spotlights, a Cable TV show recently.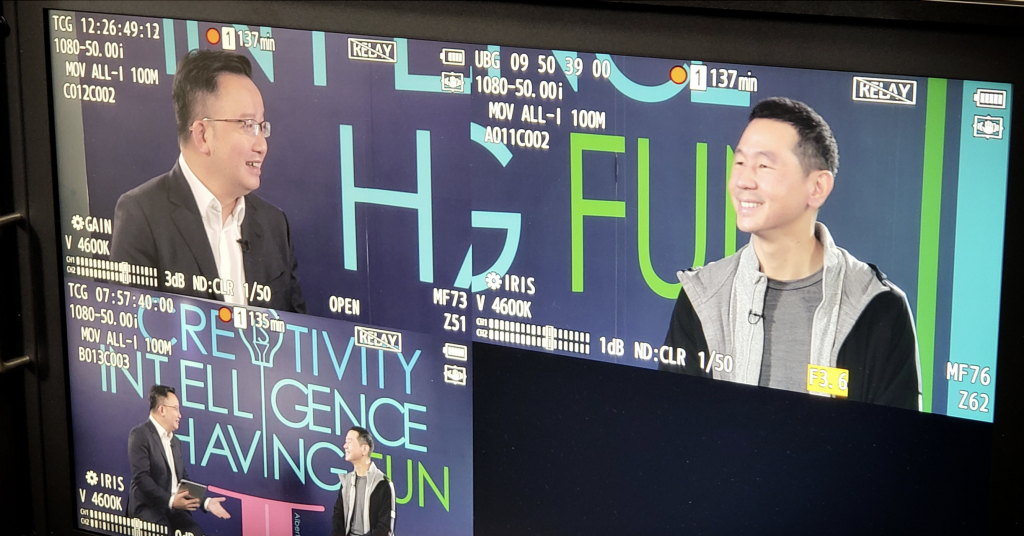 Watch the interview at these links:
Part 1: https://youtu.be/ObaLOAZ76rA
Part 2: https://youtu.be/23xi6KOrqFk

Click to go Friday Beyond Spotlights on YouTube
The firm, headquartered in Cyberport in Hong Kong Island's Pokfulam area, is focusing on the digital activities favored by young adults who live much of their lives online, offering a range of products from video games to NFTs to an online universe to explore. But while quite a few tech companies offer a similar range of items, the Hong Kong firm is offering an unusual service that combines elements of several new fields, by building blockchain technology into new areas, potentially creating value.
ENABLING GAMERS TO MAKE NFTS
Here's how it works. People playing Animoca Brands' racing game REVV Racing can create their own purpose-designed car, as in other similar games. But with REVV, they can also turn that vehicle into an NFT, a unique, signed digital art asset that can be sold for actual money and used by others.

Similarly, there are plenty of fast-paced third-person science fiction games on the market. But if you play Phantom Galaxies from Animoca Brands, you have ownership of the robots and weapons and other equipment you use. Those assets exist as NFTs on a blockchain. And you, the player, own your gear—and can resell it, keeping the money.
Ultimately, you are swapping the "pay to play" model of other games, and replacing it with a "play to earn" stance, Evan Auyang explains.

Of course, there are older existing games in which people will develop a screen character with a high level of abilities and then try to sell their log-in details for cash—but doing so is difficult and breaks the rules of the game companies. In contrast, Animoca's games encourage people to develop items in the game world and resell them is encouraged.
"People try to sell their profiles on the market but it is not allowed by the platforms," Evan said. "In the new format you can take these assets out and trade it on Opensea which is not owned by us." (Opensea is an NFT-made-simple website which enables anyone to make NFTs and market them.)
A VIRTUAL WORLD
Then there's the so-called Metaverse – an online space where you can enter on screen and wander around. There are several of these in existence, including Animoca's The Sandbox. Hong Kong property developer Adrian Cheng of New World Development is one of several people who have bought a chunk of land there.
This virtual world is also plugged into the rest of the Animoca philosophy. Citizens can build, own, and monetize their gaming experiences in their section of the Sandbox. They create digital assets in the form of NFTs, upload them to the marketplace, and integrate them into games with a piece of software called the #nocode Game Maker.
ALREADY GROWING
Could Animoca Brands go global like other Chinese companies, including Shein and Bytedance? To some extent, it already has spread widely. Out of its 600 employees, only about 100 are in Hong Kong, and the rest in other major cities around the world.
But many people are sceptical about NFTs, especially recently, when an attempt to sell a headline-making example, the first tweet by the founder of Twitter, flopped badly, with little interest from buyers. Yet most NFT business is done with crypto currency, and the market for leading tokens such as Bitcoin, Ethereum, is seen as solid these days, and ripe for growth.
Certainly, Auyang is confident of the room for growth in the industry. "The gaming market is valued at US$180 billion right now with around 3.2 billion gamers," he says. "Yet, there are only about 80 million crypto wallets, which means that there is a lot of penetration to be had as we discover and further develop in that space."
PHILOSOPHICAL STREAK
There are other issues in the NFT/ crypto area, including the pressure on the environment of computers using huge amounts of electricity for no tangible result, and the wariness from government regulators, including some in China, India, and other countries.

But Evan Auyang makes it very clear that he believes the activities of Animoca Brands is benefitting society by encouraging creativity and creating value for ordinary people. These days, business people need to be aware of the effect of what they do on society, he says. "Our aim is not to create quick profit, but to create valuable experiences that the community can treasure and benefit from," he adds.
One of his previous jobs was deputy managing director of the Kowloon Motor Bus Company, one of the world's largest commercial public transport companies. As a private firm, it has to try to make money, but at the same time, it provides a public service, so some routes have to be maintained while remaining unprofitable.
Evan Auyang has a deep philosophical streak, and likes to keep notebooks full of ideas and quotes and inspirational lines – and that means paper notebooks, not lightweight computers.  "Be true to your beliefs and if you really believe in that one thing, go after it. This is how I came to realise my own success," he says.
---
Season One of Friday Beyond Spotlights is hosted by Patrick Tsang On-yip, Vice-Chairman and Executive Director of i-Cable Communications and CEO and Director of Chow Tai Fook Enterprises; and Nick Chan Hiu-fung, a lawyer and elected lawmaker serving on the National People's Congress. All images come from Friday Beyond Spotlights and Animoca Brands