A HONG KONG MAN visited a bustling Chinese trade zone and noticed several astonishing things.
First, he noticed its extraordinary size. It was massive. At 120 sq km, the Lingang hi-tech manufacturing zone was the size of a major US city (San Francisco, for example, is 120 sq km). And it was just one of many in Shanghai.
Second, the scene was thrillingly free of the contentious politics one reads about every day. In front of him, Chinese and American workers successfully toiled together making Tesla cars. At one point, he passed a signing ceremony in which China and Japan were collaborating on hydrogen-powered vehicles, providing a glimpse of a cheap, clean energy future for the world.
Third, he read in the Financial Times about a huge rush of entrepreneurs and business people pouring into China. "Some investors say the biggest risk is not getting into China quickly enough," the report said.
HUMANITY'S ACHIEVEMENTS
The man was former Hong Kong Chief Executive Leung Chun-ying, and he told the story at the International Communication in the New Era conference yesterday.
The key point was this: Step away from the narrow confines of the politicized coverage of China and a world of positive stories about humanity's achievements opens up.
"So, to the international audience, the China story is not just about politics," Leung said. "It shouldn't be."
The anecdote reinforced a point made by Hong Kong entrepreneur Herman Hu Shao-ming, who said that the narrative being loudly pushed "unfortunately tends to be more than a little negative about this region. In contrast, our side of the world has been relatively quiet in telling the other side of the story, although we have lots of good stories to tell."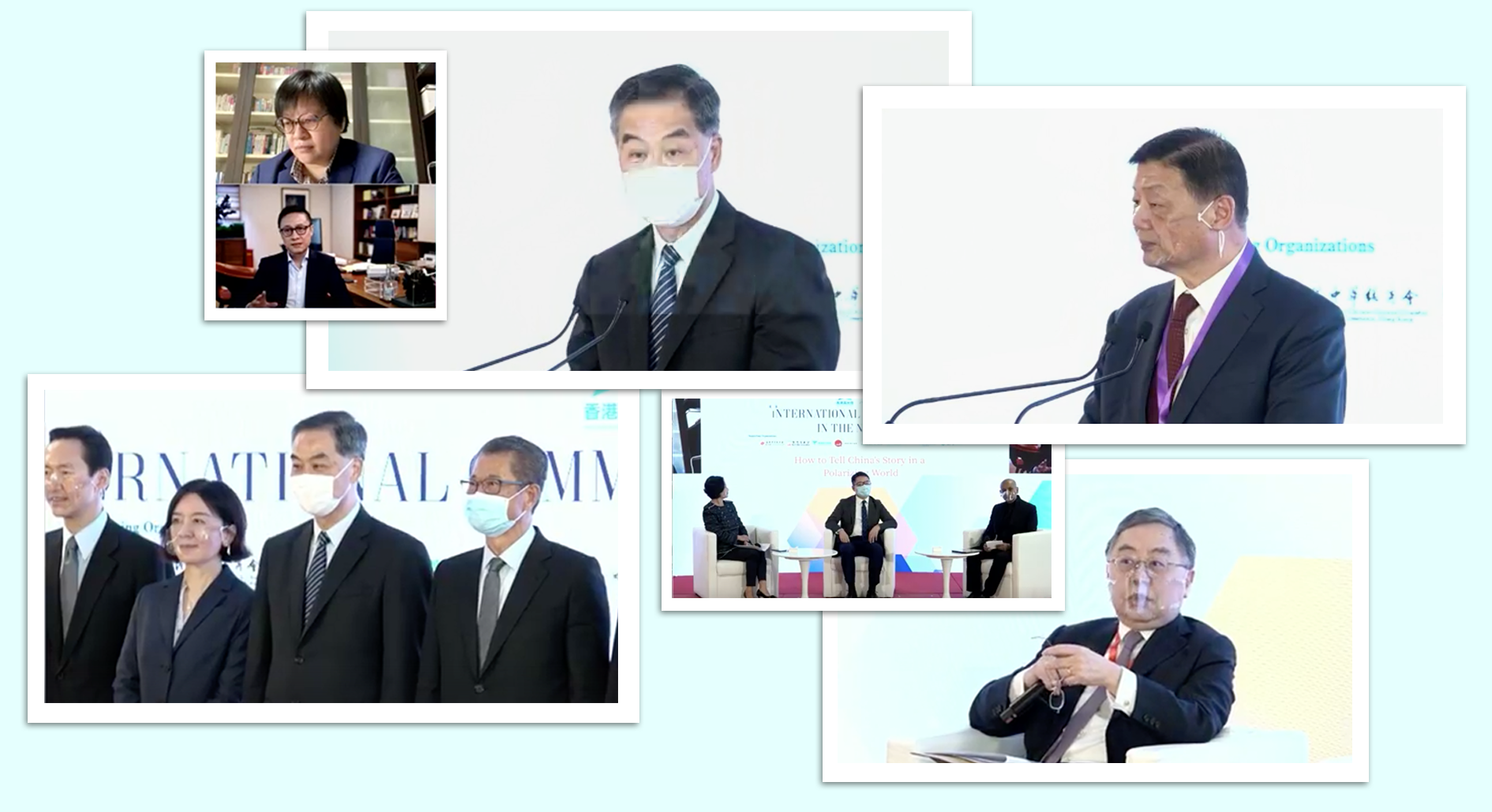 Clockwise from top left: Yan Yong Hong; Eric X Li; Leung Chun-ying; Herman Hu; Ronnie Chan; conference panel; Bernard Chan, Lu Xin Ning, CY Leung and Paul Chan
And that was the theme that ran through the conference, which included voices from around the world, and which was remotely viewed by more than 800,000 people.
While news and opinion columns took a politicized and often hostile stance, business and cultural reports told a very different story.
Speaker after speaker identified the need for genuinely Asian voices speaking from Asian point of view on the world stage.
Oscar-winning film director Malcolm Clarke said that the rise of China was arguably the most important news story of the modern age, but a very different story was being told about the nation.
Han Yong Hong, a journalist from Singapore, said that there was no easy answer to the problem, but people in Asia just had to keep their telling their stories.
It was a remarkable day and the Friday gang collected many amazing stories on-stage and off-stage–we'll pull them out of our notebooks and share them. This is the first of a series of reports from the conference, which was organized by the Hong Kong Coalition and Friday Culture. Watch this space.
* * *
Main picture: Tesla plant at Lingang industrial park, Shanghai/ TESLA
* * *
Link: Conference live feed
* * *
Full list of participants and information about the conference:
The "International Communication in the New Era" Forum, jointly organised by the Hong Kong Coalition and Friday Culture Limited, was held on 31 May.
The Forum was officiated by Mr. Leung Chun-ying, Vice Chairman of the National Committee of the Chinese People's Political Consultative Conference; Mr. Paul Chan, Financial Secretary, The Government of the HKSAR; Ms. Lu Xinning, Deputy Director, Liaison Office of The Central People's Government in the HKSAR; Mr. Yang Yirui, Deputy Commissioner, Ministry of Foreign Affairs of China in the HKSAR; Mr. Bernard Chan, Convenor, Executive Council in the HKSAR and Dr. Herman Hu, Chairman, Friday Culture Limited. Emcees of the event were Mr. Nury Vittachi, Managing Editor, Friday Culture Ltd., and Ms. Jenny Wong, Deputy News Director, Phoenix TV.
"The China Story is not just about politics. It shouldn't be. International politics may on many occasions be a zero-sum game while business is about expansion," said Mr. Leung Chun-ying in the keynote speech titled: "Mission and Role of Hong Kong in the Construction of National Image.
"Hong Kong has a unique mission and probably a more unique role in rebalancing the range of China subjects in which the international audience should have an interest… We should present the people of the world with the full range of stories of China. The real China story must come out. The balanced narrative must come out. Hong Kong should take this international podium."
In the welcoming address, Dr Herman Hu said: "Life is not a zero sum game, where if one person wins, everyone else loses. No. We can all win. Indeed, that is how it should be. Friday Culture is a media group which celebrates cultural diversity, promotes peace and shares insightful stories, in a good-humoured, positive way. We chose the word Friday because that day of the week often ends with good conversations among friends. We chose the word culture because we believe a broad range of interests is less polarizing than just a focus on politics."
The opening was immediately followed by two panel discussions, the first of which focused on the Hong Kong perspective, with the theme of "Hong Kong in the Spotlight: Understanding a Multi-faceted City". Mr. Yonden Lhatoo, Chief News Editor, SCMP, moderated the panel with a number of guests sharing their views, including Mr. C K Yeung, Former Associate Vice President, Hong Kong Baptist University (Pre-recorded); Mr. b Ronnie Chan, Chair, Hang Lung Properties Limited; Mr. Malcolm Clarke, British Film Director (via video call); Mr. Julien-Loïc Garin, Founder and CEO, Culture-plus Asia and Dr. Allan Zeman, Chairman, Lan Kwai Fong Group.
The second panel discussion centred on telling the story of China with "How to tell China's Story in a Polarizing World" as the theme. In this section, the guests who shared their views included: Tan Sri Dato' David Chiu, Chairman and CEO, Far East Consortium International Limited / Chairman, i-CABLE Communications Limited (Pre-recorded); Ms. Han Yong Hong, Deputy Editor-In-Chief, Lianhe Zaobao (via video call); Ms. Pansy Ho, Group Executive Chairman & Managing Director, Shun Tak Holdings Ltd; Mr. Eric Li, Founder, Guancha.cn (via video call); as well as Dr. Yan Xiaojun, Associate Professor, Department of Politics and Public Administration, The University of Hong Kong. All the guests offered incisive views on the topic. The entire event concluded with a speech by Dr. Kennedy Wong, Deputy Secretary General, Hong Kong Coalition.